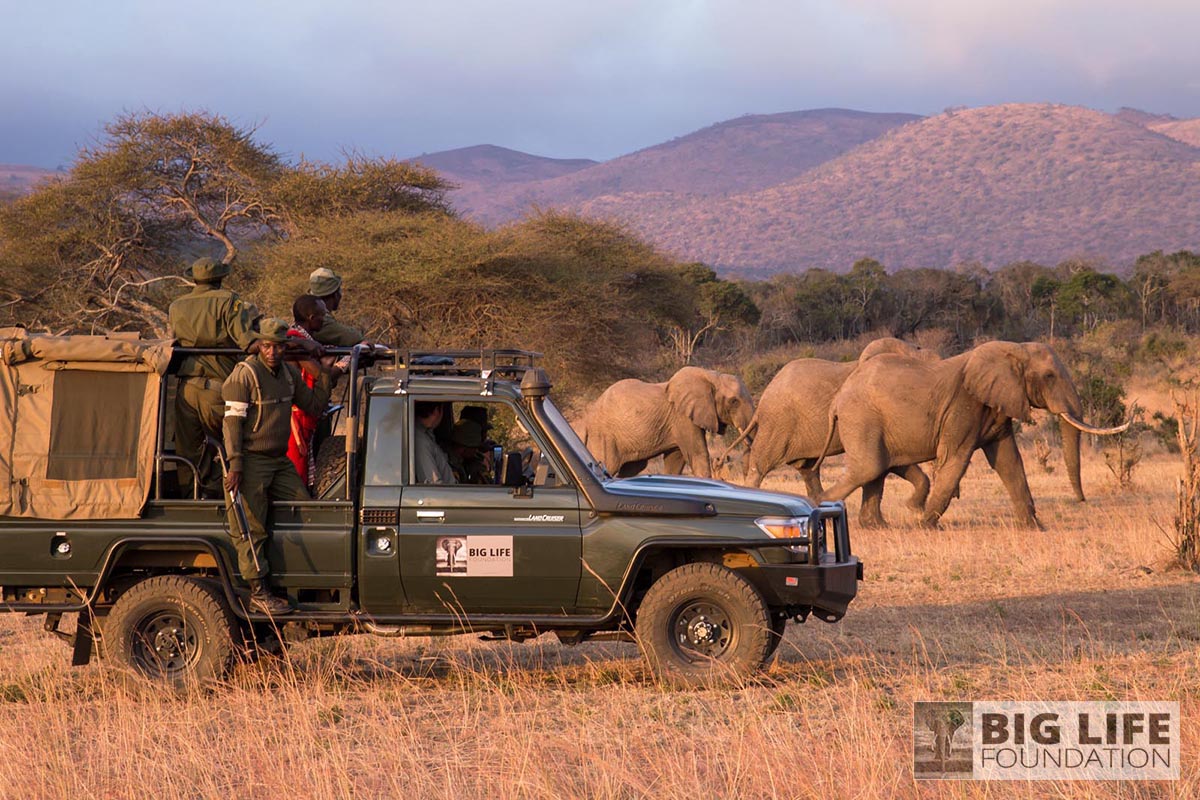 Big Life strives to prevent the poaching of all wildlife – including thousands of migrating elephants, a growing lion population, and critically endangered Eastern black rhinos – within our area of operation.
Anti-poaching was the first program focus when Big Life was established and continues to be the primary mission focus for the organization: to stop illegal wildlife crimes and arrest poachers.
Big Life's rangers conduct extensive daily patrols on foot and by vehicle to gather intelligence, detect and intercept illegal activity, monitor activity via hidden field cameras, and use the latest night-vision and GPS technology to thwart poachers and prevent habitat destruction. Working alongside Kenya Wildlife Service and our network of informers from local communities, Big Life rangers are able to prevent most instances of poaching and successfully apprehend poachers who do manage to kill. Once poachers are apprehended, Big Life works with local prosecutors to ensure that they are punished to the fullest, and most appropriate, extent of the law.
342 Trained Rangers
44 Ranger Units
32 Permanent Outposts
10 Mobile Units
1 Rapid Deployment Unit
2 Tracker Dogs
14 Patrol Vehicles
2 Airplanes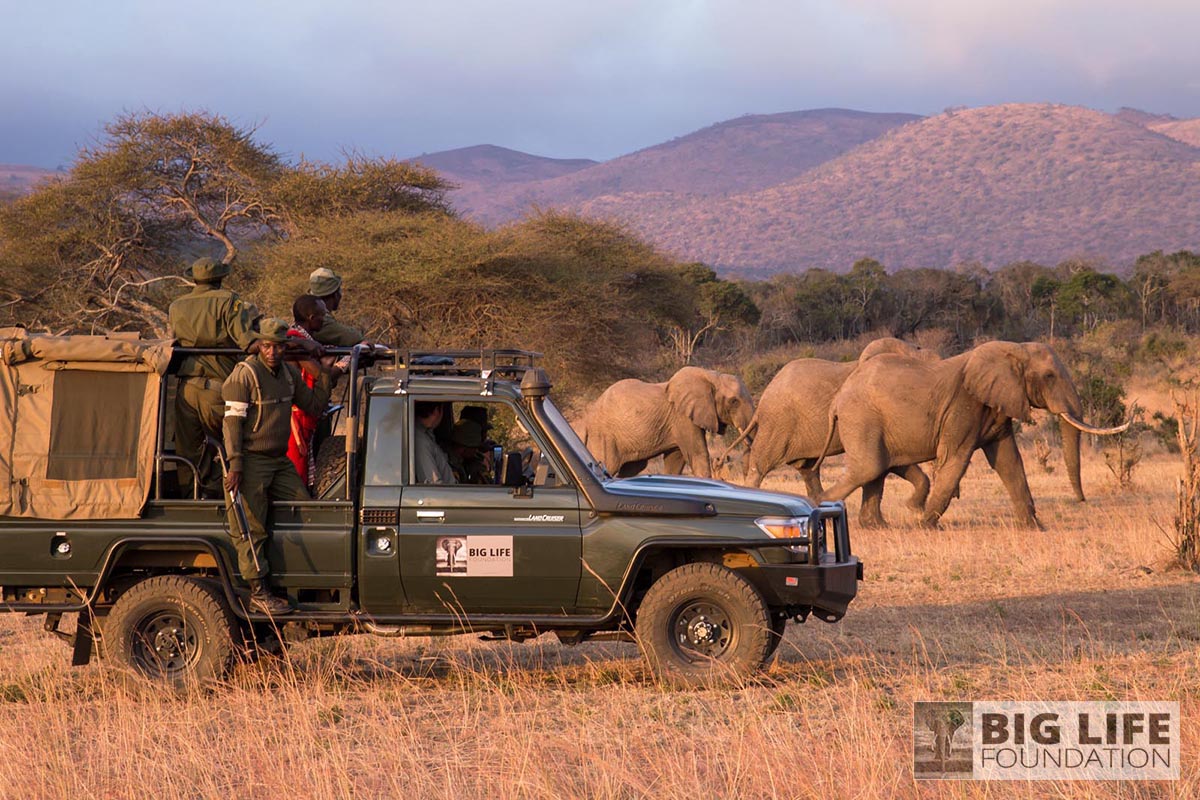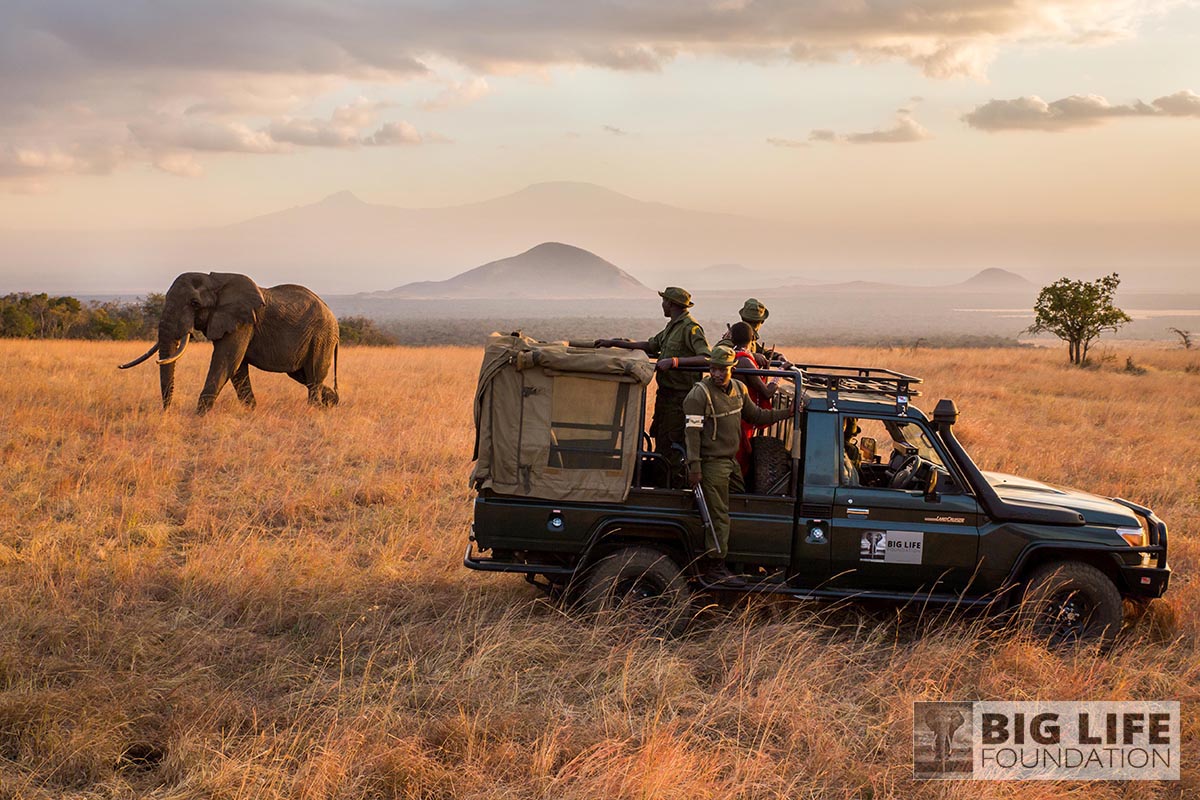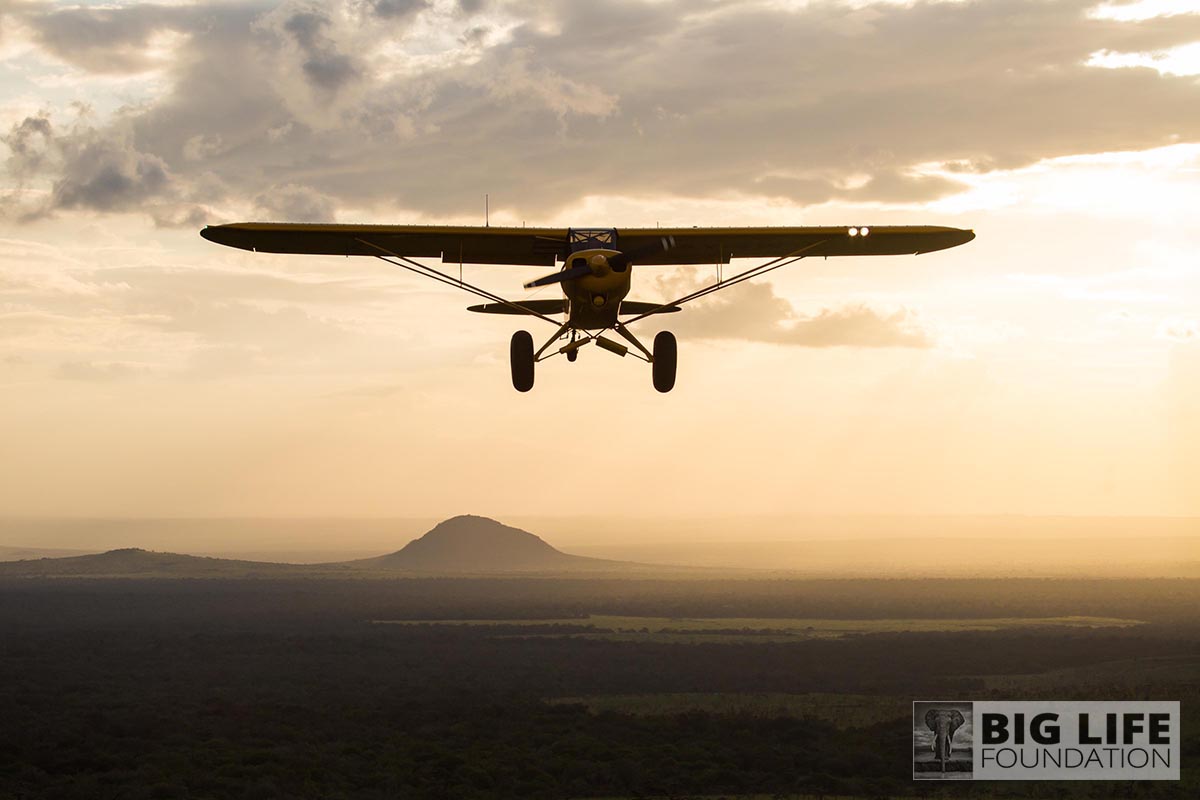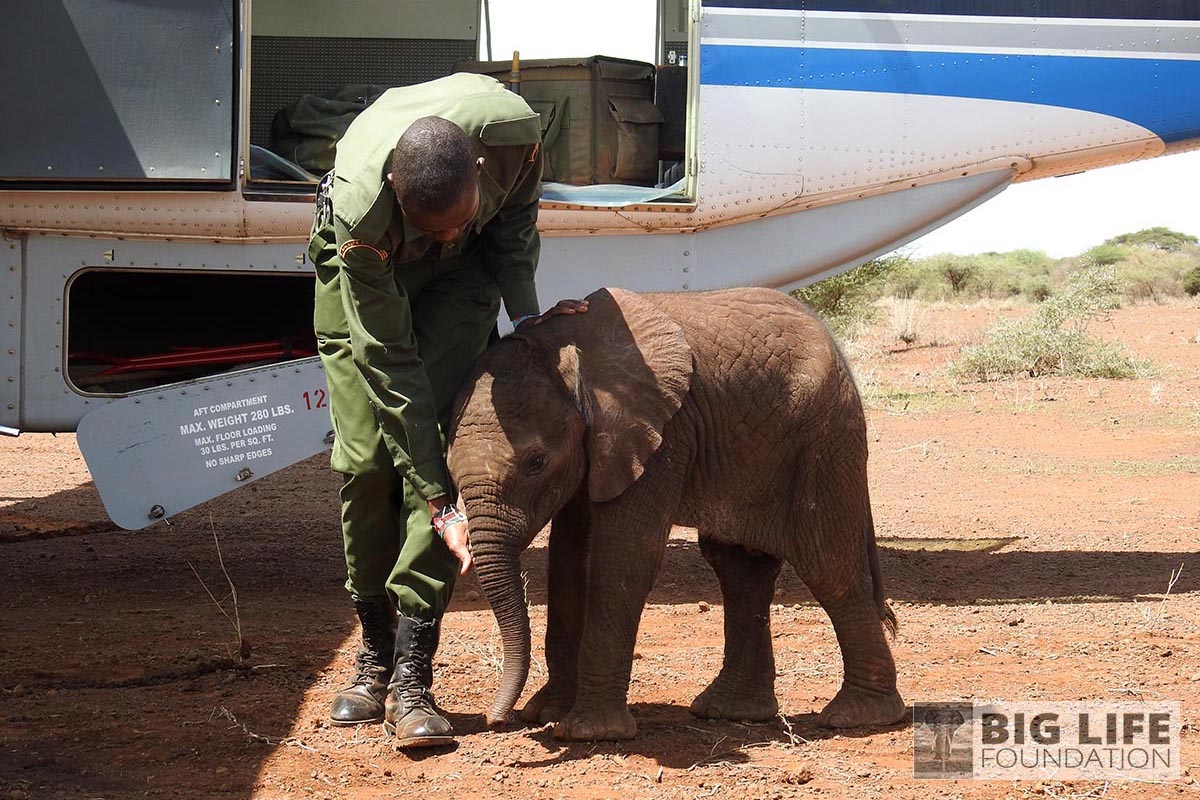 RELATED ARTICLES
Jul 26, 2021 - MEET CRAIG MILLAR, CHIEF OPERATING OFFICER

Jun 9, 2021 - 2020 Disney Conservation Hero: C.O. Francis Legei

Mar 26, 2021 - AFRICAN ELEPHANTS NOW LISTED AS ENDANGERED

Feb 20, 2021 - SCALY SURVIVORS

Feb 12, 2021 - SANCTUARY SUPERGROUP

Jan 8, 2021 - SPECIAL DELIVERY

Dec 17, 2020 - WATCH OUT FOR THE WOMEN OF BIG LIFE

Dec 3, 2020 - ARRESTED FOR "BYCATCH"

Oct 27, 2020 - CATCHING THE (REALLY) BAD GUYS

Oct 7, 2020 - THE PROBLEM WITH PANGOLINS

Aug 11, 2020 - THE MOMENT THE IVORY TRADE HAS BEEN WAITING FOR

Jul 29, 2020 - STAYING AHEAD OF THE HANGMAN

Jul 8, 2020 - BUCKING THE TREND

Jun 19, 2020 - GIRAFFE POACHERS STRIKE AGAIN – AND SO DOES BIG LIFE

May 29, 2020 - THE SNARE THAT (NEARLY) BROKE THE CAMEL'S BACK

May 15, 2020 - A BIG BABY WITH A BIG PROBLEM

Apr 15, 2020 - WHEN LION MET OWL

Apr 2, 2020 - THE POACHERS WHO SHOULD HAVE STAYED AT HOME

Mar 8, 2020 - SUPER 8

Feb 18, 2020 - TRAGEDY'S SILVER LINING

Feb 5, 2020 - MOURNING TIM, ONE OF AFRICA'S LAST GREAT TUSKERS

Jan 29, 2020 - THE PERFECT POACHING STATISTIC

Jan 7, 2020 - CATCHING THE CHRISTMAS KILLERS

Dec 8, 2019 - NO ORDINARY GUN: A CROSS-BORDER STORY

Oct 27, 2019 - EVEN DONORS CAN'T ESCAPE

Oct 8, 2019 - ONE BABY ELEPHANT LOST AND FOUND

Oct 3, 2019 - SMALL BUT MIGHTY

Sep 22, 2019 - 8 LUCKY RHINOS

Jul 30, 2019 - A GIRAFFE IS NOT A GIRAFFE

Jun 21, 2019 - GIRAFFE ON A MOTORBIKE

Jun 20, 2019 - BORN TO BE BIG

May 7, 2019 - Poachers Caught Off-Guard in Northern Tanzania

Feb 19, 2019 - BABY ELEPHANT RESCUED FROM STICKY PREDICAMENT

Feb 15, 2019 - BIG LIFE'S NEW DIGITAL CHESS BOARD

Aug 20, 2018 - A Herculean Effort

Jun 8, 2018 - THE YEAR A MAN FIRST STEPPED ON THE MOON

May 18, 2018 - BABY STEPS TOWARD RHINO RECOVERY

May 9, 2018 - BIG LIFE LAUNCHES AMBOSELI CONSERVATION ACADEMY

Feb 11, 2018 - LETTER OF APPRECIATION FROM KENYA WILDLIFE SERVICE

Dec 6, 2017 - A TALE OF TWO COUNTRIES

Nov 30, 2017 - LOST AND FOUND: ONE BABY ELEPHANT

Sep 17, 2017 - THE PART-TIME POACHERS: A DEADLY TREND

Aug 9, 2017 - THE MYSTERY OF THE MISSING LIONESS

Jul 30, 2017 - YOUR HEROES, YOU JUST DIDN'T KNOW IT

Jul 25, 2017 - NDAWE'S JOURNEY ENDS AT THE HANDS OF HUMANS

Jul 22, 2017 - A DAY IN THE LIFE OF AN ANTI-POACHING RANGER - IN PICTURES

Apr 13, 2017 - BIG LIFE'S CANINE HEROES

Apr 6, 2017 - CATCHING A CROCODILE CATCHER

Mar 14, 2017 - THE ONES LEFT BEHIND

Jan 11, 2017 - SECOND CHANCE FOR LUCKY BABY ELEPHANT

Dec 4, 2016 - UNITED THEY STAND (BUT ONLY WITH YOUR HELP):

Sep 29, 2016 - NEW SPECIES DISCOVERED: THE PYTHOLIN

Sep 24, 2016 - DO WE WANT ANOTHER ELEPHANT MASSACRE?

Jul 30, 2016 - AROUND THE WORLD IN 60 DAYS

May 29, 2016 - THE IVORY BUST… AND THEN WHAT?

May 24, 2016 - BLIND BABY ELEPHANT RESCUED

May 20, 2016 - 8-YEAR-OLD GIRL ROOTS OUT POACHERS

Apr 26, 2016 - BABY ELEPHANT RESCUED AFTER MUDDY ESCAPE

Apr 25, 2016 - 247 REASONS NOT TO POACH

Apr 2, 2016 - ONE TOO MANY LANDS POACHER IN JAIL

Jan 31, 2016 - Another one bites the dust: gang member caught

Jan 8, 2016 - FLYING HIGH (WHAT I GOT FOR CHRISTMAS)

Dec 17, 2015 - TRACKER DOGS PUTTING THEMSELVES OUT OF BUSINESS

Dec 6, 2015 - THE WOOLLY MAMMOTH AT YOUR SHOPPING MALL: END-OF-YEAR FUND DRIVE

Nov 20, 2015 - RANGERS RESCUE SNARED CHEETAH

Nov 17, 2015 - THE UNSOLVED CASE OF THE BURIED IVORY

Sep 28, 2015 - HIGH STAKES HIDE AND SEEK: TWO NEW NOSES JOIN THE BIG LIFE TEAM

Sep 13, 2015 - BABY WILDEBEEST GETS LIFELINE

Aug 31, 2015 - KILLING ELEPHANTS WITH SPEARS

Aug 2, 2015 - BAND OF (CONSERVATION) BROTHERS HUNTS DOWN THE KILLERS OF TSAVO ELEPHANT FAMILY AND RESCUES SURVIVOR

Jul 30, 2015 - ELEPHANT FAMILY BUTCHERED IN TSAVO - BIG LIFE TEAMS INVOLVED IN HUNT FOR KILLERS - NEWS UPDATES TO BE REPORTED SOON

Jul 1, 2015 - AN UNEXPECTED LIGHT

Jun 24, 2015 - NOT YOUR STANDARD DAY JOB

Jun 7, 2015 - TANZANIA'S ELEPHANT-KILLING FIELDS

May 25, 2015 - BIG LIFE - 'A MODEL TO REPLICATE'

May 14, 2015 - QUMQUAT AND FAMILY'S KILLER FINALLY JAILED

May 14, 2015 - ENDORSEMENT OF BIG LIFE FOUNDATION BY HONORABLE KATOO OLE METITO, MP

May 11, 2015 - SUSPECTED POACHERS CAUGHT AFTER TWO ELEPHANTS SPEARED

Mar 31, 2015 - TEAM HELPS INJURED GIANT IN LOOSE GREY SKIN

Mar 22, 2015 - A VERY BAD DECISION

Jan 14, 2015 - DEADLY TOOLS OF A POACHERS' TRADE

Jan 7, 2015 - POACHER CAUGHT IN AMBUSH WITH SEVEN CARCASSES

Oct 2, 2014 - MULTIPLE ARRESTS MADE AS BUSHMEAT POACHING INTENSIFIES

Sep 25, 2014 - BIG LIFE CATCHES ELEPHANT KILLER

Aug 28, 2014 - THIS WEEK IN AMBOSELI IN THE BATTLE TO PROTECT THE ELEPHANTS....

Aug 14, 2014 - BIG LIFE'S NEW RAPID RESPONSE MOBILE UNIT INTO ACTION

Jul 27, 2014 - BIG LIFE CATCHES POACHER ON THE RUN

Apr 4, 2014 - ANOTHER BULL ELEPHANT POACHED IN THE AREA BIG LIFE HOPES TO EXPAND INTO

Mar 24, 2014 - MEANWHILE, IN BETTER NEWS....AN ELEPHANT SAVED

Mar 24, 2014 - PREGNANT ELEPHANT SPEARED TO DEATH IN AMBOSELI

Feb 28, 2014 - BIG LIFE'S TRACKER DOGS RECOVER IVORY AFTER POACHERS KILL ELEPHANT IN TARANGIRE/MANYARA

Feb 10, 2014 - A TWIST IN THE TALE: THE ONGOING SAGA OF PEKEI, THE SUSPECTED KILLER OF QUMQUAT

Feb 8, 2014 - THE GREAT TORN EAR OF THE CHYULUS - VICTIM OF POACHERS' SPEARS

Feb 4, 2014 - THE RESCUE OF AN ELEPHANT CALLED ESITETI

Jan 26, 2014 - ELEPHANT POACHERS ARRESTED BY BIG LIFE TEAM & DOG UNIT IN W. KILIMANJARO

Dec 10, 2013 - A 34 YEAR OLD ELEPHANT....(& THE BIG LIFE RANGERS & DOGS THAT CAUGHT HIS KILLER)

Nov 8, 2013 - OVERNIGHT VIGIL FOR SNARED BABY ELEPHANT

Jul 19, 2013 - BIG LIFE TANZANIA'S TRACKER DOGS CATCH POACHER OF KILLED ELEPHANT

Jul 12, 2013 - TWO ELEPHANTS DOWN IN AMBOSELI : THE PRESSURE ON

May 15, 2013 - POACHERS ARRESTED FOR ELEPHANT KILLED IN JANUARY

Feb 26, 2013 - Big Life Tanzania's Dog Unit Saves Elephants

Nov 9, 2012 - A FAMOUS MATRIARCH & HER FAMILY (AND THE FATE THAT BEFELL THEM)

Oct 19, 2012 - ELEPHANT WITH FIVE SPEAR WOUNDS GETS LIFE-SAVING TREATMENT

Sep 26, 2012 - BUSH MEAT SEASON IN FULL FORCE, BIG LIFE CATCHES 7 POACHERS IN 3 DAYS

Aug 6, 2012 - A TENTATIVE WAY FORWARD IN AMBOSELI - AUGUST 6 UPDATE

Jul 19, 2012 - 'CEASEFIRE', FOR NOW, IN AMBOSELI - JULY 19 UPDATE

Jul 18, 2012 - EZRA OF AMBOSELI : COLLATERAL DAMAGE