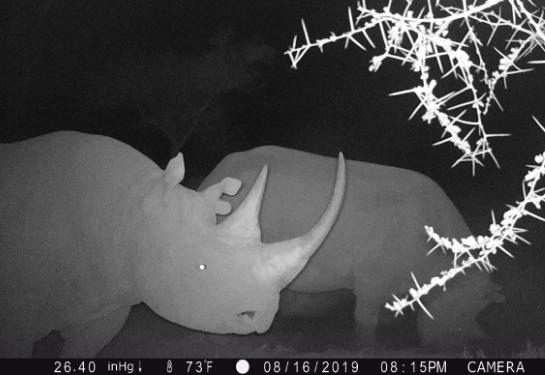 Four years ago, almost to the day, we lost a young black rhino called Bahati. His name meant "good luck," as he had previously survived a poacher's attack against unbelievable odds, yet he was ultimately caught in a poacher's snare and captured on camera trap after snapping the cable free from its tether. It was a desperate show of strength and courage.
After days of tracking by our rangers, who were racing against the clock to find him, a vet finally managed to dart Bahati, but infection had weakened him to the point where he wasn't able to survive the operation. Bahati's untimely death shook us all, and made us that much more determined to prevent something like this from happening again.
Four years later, on this World Rhino Day, we are immensely happy to report that we have managed to achieve just that. Since Bahati's tragic death, we have not lost a single rhino to poachers from the small population that Big Life works so hard to protect. This matters not just for individuals such as Bahati, but also in the bigger picture.
At the start of the 20th century, it's estimated there were several hundred thousand black rhinos across Africa, a robust and healthy population that once thrived. By the end of the 20th century, however, fewer than 2,500 remained. The rhino population in Big Life's area of operation was believed to have been extinct for decades. Until the mid-90s, when one of Big Life's first community rangers, Nderu Loormunyei, noticed something very peculiar while on patrol: rhino tracks.
It took years to capture photographic evidence of their presence, but we were thrilled to confirm that a tiny population of this critically endangered species had managed to hide in the dense lava and thick vegetation that covers the Chyulu Hills, a range covering just a few hundred kilometers.
They're significant for many reasons, but especially due to the fact that they are one of the only unmanaged populations of black rhinos left in East Africa today, having retained their original genetics.
At the end of 2015, there were 886 Eastern black rhinos in all of Africa, 678 of which were in Kenya. And 8 of them live wild and free in the Chyulu Hills today, including a calf born last year that has successfully survived its most vulnerable time under the protection of our rangers.
The thick bush that kept the rhinos hidden for decades also hides their biggest threat: poachers. In response to this threat, Big Life has continually intensified patrols, increased manpower, and improved infrastructure. We now have 51 rangers, 9 ranger units, 29 camera traps, and 7 outposts all dedicated to rhino protection in partnership with Kenya Wildlife Service. As a result, zero rhinos have been poached in the last 4 years.
Our hope is to continue growing this small but important population, and we are working with the Kenyan government on a plan to do so.
In the meantime, we're grateful for your support today on World Rhino Day. Please consider making a donation in support of our efforts to extend our four-year streak of rhino protection, and in loving memory of Bahati; may his name bring good fortune to all those who survive him.