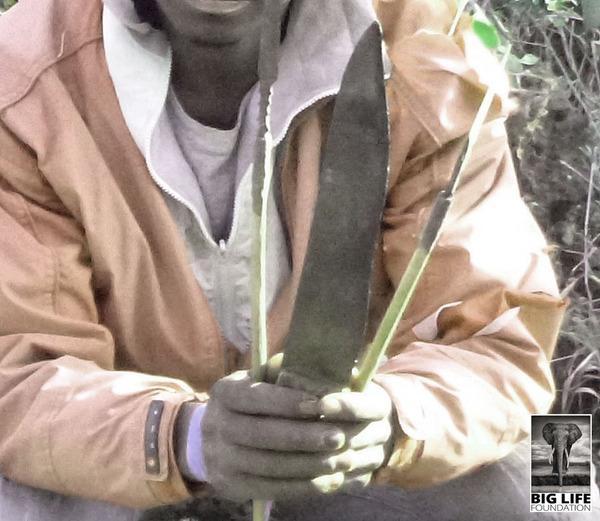 by Jeremy Swanson in Tanzania
Armed with deadly poison and specialized arrows, four poachers entered the Enduimet Wildlife Management Area (EWMA) on January 15, in search of elephants and their ivory.

So sure were they of their tactics, the gang didn't even bother to bring bows or guns. The poison, according to one source who later came forward to Big Life, could kill an elephant within a half hour after the arrow pierced its skin. They use the arrows like small spears and hurl them at the pachyderms.

Tracking an elephant herd from West Kilimanjaro's Kitenden Corridor to an area outside Tingatinga village, the poachers allegedly had planned to set an ambush. Only they didn't know one thing : an ambush had already been set for them.

Days earlier, an informant - let's call him Juma* - contacted one of Big Life's commanders who works alongside the village rangers of Enduimet. Juma knew the poachers' plans inside and out. But he had made the courageous decision to act before the gang could slaughter the animals.

In the pre-dawn hours of January 17, Big Life rangers joined forces with Enduimet's Mobile Unit, Big Life's Dog Unit, and another anti-poaching team from the nearby Ndarakwai Ranch. Upon receiving more details from the informant, members of the Dog Unit practically knew the exact bush under which the poachers had gone to sleep the previous night.

The unsuspecting gang had barely risen from their slumber before they found themselves in custody.
Big Life and our partnering teams, along with the case-breaking courage of an informant, certainly prevented more wildlife from being needlessly massacred in East Africa this past fortnight.
* To conceal his identity, the name of the informant and circumstances surrounding his role in this breaking story have been altered.
RELATED LINKS:
Wildlife Protection/Anti-Poaching
Wildlife Protection/Dogs Save Elephants : Big Life's Tracker Dogs