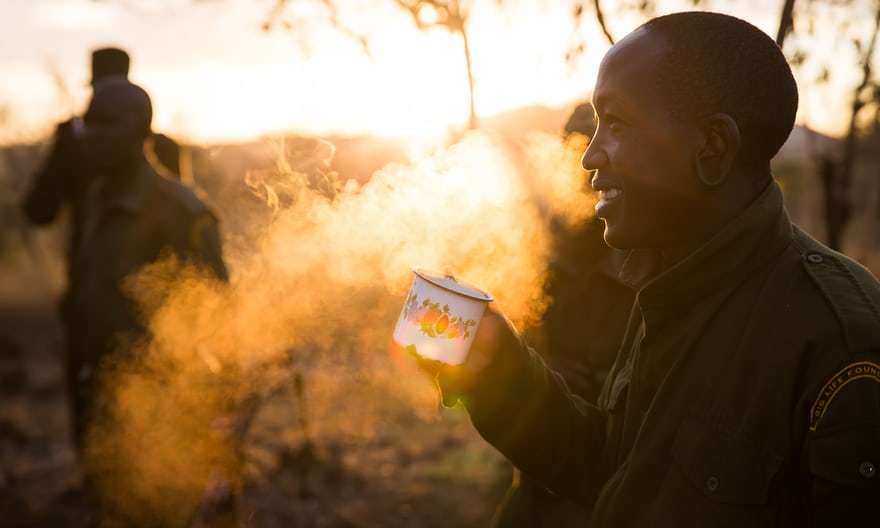 6am – Rangers start a cold day with hot, sweet tea. They live in remote outposts of between four and 12 people, and team members form strong bonds with one another. Today, Big Life protects upwards of 2m acres in the Amboseli-Tsavo-Kilimanjaro ecosystem that straddles Kenya and Tanzania. Featured in Vulcan Productions' film The Ivory Game, Big Life employs hundreds of rangers in dozens of outposts across the region. Their tools to tackle poaching include mobile ranger units, tracker dogs, aerial surveillance and a vast network of informants.
7am – Rangers on patrol encounter a herd of elephants and track them for a while to make sure that none are injured, and to determine which area they are heading towards for monitoring purposes.
8am – Big Life rangers regularly drill and train to keep their skills honed. One of the largest employers in the Amboseli ecosystem, Big Life employs more than 350 local Maasai in conservation efforts.
8.30am – As a lioness relaxes, rangers elsewhere are assessing the damage she may have caused during the night. In the past, local Maasai herders retaliated against lions for hunting their livestock, but thanks to the setting up of a compensation fund, the killing of lions and other predators has been reduced in recent years. There were fewer than 10 lions in the ecosystem prior to the fund; now there are more than 200. This decrease in killing by humans has contributed to the growth of the lion population, a trend that is increasingly rare as the species' numbers plummet across the continent.
10am – In the rhino territory, a squad of rangers is on standby 24/7, but they rarely see the seven elusive animals they're charged with protecting. Monitoring camera traps is not glamorous but it's critical to the protection of eastern black rhinos in the Chyulu Hills, eastern Kenya.
See The Guardian for the full article: A day in the life of an anti-poaching ranger – in pictures