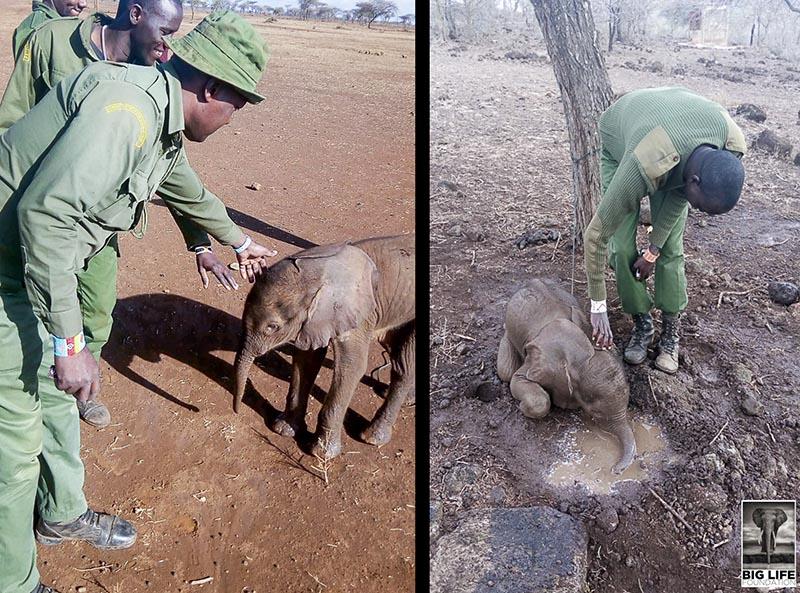 Only a very bold (or very hungry) predator will take on a full-grown elephant, but a calf wandering alone in the darkness is easy prey. It would have been a long and stressful night for the baby, but somehow he survived.
We don't know how he was separated from his family. He was first seen late Sunday evening by a community member from Rombo Group Ranch, an area bordering Tsavo West National Park in a far corner of Big Life's operating area.
Early the next morning, the same man bumped into the elephant in the bush again, and this time there was enough daylight for him to walk to Big Life's mobile camp in Rombo and tell the rangers. It was 6 am.
The ranger unit set out immediately to where the elephant was last seen and found it soon after arriving at the spot. The tiny elephant, less than two-months-old, was seemingly responsive to any kindness and happy to walk with the rangers as they guided it back to their camp. The next calls, to Kenya Wildlife Service and the Sheldrick Wildlife Trust, were made at 6:49 am.
By 8:30 am, there was a SWT helicopter and team on the ground, and they sedated the calf and bundled it into the helicopter. From Rombo it was a short hop to the SWT HQ at Kaluku, where the calf is reportedly doing well. He will join the other elephant orphans in the care of SWT, and hopefully one day be released back into the wild.
Incredibly, the whole rescue operation took less than three hours. This sort of response is only possible because of our extensive ranger coverage (made possible by you our supporters, and Zoo Basel and USAID in particular on Rombo), the much appreciated partnership with SWT, and a community that cares. We all have an important part to play.