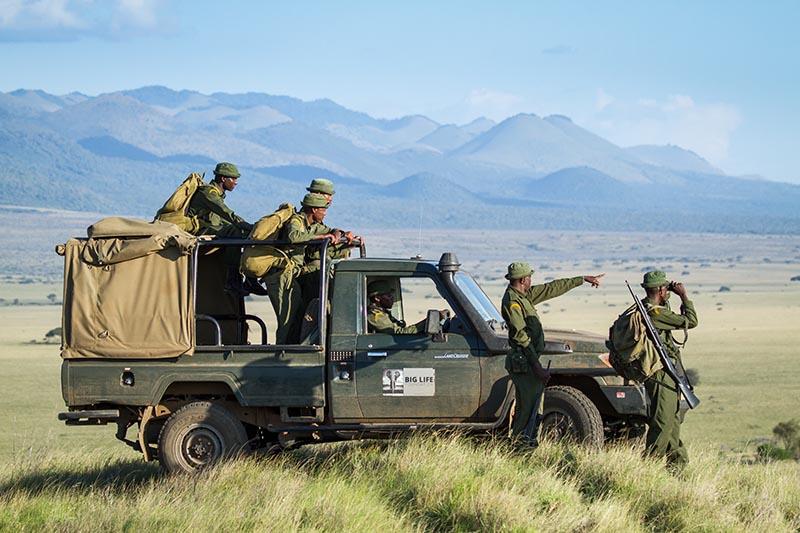 Big Life monitors 1.6 million acres of the Greater Amboseli ecosystem. This area is a unique region that includes community-owned group ranches, conservancies, sanctuaries, and national parks. The network of roads for tourists to access wildlife viewing areas is a zig-zagging patchwork that's not clearly marked, so it's important to hire local guides. But even local lodge operators can sometimes turn up the wrong path, as happened recently.
A tourist staying at one of the local lodges was out on a game drive, using motorbikes. His guide, following animal tracks in the dusty road, was heading in what he hoped was the right direction to spot one of the local lion prides. He edged further and further into unknown territory, the road turning from dusty to rocky. And in doing so, they got a lot more than they bargained for.
What they did not realize was that they had crossed over the invisible line into rhino territory, the Chyulu Hills National Park, and were being monitored from afar. As they made their way further into the park, Big Life rangers moved to intercept. Tourists more commonly use open safari vehicles, not motorbikes. Regardless, a tourist would have paperwork showing they'd paid their park entrance and conservancy fees and would be allowed to continue on. But a poacher could pretend to be a tourist in order to escape.
After finding no receipts, the group was taken to Big Life's headquarters for questioning. When it comes to the security of the rhino population in particular, you can never be too careful.
A call to the lodge and everything was sorted out in short order, and the group sent on their way to enjoy their sundowner. The operator was reminded to carry the correct documentation, and to inform local ranger units of their activity in the area, to prevent misunderstandings the future.
As for the tourist? It turned out he was a donor to Big Life, and was impressed with the professionalism and effectiveness the rangers demonstrated. He certainly had a story for dinner that night, and the reminder that conservation is serious business. And our rangers take their jobs VERY seriously.