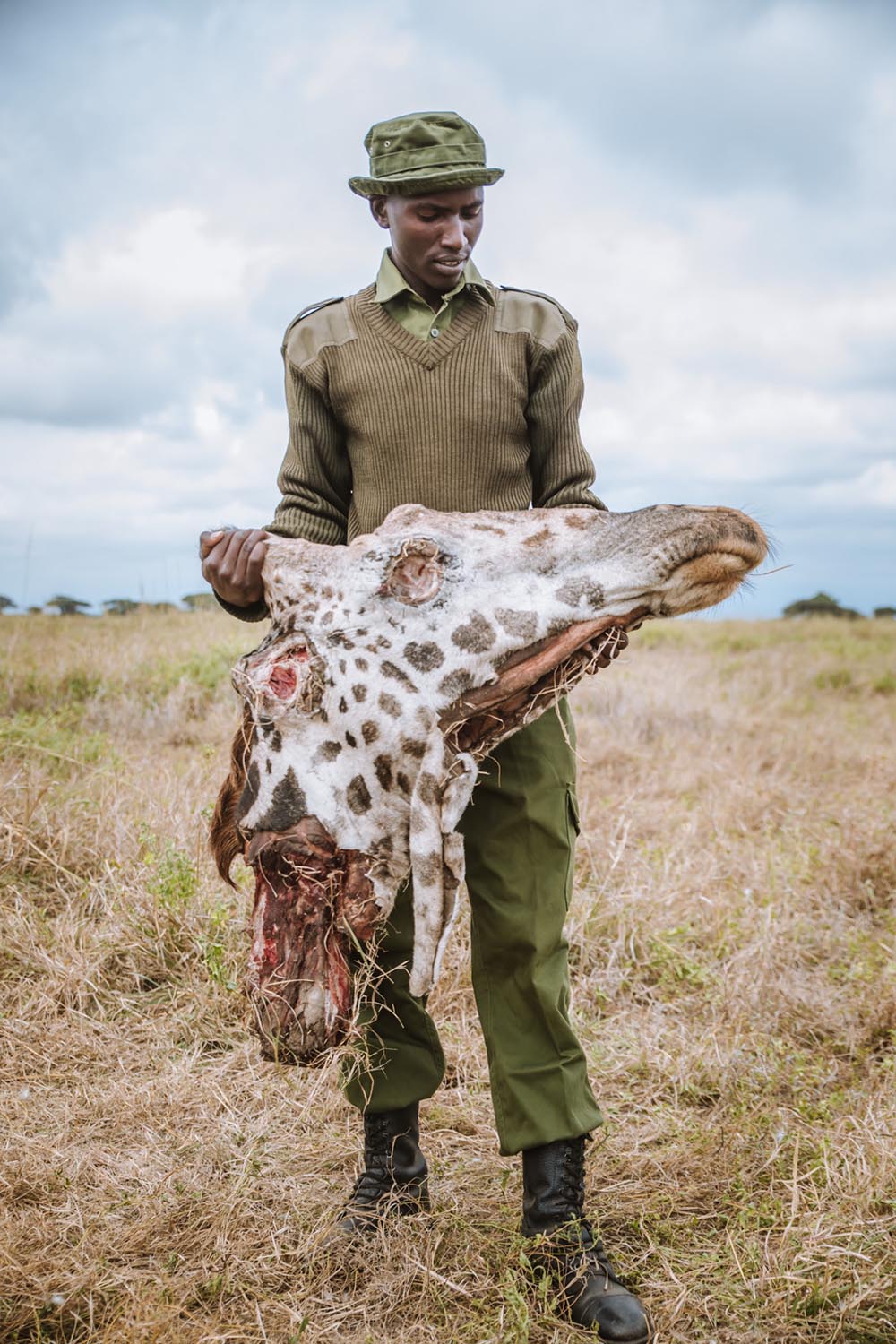 Things tend to go quiet after our rangers are successful arresting poachers. Our recent fundraising appeal tells the story of the surge in giraffe poaching here in the Amboseli ecosystem, and how Big Life rangers recently caught some of the poachers responsible. It was a strong warning to others, and there has been little killing in the weeks since.
But we knew the quiet would not last. Poachers have struck again, this time in the far north of the ecosystem. They used the same horrible method of killing the giraffe: blinding it and cutting its tendons so that it could not run away.
Big Life rangers were able to respond quickly. Following a tip-off, rangers from our Eselengei unit and the Kenya Wildlife Service surprised the poachers in a night-time ambush at the scene of the crime. One poacher was arrested, and the killing tools and 400 kg of giraffe meat were confiscated, including the giraffe's head, which was collected for evidence.
We are heading into the dry season here in southern Kenya. It's always a difficult time of the year for people, which is going to be made much, much worse as a result of COVID impacts on the economy. People will be looking for cheaper sources of protein, and bushmeat costs less at market. Poachers will be gearing up to meet that demand.
But we are gearing up to meet the poachers. Our intelligence network is on high alert, and nights will find Big Life rangers awake on patrol somewhere in the ecosystem. Our high arrest rates are a huge deterrent for would-be poachers in the ecosystem, and we intend to keep it that way.
Big Life's strength and effectiveness is only possible because of our donors and partners worldwide. We hope you consider supporting our appeal for funds to keep our rangers in the field, and ready to tackle this increased threat of bushmeat poaching. Your help couldn't come at a more critical time.
Photo: Jeremy Goss