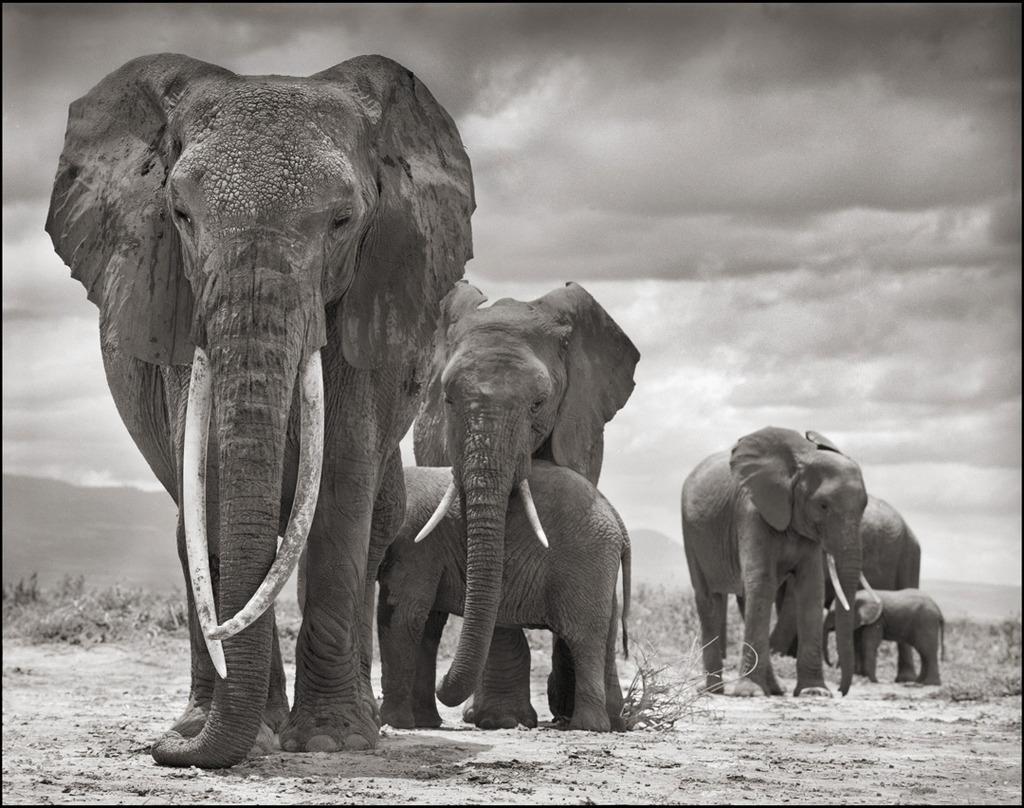 On October 27 2012, Nick Brandt took this photo of Qumquat, one of Amboseli's most famous matriarchs, and her family. 24 hours later, they were gunned down by poachers.
Report by Richard Bonham, November 10 2012
THREE GUNSHOTS, THEIR FATAL EFFECT, AND PURSUIT OF THE KILLERS
The crack of a heavy rifle, designed specially to kill elephants, is unmistakable. It's a little like a sonic boom, a crash followed by a roll of sound not unlike thunder.
This is what the Big Life rangers, manning an observation point on the Tanzania border, heard on Sunday afternoon. Three shots in quick succession.
This triggered the radio network to burst into life, as they called in for support from Kenya Wildlife Service and other Big Life teams in the area. The reaction was textbook, and in less than an hour and half, a combined unit of Big Life and KWS rangers were on the scene.
As dusk set in, a ranger spotted three men. One of the poachers raised a rifle and fired at the rangers, sending the team scurrying for cover. It would have been suicide to continue the pursuit in the fading light, so the teams pulled back to resume the follow-up at first light.
I arrived by plane at sunrise the following day to give aerial support and look for carcasses. After an hour and half of fruitless searching, we received news that a fresh tusk, still covered in blood, had been found on the poachers' tracks. The follow-up team split up, some continuing with the poachers tracks, others backtracking to find the carcasses.
At midday the gut-wrenching news arrived. Three dead elephants had been found, their faces cut away, their ivory gone.
The team from Amboseli Elephant Research identified the dead as Qumquat, born in 1968, one of Amboseli's most famous and oldest matriarchs, and her two daughters, Qantina and Quaye.
Just 24 hours before they were gunned down, Nick Brandt took the above photo of the three of them, alive on their last afternoon together. You can see that he was just a few feet from the family, so trusting, so relaxed. Such easy pickings for poachers with a mind to murder for profit.
At the front is Qumquat, beyond her two daughters, Qantina and Quaye. As for the three youngest, two are missing, the younger almost certainly dead now. Only the youngest calf is alive, a story in and of itself.
(Photos of Qumquat and daughters' as they were left by their killers can be viewed at this link, but please be warned, it is not for the faint of heart.)
RESCUE OF QUMQUAT'S ORPHANED CALF
When the rangers found the carcasses, Qumquat's youngest calf, only ten months old, was also there, watching over his mother's carcass. The calf, traumatized at having watched its mother shot and butchered, had stood vigil all night alone.
He was caught - not easy - and led to a position where the David Sheldrick Wildlife Trust rescue team could get it onto a vehicle. He was then transferred to an aircraft chartered in from Nairobi, which then flew him back to the Sheldrick orphanage.
The professionalism of this operation, orchestrated by the Sheldrick Trust, was so smooth, that any First World emergency response ambulance would have been proud to have been a part of it. Sadly they have had too much practice in recent years.
All in all, it was a good example what can happen when everyone pulls together, in this case Big Life Foundation, Kenya Wildlife Service, Amboseli Trust for Elephants and the David Sheldrick Wildlife Trust.
ARREST OF NOTORIOUS POACHER THAT KILLED QUMQUAT
Meanwhile, the poachers' tracks that the Big Life teams had been following had disappeared where the poachers entered settled country. Even bringing in the dog unit at this stage would have been fruitless.
But as it so often does, Big Life's informer network came through. We were informed of the location of one of the key poachers, and the following day, the Big Life teams, in partnership with KWS, arrested him.
It was a notorious long term poacher who, to be honest, we had already arrested a year ago. He had been jailed, but then released far too soon. This time, we are confident he will be put away for a long time. We also know the identity of one of the other poachers, who is in hiding. Generally, they eventually surface, and we will be waiting.
But it's so disturbing, once again, how the poachers, greedy and brutal, gunned down Qumquat's daughters, who possessed such small tusks, for just a few extra dollars. All in a day's 'work'.
HELP US STOP THE KILLING
After a week in which Amboseli's elephants suffered the worst single slaughter in some time, we ask ourselves what we need to do differently. We are determined to do more, to make sure that something like this does not happen again. There are two clear solutions :
MOBILE CAMPS
We need rangers in the right place at the right time. The solution - additional mobile camps - is low tech, simple and reasonably cheap. Our permanent outposts would have the capability of setting up 4-man mobile camps that can be deployed into areas as the wildlife moves, or where a poaching threat is deemed serious or imminent. The costs are just over $2000 per mobile camp, one for each of the 14 current outposts.
We believe that it will make a huge difference - not just because it will mean we can get men to the scene faster, but also as a deterrent, because poachers will not know when and where the camps will be deployed.
DIGITAL RADIO NETWORK
Our current radio system, which has to cover the 2 million acres Big Life rangers patrol, is completely inefficient compared to the new digital systems. Amongst many major improvements, all the new digital radios, vehicle or handheld, have built in GPS, and as such can be tracked in real time on screens in the radio room of Big Life HQ.
In an incident such as the Qumquat family killing, we would have known exactly where all our units were and which unit was best placed to respond. We could have then directed them much more efficiently. This could have made the difference in tracking down the poachers in time before they escaped.
There are many more reasons why this system will dramatically improve Big Life operations and ultimately pay for itself. A full breakdown can be read here.
The costs for the above are :
14 x MOBILE CAMPS @ $2000 each $28,000
EXTRA RUNNING COSTS FOR MOBILE CAMPS$12,000
NEW DIGITAL COMMUNICATION SYSTEM$65,000
TOTAL$105,000
$105,000 would pay for these immediate major improvements to our anti-poaching operations.
We would be hugely grateful if you donated today, something, anything towards this amount, knowing that animals' lives, and the health of an entire precious ecosystem would be improved by your contribution.
Qumquat was a truly special matriarch, who successfully led her herd for many years.
In one hellish afternoon, three generations of her herd were exterminated. But there are thousands of other Qumquats and sons and daughters all across the vast African ecosystem. Please help us to protect them.
Thank you in advance, Nick Brandt & Richard Bonham

Donate at :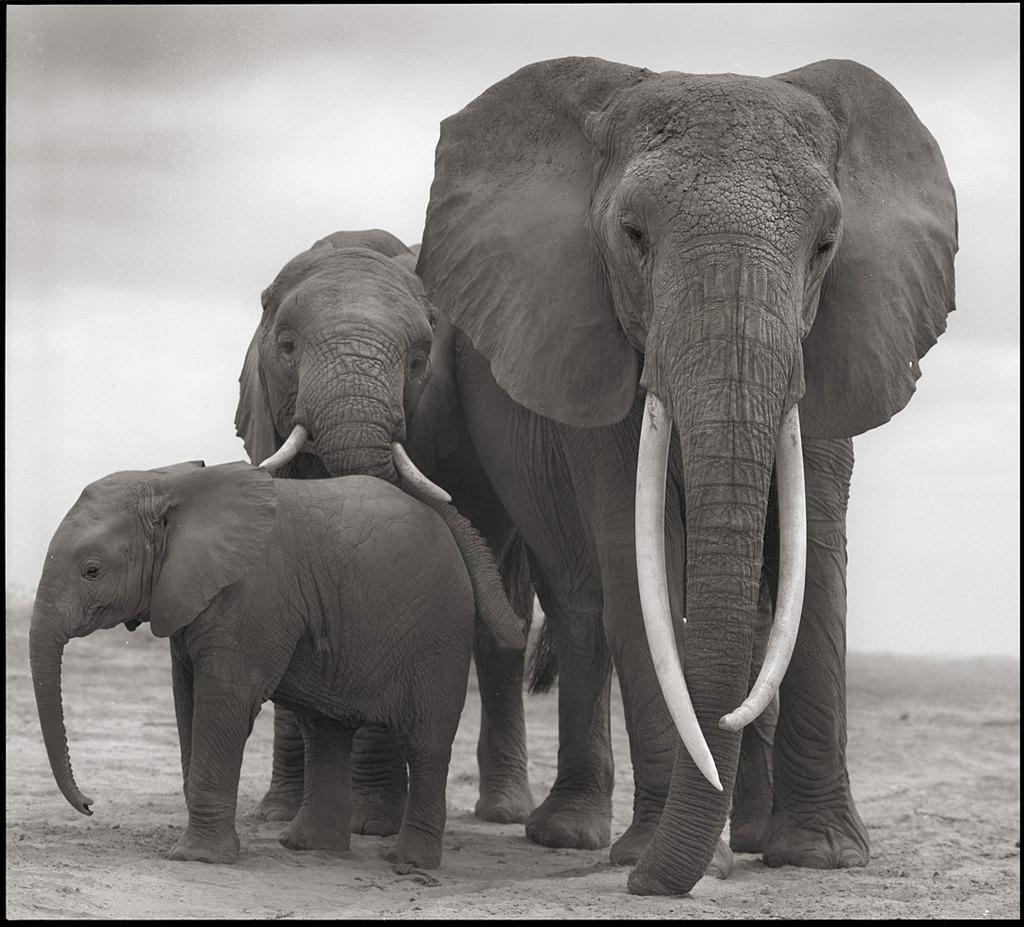 Qumquat with Daughter & Grandson, July 2012
Photos : © Nick Brandt 2012