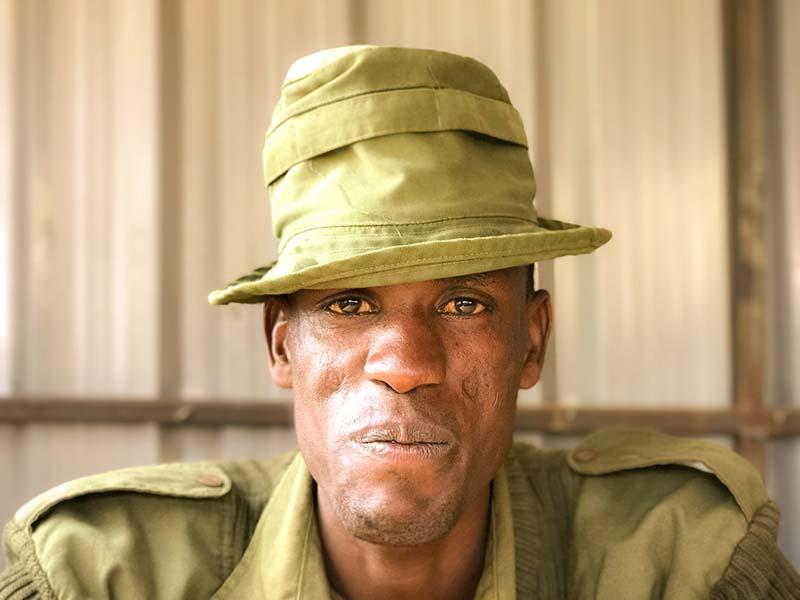 In the lead up to World Ranger Day on July 31, we'll be featuring stories about a few of our community rangers. You already met Sesei Loormoni. Today, let us introduce you to Corporal Olchurie Kapasei.
Corporal Kapasei started with our Rombo unit as a Constable six years ago. After demonstrating solid bush skills, he was transferred to Big Life's Rapid Response Unit (RRU), which responds to urgent crises in the areas adjacent to our core area of operation. Kapasei's work in the RRU helped to protect the perimeter and boundary areas of Big Life's protection. As a result, he was chosen for formal training with the Kenya Wildlife Service's ranger course at Manyani and selected for firearms management.
In the war against wildlife crime, armed rangers are a necessary part of the equation, and Kapasei has spent several years carrying one of Big Life's firearms' licenses. As an armed Constable, he was moved back to Rombo and promoted to Corporal, now moving between the three units in Rombo wherever a gun might be necessary for operations to protect wildlife and wildlands. His work has involved him in countless incidents over the years, including the tracking and arrest of two notorious poachers responsible for poaching six elephants in Tsavo West.
Before he was hired to become a ranger, Kapasei was a local Maasai herder. Although he never completed formal education, his bush skills and endurance are unrivaled, and his contributions to conservation and his personal sacrifices are ones we should all celebrate.
Thank you, Corporal Kapasei.
Please consider supporting our rangers by making a monthly donation. Doing so enrolls you in our Ranger Club, and maximizes the impact of your gift by providing reliable funding that our rangers can count on.
The first 15 people to sign up as Ranger Club members (or existing members who increase the amount of their monthly donations) during the month of July are eligible to receive a limited edition Big Life tote bag.