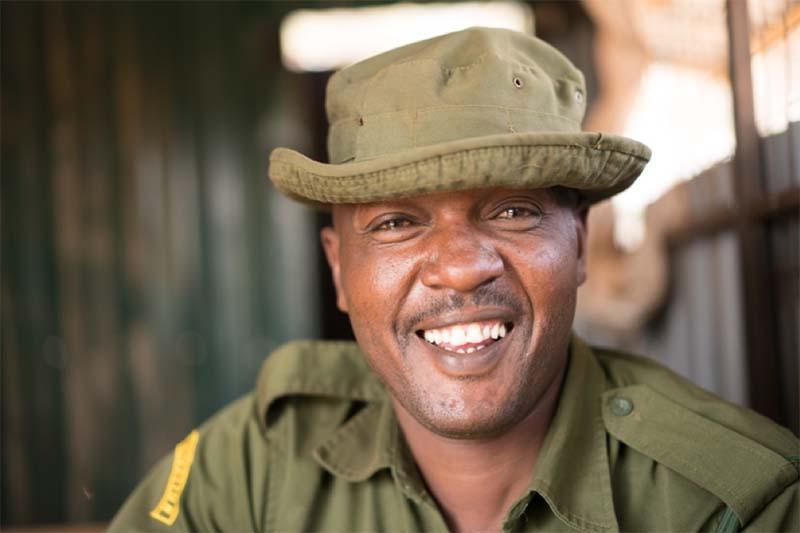 Did you know that in 2018, Big Life's community rangers patrolled 91,404 kilometers on foot and 277,891 kilometers by vehicle? Our ranger units share 14 patrol vehicles among them. That's a lot of fuel and hours spent in the car, searching for injured wildlife, responding to requests from the community, tracking down suspects in the bush, and delivering equipment and rangers wherever they need to be.
In the bush, roads (where they exist at all) can be treacherous. Massive erosion from occasional heavy rains, livestock traffic and overgrazing, wildlife crossings, and thorns the size of your hand from native acacias all make travel interesting. Which is why being a driver is a critical job.
Meet Corporal Mejai Ole'Kumari. He's one of Big Life's drivers, frequently on patrol with Mobile Unit 4.
He's worked for Big Life for eight years and is a local resident of the area he helps patrol on Rombo Group Ranch. His role and tenure mean he's been involved in responding to most of the incidents that happen in this area, including the tracking and arrest of the two notorious poachers responsible for the killing of six elephants featured in The Ivory Game (available on Netflix, for those who haven't seen it).
His job as a ranger supports both of his wives and their children. We're grateful to Corporal Ole'Kumari for his commitment to conservation and for all his hard work protecting wildlife and wild lands.
Please show your support for rangers like Mejai Ole'Kumari by joining our Ranger Club. A monthly donation, no matter how small, helps provide consistent funding our rangers can rely on.
New Ranger Club members during the month of July (or existing members who increase their giving level) are eligible to receive a limited edition Big Life tote bag.
Photo: Clifford Pickett