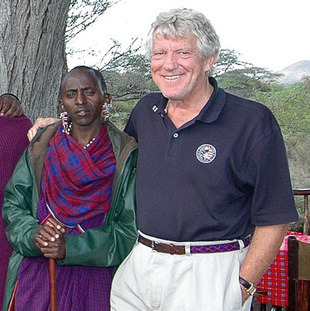 Tom Hill, a graduate of the University of Texas and the Wharton School of Business (MBA in Finance) was a New York City-based entrepreneur for more than three decades. He co-founded Shoppers Voice, Inc. in 1968 ("the first interactive communications medium" according to The New York Times). The company later expanded its scope and was re-named Newmedia Marketing Companies, Inc., maintaining long-term client relationships with Nestle, Unilever, Colgate-Palmolive, and Toyota, among others, after which he began a consulting firm that for years served leading multinational companies (including Royal Dutch Shell and Marsh & McLennan Companies). In the 1980s and early 1990s, he was also active in private equity.
Having been a co-founder of the Institute of Human Origins in 1981 and The Trust for African Rock Art in 1996, Mr. Hill chose in 2000 to devote himself fulltime to philanthropic and non-profit endeavors. He moved to rural Kenya, where he was a co-founder of the Maasailand Preservation Trust, whose mission is to stabilize and sustain the Amboseli-Tsavo ecosystem at the base of Mount Kilimanjaro. MPT has since merged with Big Life, where Tom continues to be involved as a Co-Founder, Board Director, and Treasurer.
In 2003, Mr. Hill and his colleague Richard Bonham created what would ultimately become Big Life's Predator Compensation Fund, an innovation in wildlife conservation strategy that has proven highly successful at saving the great predators of the region–especially lions–reversing their otherwise imminent extinction in the very cradle of their existence.