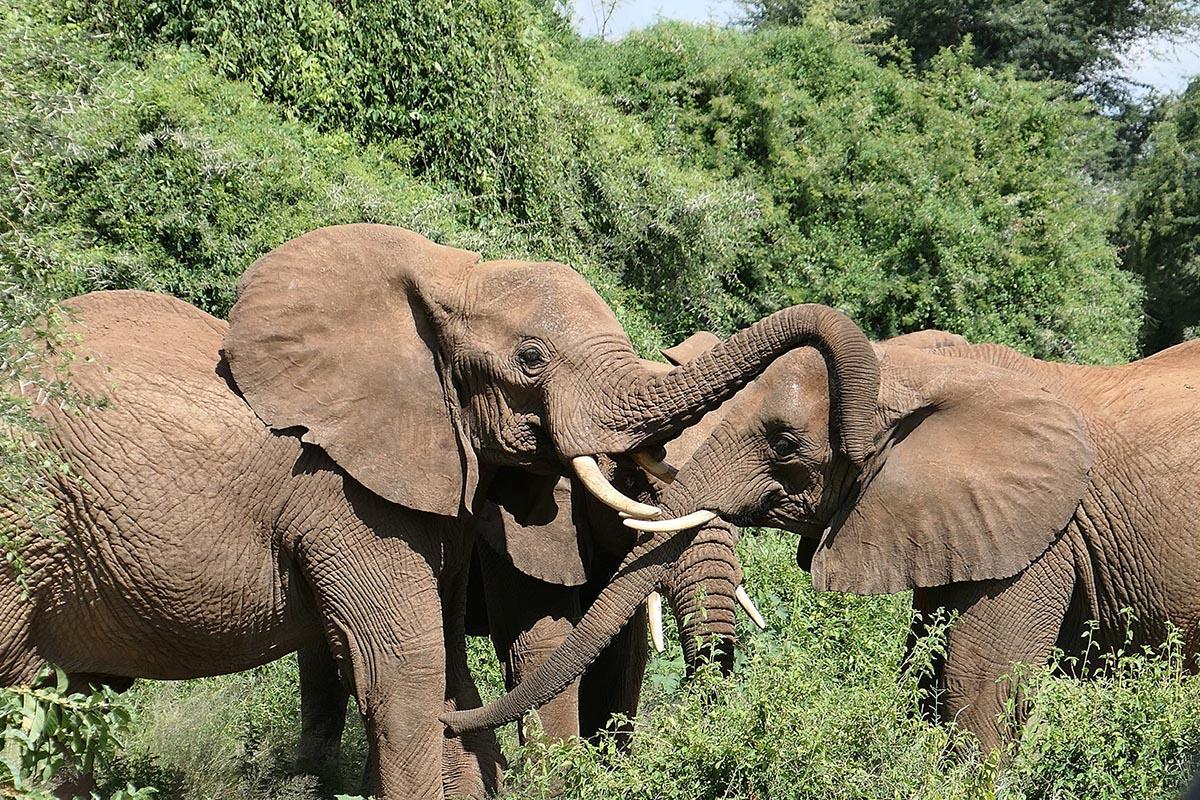 There's a Buddhist proverb, later interpreted by the American poet John Godfrey Saxe, about people and elephants that goes something like this: Six blind men encounter the world's largest land mammal and decide to investigate. They each arrive at a different part. One runs his hands over its side: "It feels like a wall." One wraps his arms around a leg: "It feels like a tree!" One grips the trunk: "It's like a snake!" One knocks on a tusk: "No, it's like a spear." One fingers an ear: "No, it feels like a fan!" One swings from the tail: "It feels like a rope!" And they argue for hours, and in some versions even come to blows, because each was sure of what he'd felt and what he understood an elephant to be, and each was sure that they were right and the others were wrong. Saxe said the elephant was god, and our fumblings religious certainism; the moral is about certainty and truth and accepting alternate points of view. These days, though, that parable could just as easily be about something else—namely the seemingly inevitable human propensity to abuse and misread nature. Consider the predicament that the world's largest pachyderms find themselves in today: Thanks to us, the plight of elephants has become so dire that their greatest enemy—humanity: blindly blustering, greedily groping—is also their only hope.
On June 20, the AP reported that nearly 100 countries had taken part in an Interpol-led "globe-spanning crackdown on the illegal wildlife trade" called Operation Thunderstorm, in which they recovered contraband that included 43 tons of meat (including elephant) and 1.3 tons of ivory. "Some 1,400 suspects were identified worldwide" in the sting, Interpol said; they "include police, customs, and other agencies from 92 countries." The AP noted that "global wildlife crime" is worth "about $150 billion annually," ranking in value only behind "the illegal drug trade, counterfeiting, and human trafficking." The threats that face the wild elephant—poaching, international crime syndicates, local farmers, governmental and judicial corruption, massive continental development, and infrastructure challenges—have stymied policy-makers and conservationists alike for a generation. Imagine a balloon, one person who worked in anti-trafficking said to me: You squeeze down on one part, the air moves to another. The free-fall of the wild elephant is one balloon that's felt impossible to puncture—until now. In late May, Tiffany & Co. took a small group of journalists and influencers to meet the people behind the Elephant Crisis Fund, the conservation initiative that is making some headway defending wild elephant populations in Africa. The ECF, which is a joint initiative by Save the Elephants (a Kenya-based research and conservation operation founded in 1993 by the world's foremost expert on the African elephant, Iain Douglas-Hamilton) and the Wildlife Conservation Network, in partnership with the Leonardo DiCaprio Foundation and #KnotOnMyPlanet (an awareness campaign fronted by supermodel Doutzen Kroes and conceived by DNA Model Management cofounder David Bonnouvrier and his partner Trish Goff), has been the recipient of 100 percent of the profits from Tiffany's Save the Wild collection, an amount that recently exceeded $2 million. Through the efforts of the ECF, poaching rates in northern Kenya have begun to stabilize, and now that they've staunched the bleeding locally, they want to apply what they've learned to the rest of Africa's elephants before it's too late.
Read the full article on Vogue.com: Who Will Save the Elephants?