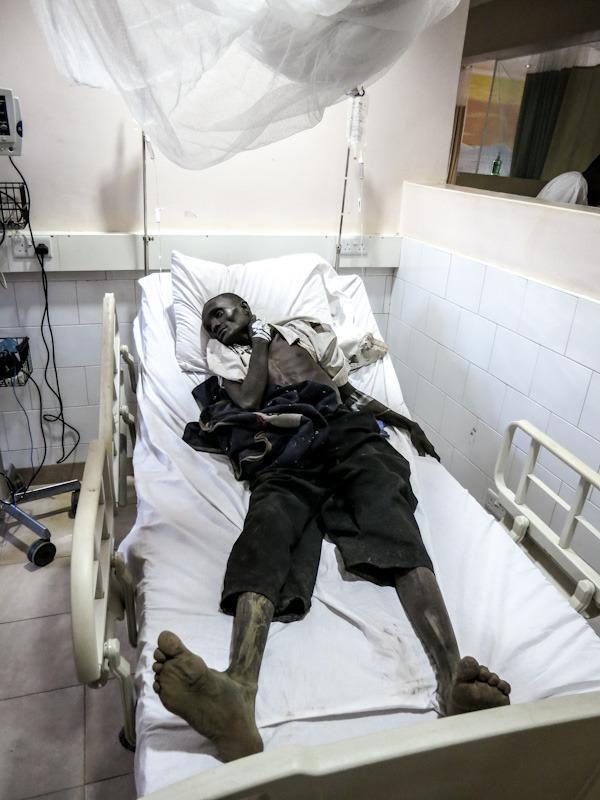 by Nick Sharp
August 19 2012
A fit, healthy, young adult sitting bone idle can last anywhere from 5 to 7 days without water – one's prospects go south from there pretty quickly when conditions get any trickier. The scorched plains of Mbirikani Group Ranch between two rainy seasons offer something near the ultimate test, so how long do you think a blind man in his '60s walking 15km a day without water or food would survive? This week we got terrifyingly close to finding out.
On Saturday morning, the Big Life radio frequency was full of talk about a blind man called Jaluo Orputuai who had gone missing. He had left a party in Mbirikani about 60 hours earlier and was last seen heading south towards home. In the absence of the high tech emergency services of the 1st world it was up to teams from the local community helped by Big Life Rangers, vehicles and communication equipment to go out and find Jaluo. His tracks had him heading south, deeper and deeper into the ranch and away from his home, it was immediately clear that he had become very lost and disoriented.
Once the ground team were on his tracks and had established the area he was heading in, it was decided that 5Y-BGJ would put her anti-poaching duties aside and join the search and rescue mission.
We got airborne with 4 sets of eyes in the plane and canvassed the search area. The hope was that even if we couldn't spot the man from the air, he would hear us and try to signal us. 90 disheartening minutes later and with the fuel gauge needle flirting with the red zone, it was time to refuel and reassess the search area.
At this point John Stevens (a very experience Zimbabwean bushmen and tracker who was staying with Richard) and I decided our services would be better used on the ground, we could get water and equipment to the search party and coordinate Richards flying efforts from there. By now it was mid-day and with the sun at its highest point in the sky, things weren't looking good.
On the ground, tracking was being led by Maasai Morans who were now following Jaluo's tracks through the black cotton soil heading north. Disoriented, exhausted, thirsty, hungry and blind, he had remarkably started heading back home towards Mbirikani. 5 hours later and with the sun slipping closer to the horizon there were plans being made to continue the search into the night, our tracker dog Jazz was being harnessed (he works much better when it's not so hot) and the vision gear was ready to go.
Suddenly out of nowhere, a dot appeared on the horizon frantically waving at us. It was like a starting piston had been fired and the entire search party screamed across the plains towards it. The blob become bigger and bigger and then it become two blobs - one of them taking up the shape of a motorbike. This was not our guy. Disheartened, the sprint become an amble, a flat tire no doubt the cause of this false alarm. As we got closer the man's frantic waving oddly became even more frantic. He was urging us away from him and towards Mbirikani. A quick scan of the horizon in that direction and another blob was spotted. This had to be our guy!
Collapsed in a heap of dirty clothing was Jalou's fragile frame. His body was close to giving up, and his muscle had become spastic, an indication of 10% + fluid loss - 15% is fatal. Really it was remarkable that he was still going. After over three days in the scorching sun without water, his ordeal was nearly over.
After removing his hot sweatshirt and boots and carefully cleaning his mouth and face, he was given a wet cloth to suck on (drinking water in such a dehydrated state is often fatal). We then rushed him to the clinic where the staff did a fantastic job of stabilizing his condition and beginning the procedure of rehydrating him.
Big Life's operations are rarely confined to our programmes, and in the absence of viable alternatives, there are a million different roles that our rangers and staff take to help the local community.