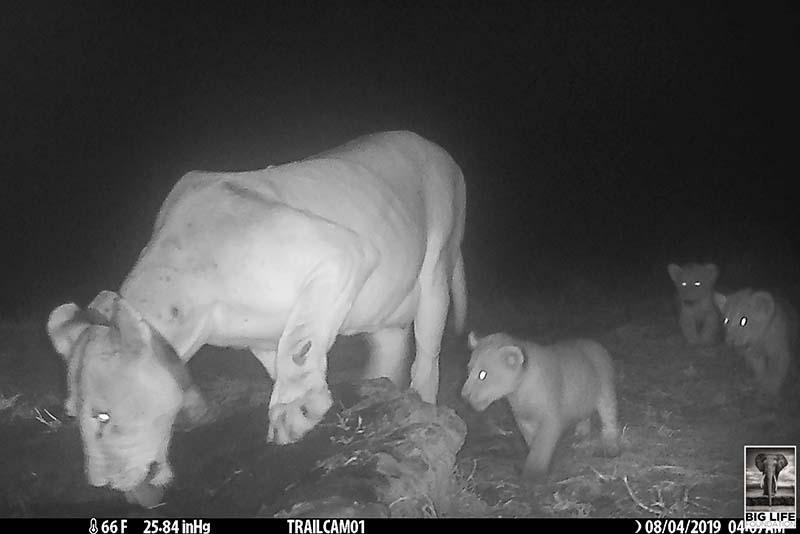 When a lioness named Nelowua's satellite tracking collar stopped moving for a week, we knew that something was either really wrong or really right. She was dead, or had given birth.
Her last location was deep inside thick bush, preventing easy access on foot. We waited a few days, and small movements meant that she was still alive. But we had a to wait a few months to finally see what Nelowua was hiding.
There was much excitement last week as we sifted through a night of camera trap photos, to find an image of Nelowua with three tiny cubs in tow. This is her second litter in two years, and some of you might remember a similar story of her going 'missing' in September 2017.
These three young lions have been born on community land, and there will be challenges ahead, but Big Life and our partners are working hard to make sure that they survive them. Thanks to initiatives such as Big Life's Predator Compensation Fund, which protects lions from retaliatory killing following livestock depredation, their chances are certainly better now than they were a decade ago.
Our lion conservation partners Lion Guardians have measured a QUADRUPLING of the core Amboseli lion population over the last decade, and illegal killing of lions is virtually non-existent. To put this success in perspective, over the last two decades the Africa-wide lion population is estimated to have declined by greater than 40%, and these magnificent cats only roam in 6% of their historic range.
Amboseli is proof that lion populations can and will recover if they are protected and given the opportunity to breed. Lions are receiving unprecedented attention through the recent re-release of 'The Lion King', and continental initiatives such as the Lion Recovery Fund (of which Big Life is proud to be a grantee). Now is the time to act and there is certainly hope, represented by these three new cubs, on this year's World Lion Day.
Thank you as always, for your support.