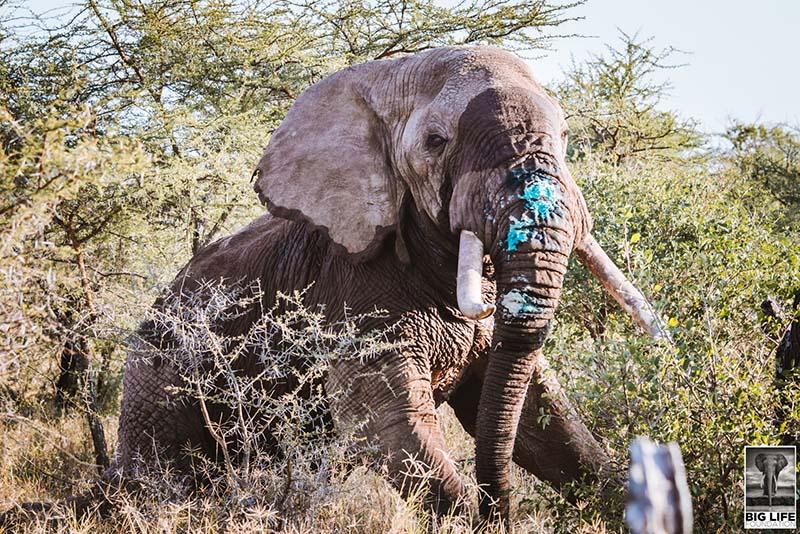 This was an attack on all sides, by multiple attackers. There were spear wounds on the rump, back legs, and two through the trunk. A total of five holes that shouldn't be there.
We know this elephant. His name is Lobolo, and until recently, he hadn't been seen for a number of months. Wherever it is that he went, he clearly found trouble, and most likely the wounds were a result of conflict with humans. It could have been from continued fall-out following a spate of elephant hunting after two people were killed early last month by elephants to the north and outside of our core area of operation.
Thankfully Lobolo made it back to safety for help, which was quick to come. He was first spotted at a waterhole by guides from ol Donyo Lodge. Big Life rangers staked out the waterhole, knowing that Lobolo would soon return. When he did, late one afternoon, a well-rehearsed response kicked into action.
Not two days since our previous call for a separate incident to the Sheldrick-Wildlife-Trust-supported Kenya Wildlife Service sky-vet, and the helicopter was back on the scene. The pilot skillfully corralled Lobolo, keeping him in the open for a clear shot from the vet and his dart gun. The wounds were all successfully treated and packed with blue medicinal clay, and a groggy Lobolo woke up and ambled slowly off into the bush.
The Greater Amboseli ecosystem is a huge place, and while we try, we cannot keep an eye on all 2,000+ elephants moving through all of the time. Big Life rangers respond to all reported conflicts and try to prevent any injuries to both humans and elephants. But this is not always possible, and we're thankful for the work that the rangers do, and the partners we are able to call on to help the injured.