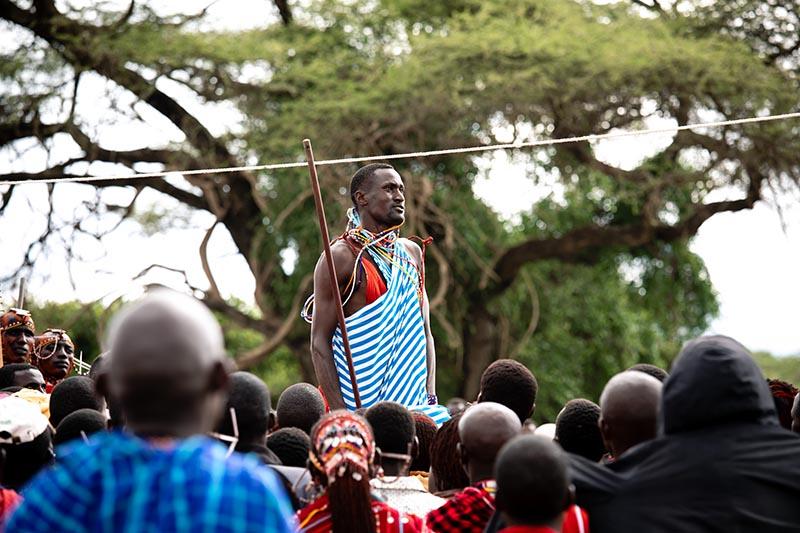 When it comes to conservation, measuring 'meaningful impact' can be a tricky thing to do. Sometimes it's easy, for example when Big Life goes a year without any rhinos poached. Sometimes it's more complicated.
We expected one of our programs, designed to shift Maasai cultural practices, to be one of the harder things to measure, but we've been pleasantly surprised.
At the request of the Maasai cultural "fathers" in 2008, the Maasai Olympics was conceived and first held in 2012, in the Amboseli ecosystem. It was designed to provide a culturally appropriate alternative for young Maasai warriors to traditional lion hunting. Rather than killing lions to demonstrate their bravery and impress women, they could instead compete in a series of sports competitions based on traditional warrior skills.
Each year, we've seen the participants, and spectators on the sidelines, increase. Athletes who win in any of the six events receive prestige, medals, as well as cash prizes. The winning team takes home a trophy and prize breeding bull. And the team with the best conservation track-record in the year is awarded the Chester Zoo Conservation Scholarship Award.
But is this event actually changing the hearts and minds of the local warriors? Are they more concerned with protecting lions today, than they were killing them in years past?
In one word: yes.
In the months following each Maasai Olympics final, a survey of local warriors is conducted to assess changes in attitudes and behaviors toward lions. The most recent games were in December 2018, and of the 138 warriors that were surveyed, we found:
- 78% of warriors said they had never taken part in a lion hunt, up from 61% in 2017;
- 75% of warriors said they think it is important to protect lions, up from 70% in 2017;
- 95% of warriors knew about the Maasai Olympics, up from 86% in 2017, and 95% said the goal of the event was to protect lions, up from 53% in 2017;
- 70% of warriors said the games have raised awareness about lion conservation in their community; and
- 73% said they wanted the Maasai Olympics to continue, and when asked why, the most frequent answer was to protect lions.
We are thrilled to see such positive responses, and measurable change, year after year. The next Maasai Olympics will happen in December of 2020. Thank you for your support to make it happen.
Photo: Jeremy Goss