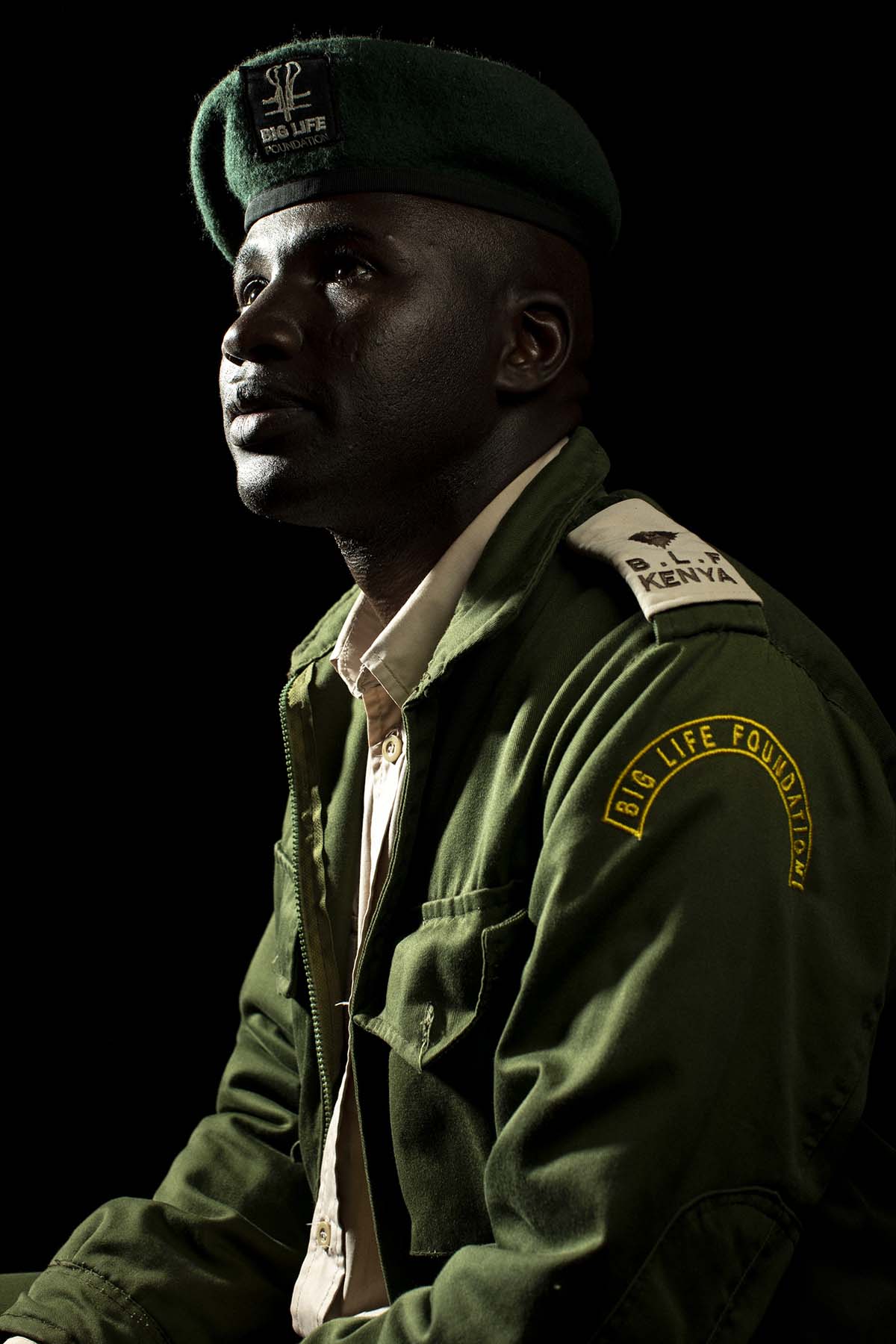 Popote Sapulai
Age: 37 years
Home: Kimana
Rank/ Position: Operational Commander
Team: Kimana Sanctuary
When did you join Big Life? 2018
How did your journey in Wildlife Security begin? As a young boy, I herded my father's livestock close to the Amboseli National Park, and this put me in the front row to witness the Kenya Wildlife Service at work. I admired their bravery, and since then I had wanted to be a ranger. It was fascinating to me as a child to see people from other areas risking their lives to conserve wildlife, and I always wondered why our cultural warriors were not part of them, because I believed our community's wildlife was our responsibility, so we should also take part in protecting them.
In 2003, my journey as a ranger started with another organization and now as another decade comes to an end, my journey has not been easy. I remember I once worked for two years as a ranger without a single pay and had to sell my livestock to get monthly food rations. That's how much devotion and passion I have for my job.
How has conservation changed or transformed since you started? When we started, poaching was very high and we were very poorly equipped and not legally empowered to successfully apprehend or convict poachers. Human-elephant conflict was not very high, because at the time there were not so many farms close to the Sanctuary, but lion conflict was very high as warriors would retaliate and kill lions when they killed livestock.
In the past, the community was getting very little benefit from wildlife, and at times that benefit ended up in the hands of a selected few. When a lion would kill your cow, there was no compensation and retaliation was the only available option.
Over the years, a lot has changed. Benefits generated from wildlife to the community have turned the hearts of the community towards wildlife, improving the relationship between the two iconic parts of the Amboseli Ecosystem.
The owners of the Kimana Sanctuary used to earn very little from the lease of the land in which this Sanctuary is formed, and many community members attempted to pull out and sell their land. Today, the leases from the Sanctuary has quadrupled and the community has seen the importance of wildlife.
Our wildlife security operations have also improved tremendously. We are better equipped, well trained and wildlife legislation such as the Wildlife Act of 2013 has vindicated our efforts and made our results visible.
What does your job as an operational commander involve? I am in charge of 37 rangers spread across five ranger outposts strategically placed in the Kimana Sanctuary. I am responsible for their well-being, handle any conflicts among them, and ensure that they uphold the highest level of discipline. Moreover, I oversee all operations undertaken by the team and involve myself with their daily routines.
What challenge do you face in your line of work? Most of the time, we find ourselves between angry community members seeking compensation or revenge, and protecting a predator or an elephant that is responsible for the conflict. Illegal grazing is not allowed in the Sanctuary, so during prolonged droughts keeping livestock off the sanctuary is hard, especially when the livestock belongs to relatives.
How have you benefited working for Big Life? I am a father of six kids and two wives, so my job has ensured that I put food on the table and my kids access education.
Photo: Bobby Neptune
---
Big Life rangers face extremely difficult challenges on a daily basis, which have only increased amidst a global pandemic. Keeping our rangers properly funded to continue their vital work in the field is more important than ever for the future of the wildlife, wild lands, and people of East Africa. Please consider a monthly contribution to our Ranger Club to support these dedicated rangers. Any amount helps! And for those that sign up in July, or increase your existing Ranger Club membership amount, you will be entered to win a gift featuring Big Life-branded merchandise.