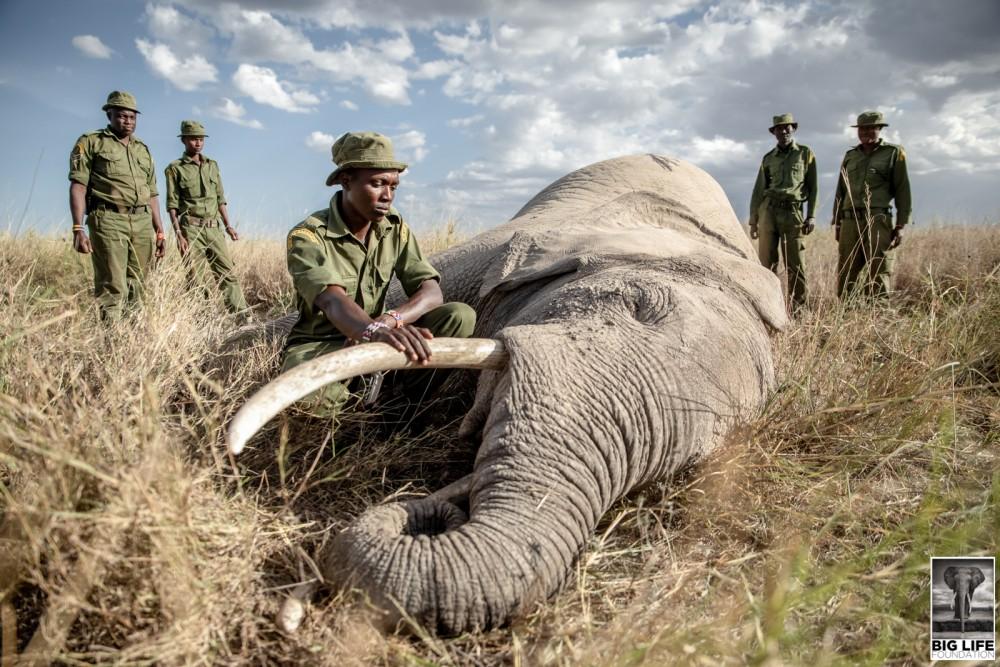 Elephants have faces, and these days, even dead elephants in the Amboseli ecosystem do. This might sound like a strange statement, but when Big Life was established in 2010, most elephants were dying at the hands of poachers. Since 1/3 of the ivory is embedded in their skulls, the elephant's faces were mutilated to get at the tusks. When we found them, it was a horrific and gory scene.
Fast forward to 2019. Poaching has been largely brought under control in Big Life Foundation's Area of Operation due to the hard work of our community rangers.
But some elephants still perish. Why? The elephant pictured here isn't dead because of its ivory, but because it unknowingly crossed the line into a human space. Big Life rangers found the elephant after following lion tracks; the young adult male had been dead only hours, killed the night before. The injury was seemingly too small to have felled an animal of this size: a neat cut only inches long where a spear had entered and caused deadly internal damage.
Given the location of the elephant's body, we are almost certain that his death was caused by a spear thrown by a farmer. Another case of an understandably angry human trying to defend their property and source of income against raiding elephants.
We've talked for a while about evolving challenges in Amboseli and how our greatest task now is to facilitate co-existence between man and animal, and ensure that there is space for all. An important step towards this is keeping elephants out of farms, and the electric crop-protection fences that Big Life is constructing are doing a remarkably good job of that. With 75km (47 miles) constructed we've made great progress, and each day the fence line extends further.
Furthermore, we are seeing an impact, despite the tragic loss of this elephant. From a high of 12 conflict-related elephant deaths in 2016, before we started constructing the fence, last year we recorded only 2. There are a lot of factors at play here and no silver bullet, but we know that our work is saving human and elephant lives.
Thanks to all those who support us -- you are the reason that sad stories like this are increasingly rare. For those interested in making a real difference to conservation in Africa, please consider a donation on our website.