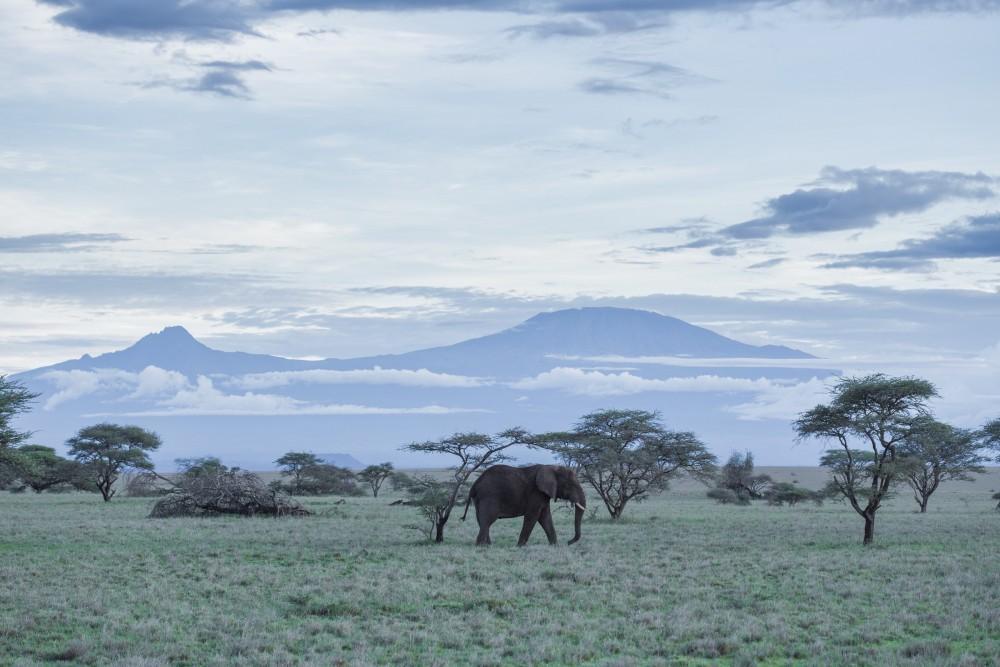 I won't forget the last quarter of 2018 anytime soon. It took us all on an emotional rollercoaster ride.
More than two years ago, Big Life started work on a series of electric crop-protection fences in the ecosystem. The goal was to reduce local farmers' losses to raiding elephants, which has always been a key source of conflict between the two species. With Phase 2 approaching completion, and over 75 km of fence line now constructed, we were faced with uncharted territory: the closing of the fence on either side of the Kimana Crossing.
It is at this point where elephants and other animals coming from Amboseli National Park have only a 250-foot gap to pass safely between the farmland areas on their way to the Kimana Sanctuary and the open spaces beyond. Furthermore, this same point crosses a heavily-trafficked paved road. To mitigate the impact, we constructed a series of speed bumps to slow traffic, but the whole experience is still very uncomfortable for any wild animal. I had no idea how the elephants would react: was it going to be chaos channeling them through a narrow and stressful gap?
Turns out, I needn't have worried. It took no time at all for these intelligent animals to adapt. A day after the crossing was completed, the first herd of elephants crossed in broad daylight. Since then, there has been steady use of the crossing by a variety of species, and our camera traps have even captured lion and aardvark using it.
On the subject of crop-protection fencing, I am deeply satisfied to see how well it's working. Two years ago, in the fourth quarter of 2016, Big Life rangers recorded a total of 112 acres of crops destroyed in 199 crop raids by elephants. Over the same period in 2018, rangers recorded only 30 acres destroyed in 49 incidents of elephant crop raiding. This is a 75% reduction in crop raids recorded by Big Life in the ecosystem, and the continuing problems are almost exclusively in the unfenced areas. More importantly, the community agrees with the success of the fence project. In a recent survey of 388 farmers, 97% of respondents said that the fence has been effective at eliminating human-elephant conflict.
There were scary moments this past quarter as well. Tim, probably Amboseli's biggest bull elephant and one that Big Life rangers spend a lot of time protecting, got stuck neck-deep in a muddy swamp. The chances of saving him were slim, and we were all prepared for the worst. But as has so often been the case, we were able to call on friends and partners, in this case Kenya Wildlife Service and the Sheldrick Wildlife Trust, and work together in an almost unbelievable effort to get him out. Somehow, Tim survived to live another day and has recovered from his ordeal, recently seen in musth for the first time in a couple of years, which is fantastic as it means that he is strong and in good health.
There was news, too, for our predator protection efforts. We took an important step with the official signing of an agreement for Big Life to expand our Predator Compensation Fund on Eselengei Group Ranch, which forms the northern boundary of the Greater Amboseli safe zone for wildlife. We were reminded of this in December, after three lions were killed when they ventured north beyond Eselengei and preyed on community livestock. The lines have been drawn, and we will continue to do everything we can to support conservation in the spaces where wild animals still have a home.
The fourth quarter ended with a bang. An exciting component of Big Life's predator protection program, the Maasai Olympics reached its much-anticipated biennial peak on December 15. Two of the teams were tied going into the final event of the competition, an indication that this has become a sporting event in the truest and most exciting sense and was a real nail-biter for all attending.
At the end of another year, as always, I extend a huge and heartfelt thanks to everyone who makes our work possible.
Richard Bonham
Director of Operations, Kenya