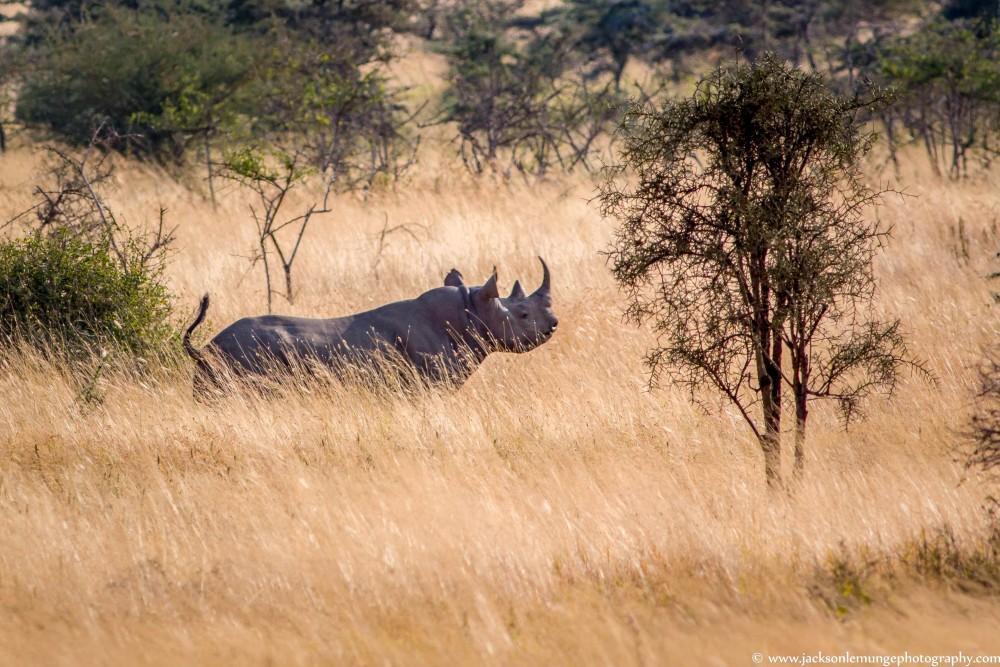 As always happens this time of year, we are looking forward to rain. While the seemingly biblical rains of last spring held us over for longer than usual, the landscape here has long since turned to dust. And with it have come the usual complications.
During the third quarter of this year, there were 94 crop-raiding incidents, all involving elephants. Bushmeat poaching spikes as well during the dry season, but thanks to the hard work of our community rangers and field partners, we had fewer incidents this quarter than at this time last year. We also found, confiscated, and destroyed 42 snares this quarter, two of which were designed to target rhinos.
There is no keeping the Chyulu Hills rhino population, of which there are now eight, a secret. Thus, Big Life has 51 rangers stationed in seven outposts—an almost 1-to-1 ratio of outposts to rhinos—throughout the rhino territory, all dedicated to protecting this incredibly small but important population. The enforcement and security measures done in tandem with Kenya Wildlife Service are working, and the rhinos are increasingly more secure. For the first time in decades, two rhinos were photographed out in the open this quarter. That is a success worth celebrating!
The weather and the wildlife are not the only things about our landscape that have changed this past quarter. Our Area of Operation (AOO) did too. Management of our conservation initiatives on Olgulului Group Ranch were handed over to the local community at their request, which has freed up resources to expand to other areas needing our assistance. Conservation initiatives are expanding to the north of our core AOO in Eselengei, as well as to the south in Enduimet on the Tanzanian side of the border. We'll be reporting on both communities as operations pick up moving forward.
As always, there's a lot a stake here and much to be done. Thank you to our partners and supporters from around the world for making our work possible.
Richard Bonham
Director of Operations, Big Life Kenya