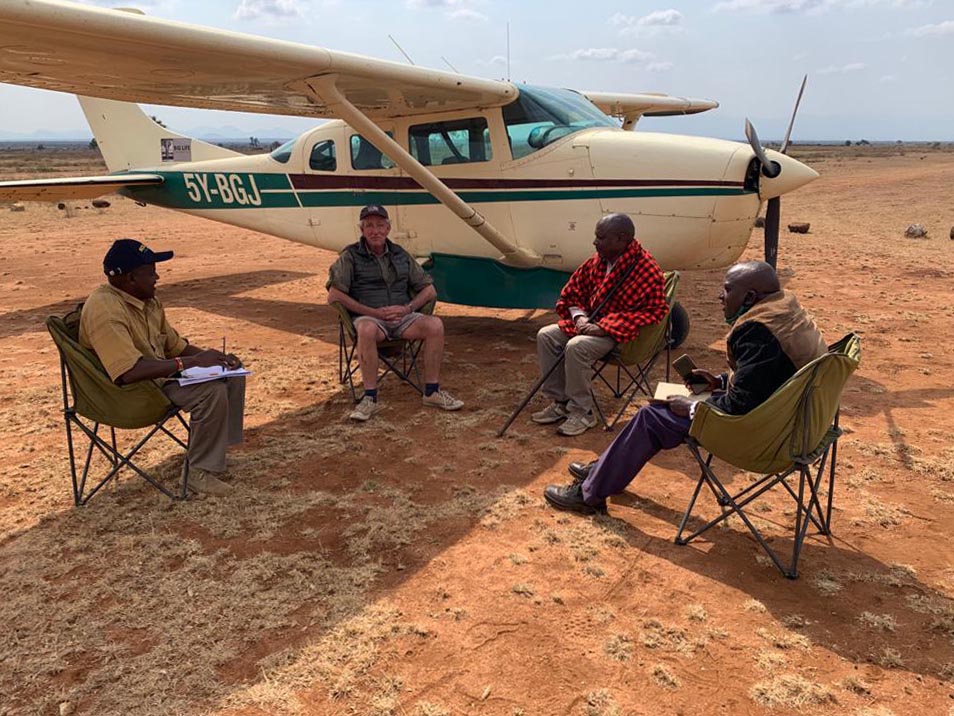 It never ceases to amaze me how quickly people can adapt to changing conditions in a crisis. There are some traditions in Maasailand that I thought might be tough to change. And yet, just last week, I attended a meeting that was held out in the bush, in the shade of the 206 wing with folding chairs. My guests all sat 2 meters apart and we did not shake hands. It felt somewhat strange but in other ways, totally normal. Life moves on.
We're still getting to grips with the impact on our diverse programs. You'll see in our 2nd Quarterly Report that some programs are more heavily impacted than others. The courts aren't in session, so our prosecutions work is paused. Tourism is obviously down as people quarantine at home, so paying visitors to Kimana Sanctuary is also down. Construction projects are on hold. Schools are not in session, although we are continuing to pay the teachers we support. Mobile clinics, which bring community members together, are on hold until it is safe to gather again.
But our rangers, able to isolate at their outposts, are continuing their critical work. In the 2nd quarter, 67 snares were found and destroyed. 16 suspects were arrested, for either bushmeat poaching or trophy possession. 520 kg of bushmeat was recovered.
The challenges created by COVID were offset slightly by an abundance of rains last quarter, which kept the land lush and helped minimize conflict. But as we shift into the dry season, bush fires are becoming a huge threat. As I write, Big Life, Sheldrick Wildlife Trust, and KWS rangers are fighting a bush fire in the Chyulu Hills National Park, and an even bigger fire fanned by strong winds is moving across Tsavo West National Park. These are testing times for all of us.
As we have proven time and time again, Big Life's rangers are up to the challenge.
Thank you all so much for making our work possible.
Richard Bonham
Director of Operations, Big Life Kenya