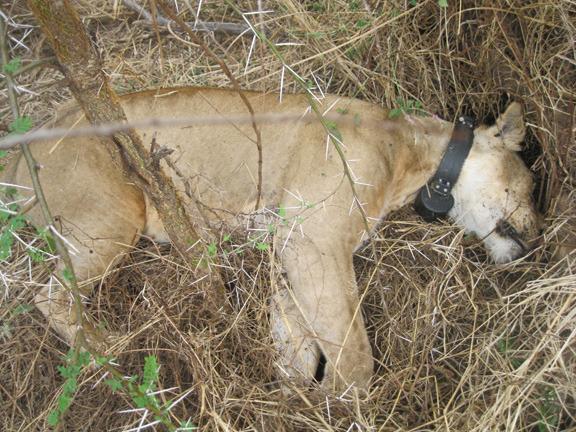 by Richard Bonham
February 14 2012
The Big Life team from Osiwan outpost saved a pride of lions from poisoning yesterday. Four months ago, the team were not able to save two lions that were horribly poisoned in the same way (see attached photos).
But this time, an informer bought in information that that a cow had been killed by lions after it had been lost by its herder while grazing, and that the owner of the cow, enraged by the loss, laced the carcass with Furudan poison.
It is essential that informers' identities are not compromised, so he gave the team directions to the location of the carcass. The team were there within an hour, just in time as vultures had already found the carcass and were about to move in to start feeding. The birds would have been the first casualties of this indiscriminate and cruel method of killing, followed by hyena and most likely the lions, who usually return to feed on their kills.
Furadan is used as a pesticide in the farming industry, and made by FMC in the USA where it is banned. FMC however has been exporting it for years into the third world in huge quantities. After years of campaigning against its use in East Africa, FMC begrudgingly withdrew the product for sale in East Africa but there are still large amounts of this poison available on the black market. In this case, it's very easy to identify the poison used as it's bright blue.
Poisoning is becoming a favourite method of killing wildlife by poachers, We have had attempts to kill rhino and elephant in our area where the poachers either lace water points, or put down poisoned cabbages and melons.....Just one teaspoon will kill an elephant.
So thank you to the informer (who will be handsomely rewarded), and well done to the Osiwan Big Life rangers.