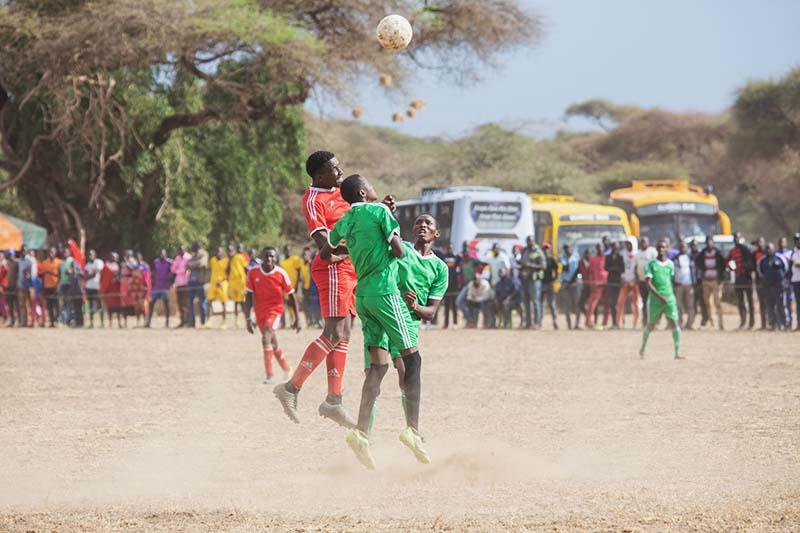 The figures chased each other back and forth through the dust. Surrounded on all sides, not one of the cheering onlookers dared to cross the line onto the rectangular battlefield. Somewhere obscured in the middle was the reason for the spectacle: a dirty white ball.
This was the Maasai Olympics, but unlike any game we've done before. The Maasai Olympics athletic competition has become a celebrated event across the ecosystem, held every two years. But two years is a long time for young, ambitious athletes to wait. While we conduct outreach throughout the ecosystem in the interim, an event was organized to fill in the gap and keep enthusiasm high.
Enter: the dirty white ball. Football (or soccer, depending on where you're from) is arguably the world's most popular game and passion for the sport extends to all corners of Africa, Maasailand included. The local warriors have long told us that a football tournament would be a welcome addition to the Maasai Olympics, and so this year we made it happen.
Following the same format as the athletics competition that results in the biennial Maasai Olympics Finals, each of the four warrior villages in the ecosystem put forward a team. Those teams played against each other in a round-robin tournament, culminating in a finals day with two games: one game for the 3rd and 4th positions, and a second to determine the much anticipated winner.
No one could have scripted these final games better. The playoff between Rombo and Eselengei was drawn, and Rombo won a penalty shootout for 3rd place. In the final, Mbirikani took an early two-goal lead and looked to be heading for certain victory, before Kuku scored two late goals that sent their supporters into a frenzied celebration. It was another draw at full-time, and headed for a penalty shootout.
In the end, Mbirikani edged ahead on the penalty count, taking home the football trophy (as well as a prized breeding bull) to add to their win last year in the Maasai Olympics final.
As the teams all head home and start to think about the athletics competition starting again in 2020, we have seen yet again that sport is the perfect way to engage the young people of the ecosystem, and provides a broad-reaching platform for conservation outreach.
Photo: Jeremy Goss