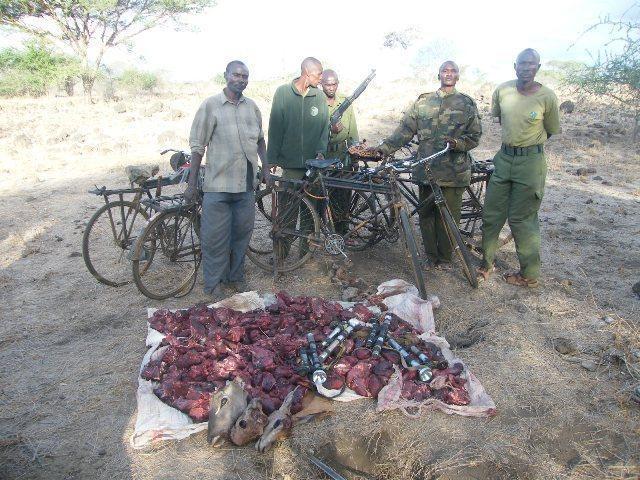 by Richard Bonham
February 24 2012
We release stories of Big Life activities, but on a daily basis so much is going on that you never hear about. Here are just a few things that have happened yesterday.
1) Radio call from Rombo, the current hotspot for much of the poaching, bordering as it does the giant area that is Tsavo National Park:
Following a tip-off, the team set up an ambush on a track used by bush meat traders.
At midnight, a motor bike appeared and was stopped. It was carrying the butchered remains of a Dik Dik and Grants gazelle. The owner of the motor bike had been called in by poachers who had killed the two animals by using a spotlight to dazzle them, freezing them on the spot, so they could walk tight up to them, and then breaking their backs with machetes.
The poachers got away but it is undoubtedly as good to catch the middle man, as when he gets to court, he will be forced to forfeit his motorbike to the court, and hopefully receive a sentence for being in possession of game meat.
2) I received the following text message from Wilson Mancha, the commanding officer of Kimana area. ''Hi Sir, lion caused problems on OGR last night by jumping on roof of hut where young goats were being held with family sleeping. Lion scared away but killed cow in next boma''. Fortunately the livestock owners did not take any action, as they will receive payment for the cow that was killed by the lion.
3) Report from Osiwan outpost: The 200 liters of diesel fuel that Big Life has donated to the community had arrived. This enables the community to pump water away from the community water point. This was necessary because in the last dry season, elephants had destroyed some pipes to the cattle trough to get to the water, so now hopefully, the elephants should stay away. This kind of support and understanding in helping the local communities is what helps make them so supportive of Big Life's activities in return. We can only achieve the successes we do with their support.
4) A report came in from Saliata - an area is about 60 miles away from our nearest area of operations - to say that an elephant had been shot, and its tusks hacked out. The poachers had crossed the border into Tanzania. Another depressing reminder that we have to be constantly alert.
5) The Elmarba vehicle called in to say that he had been charged by a female elephant while trying to chase them out of crops and his only escape was to plough through a thorny bushes, which shredded the canvas that covers the back of his Land Cruiser. Damn, that's $500 of unbudgeted expenses we will have to find.
And so it goes...just another day here on the Kenyan side....