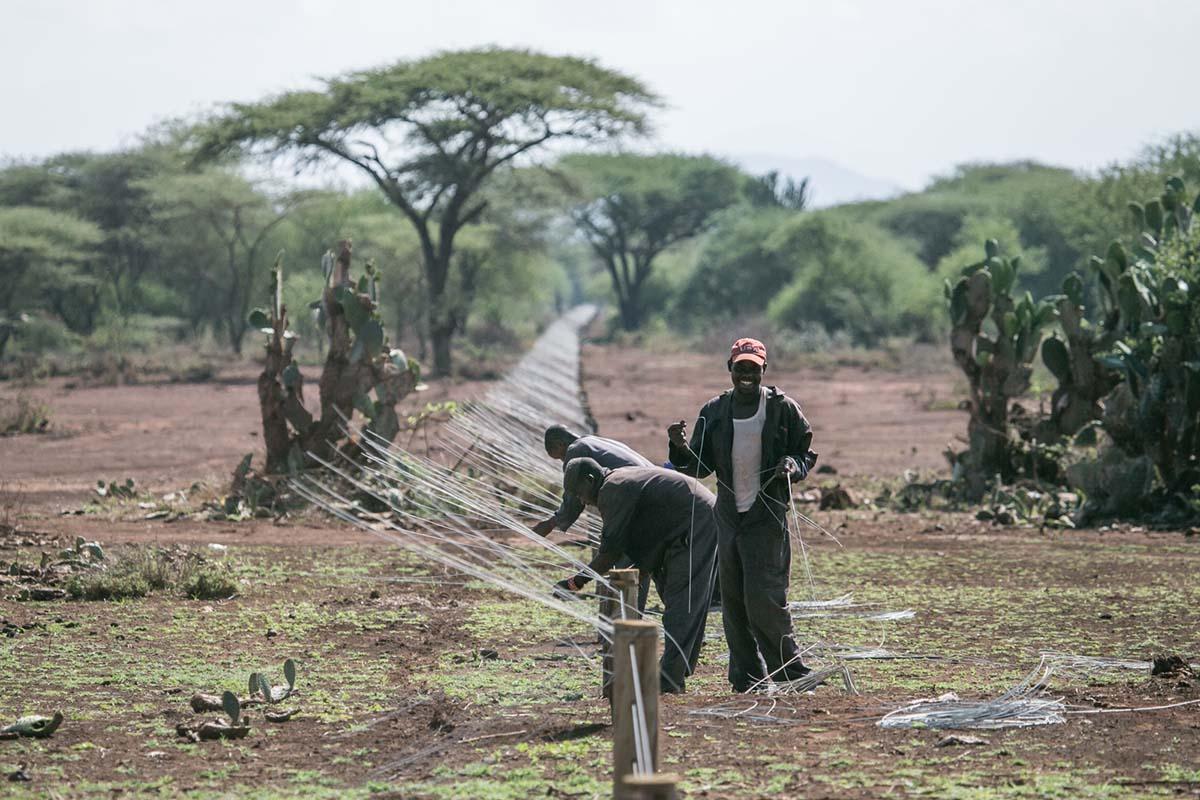 It's the end of a grueling day working in the fields, prepping for a harvest by the end of the week. You're just letting your eyes close, drifting off to sleep, when you hear a distinct rumble. In the dark, you grab a flashlight and a spear and head out in the pitch darkness to confront a 7-ton animal that is happily grazing on your hard work. Hard work that may mean the difference between your kid going to school, or not. Between being able to feed your family, or not.
To tourists and animal-lovers the world over, this would be a joyful experience. But to farmers in the Greater Amboseli area, it's a fearsome reality of life. And a dangerous one. Because elephants are not gentle, and they are giant.
In 2015, we lost 8 elephants in our area of operation to human-wildlife conflict. In 2016, the number jumped to 14. The issue was quickly becoming a crisis. Which is why Big Life has made such concerted efforts at mitigating conflicts between humans and elephants. Second only to poaching, habitat loss and the resulting human-wildlife conflict are the next largest threats to elephants in Africa.
Since 2016, we have been working with local communities and partners on an ambitious solution to crop-raiding: an electric fence that establishes a hard boundary between farmers' crops and hungry elephants. To date, we've built 100 km in the area with the highest number of incidents. A recent survey of farmers affected by conflict demonstrates dramatic success of the project as well.
We now know that from 2015 to 2019, attitudes towards both wildlife and elephants has improved. In 2015, 51% were positive about wildlife in general, and 25% were positive about elephants. But in 2019, those numbers jumped to 84% and 72% respectively. The number of respondents who said they had felt fearful of elephants fell from 96% in 2015 to only 24% in 2019. This is certainly a direct result of fewer human-elephant encounters in farming areas that have been fenced.
Incidents are down. There has been around a 90% decrease in the number of elephant crop-raids in the areas protected by the fence. 99% of those surveyed felt that the fence had reduced crop-raiding by elephants specifically. 98% felt that the fence was successful at protecting their crops.
The crisis is far from over and we have much to do, but for the moment, it feels good to know that this thin, electrified line is making a measurable difference. Thank you to our many partners including U.S. Fish and Wildlife Service, Rees-Jones Foundation, and the Loke Foundation, as well as many generous private donors, for making this work possible.
Photo: Jeremy Goss