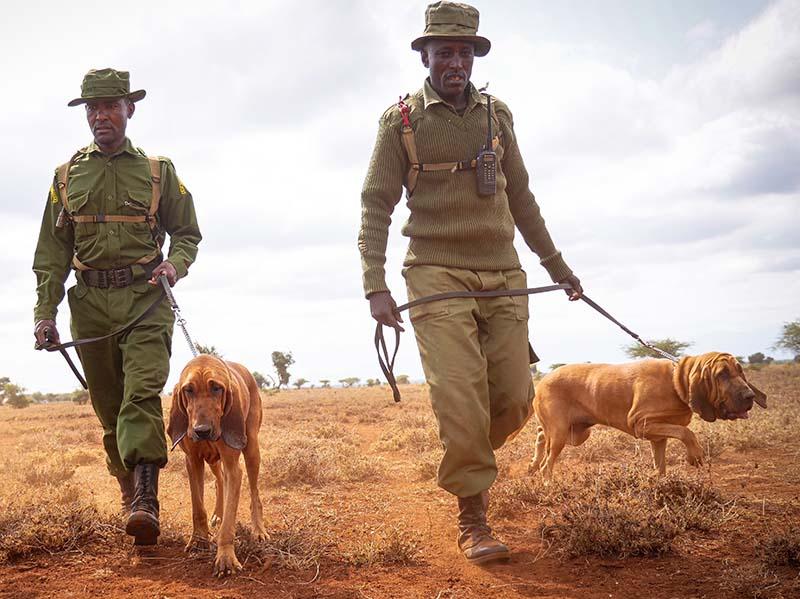 There is almost nothing worse for a parent than to turn around and find that your child is missing. This was the awful situation one evening in a remote part of Big Life's operating area. A four-year-old boy playing close to his home had ventured a little too far into the thick bush, and was swallowed up by the wilderness beyond.
The family searched, hopeful that the child had not strayed far, but as time dragged on, panic set in. Sunset came and darkness fell, and the alarm was sounded far and wide. Big Life rangers responded, as did everyone in the village. A small child is easy prey for a number of nocturnal wild animals, and the search parties didn't sleep, but still there was no sign of the missing child.
Morning arrived, and with it came the Big Life tracker dog unit. The rangers started walking in increasingly large circles around the home until they eventually found tracks some 3 km away. The dogs and their handlers set off, trailed by more than 100 local community members. They followed the tiny footsteps for a further 5 km, as they wound disoriented through the thick bush and completely in the wrong direction.
The steps eventually stopped at a wall of sharp rock covered in thick bush. The child had clearly been confused by the obstruction, and the footprints zig-zagged this way and that, misleading human and canine seekers alike. This went on until the dogs stopped, as they would if the job was done, but there was nothing to see. The community members started to split up and search, desperate now. It was mid-afternoon, and if the child was still alive, it was unlikely that he would survive a second night.
Just then, a small figure rose from beneath a bush not 100 m away, frightened but unharmed. The young boy had tired of walking and laid down, and would likely never have been found were it not for the efforts of Big Life's rangers and tracker dogs.
The resulting celebrations were just one example of many; in the last year alone, Big Life community rangers have found and rescued 17 people lost in the wild, usually the very young or very old. For a ranger, helping the people around you is just as important as catching wildlife criminals, and the support of our local communities is one of the central reasons for Big Life's conservation success, so these victories are truly a win-win.
As we look forward to World Ranger Day, we thank those men and women who dedicate their lives to protecting not only animals, but also the people who share the same beautiful spaces.
Please show your support for Big Life rangers by joining our Ranger Club. A monthly donation, no matter how small, helps provide consistent funding our rangers can rely on.
New Ranger Club members during the month of July (or existing members who increase their giving level) are eligible to receive a limited edition Big Life tote bag.