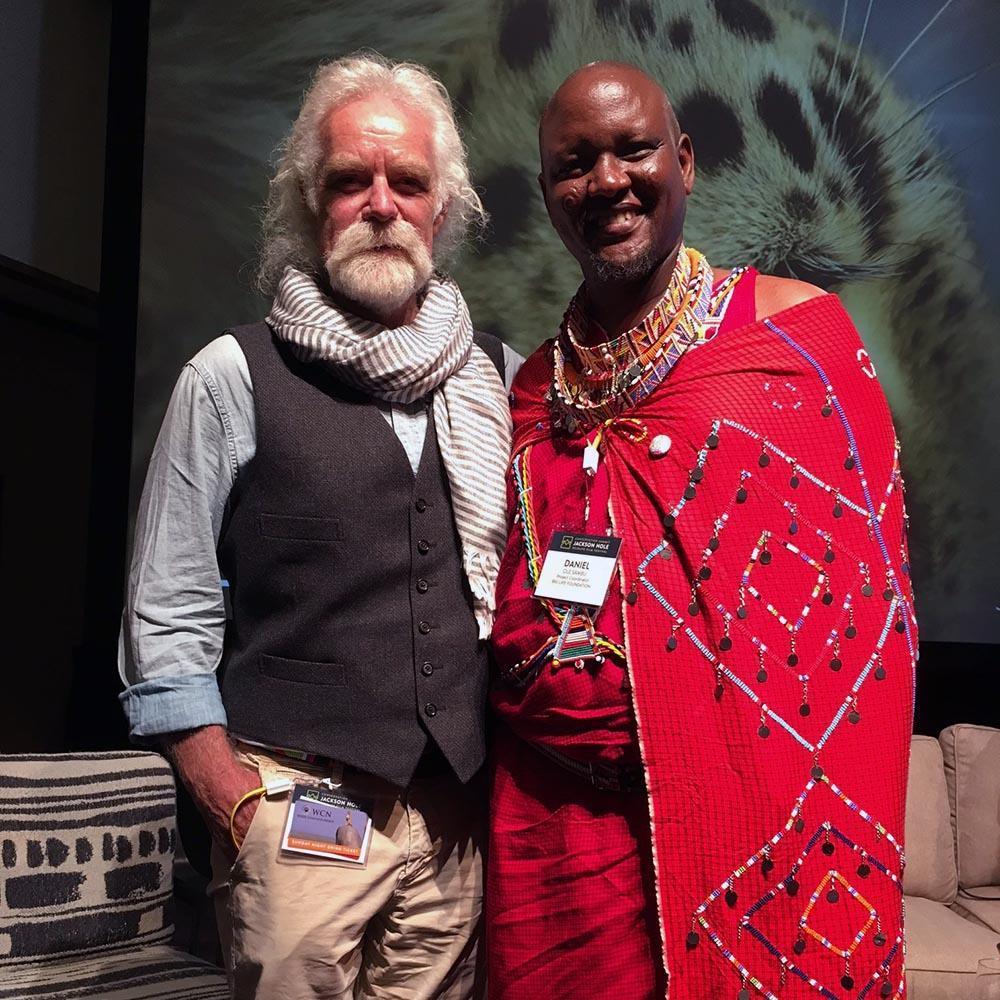 By Daniel ole Sambu
A few weeks ago, I was privileged to represent Big Life at the Jackson Hole WILD and Conservation Summit. It's not your typical conference. Rather than focusing on PowerPoint presentations, Jackson Hole is instead a gathering of some of the world's leading conservationists and filmmakers. This year's summit focus was on big cats, like the lions that I help Big Life to protect in Kenya. With 10 years of experience helping to manage our Predator Compensation Fund, I wanted to share with other conservationists about the successes that we have seen with the program.
Beyond my participation in the Big Cat Summit, Big Life was also heavily featured in two separate films that screened at the film festival: Tribe versus Pride and The Ivory Game.
I was honored to be invited to participate in a Q&A session on stage with the filmmakers for Tribe versus Pride, Dereck and Beverly Joubert. Dereck also serves on Big Life's Board of Directors. The film brilliantly presents a powerful story showcasing the Maasai tribe and their relationship to lions, and how that relationship is changing with support from the elders to conserve the very animal that they used to hunt. One of the ways the Maasai's relationship to lions is changing is through the Maasai Olympics, which the film features. The Maasai in my community in Kenya can now demonstrate their bravery by competing for medals, not lions.
Seeing this story told on a large screen caused me to shed tears. It was an additional honor to learn that Tribe versus Pride won the prestigious Special Jury Award at the festival. Congratulations to Dereck and Beverly for this incredible film!
The Ivory Game focuses on ivory, both poaching and trafficking, another big area of operational focus for Big Life. It was great to reconnect with the Director Richard Ladkani in Jackson Hole. The Ivory Game also took home awards for: Best Writing, Best Theatrical Film, and the coveted Grand Teton Award. Congratulations as well to Richard and Vulcan Inc. for these awards!
Attending the summit and festival was an incredible learning experience and wonderful networking opportunity. I learned so much from my colleagues, fellow conservationists, scientists, photographers, and filmmakers. I was able to meet and interact with people with immense knowledge and passion for conservation, and philanthropists who are dedicated to using what they have to make the world a better place.
Many thanks to my colleagues who also joined me at Jackson Hole for their support: Big Life's US Board Director Kristine Baty and Executive Director Kim McCoy, and of course, to Dereck and Beverly Joubert.