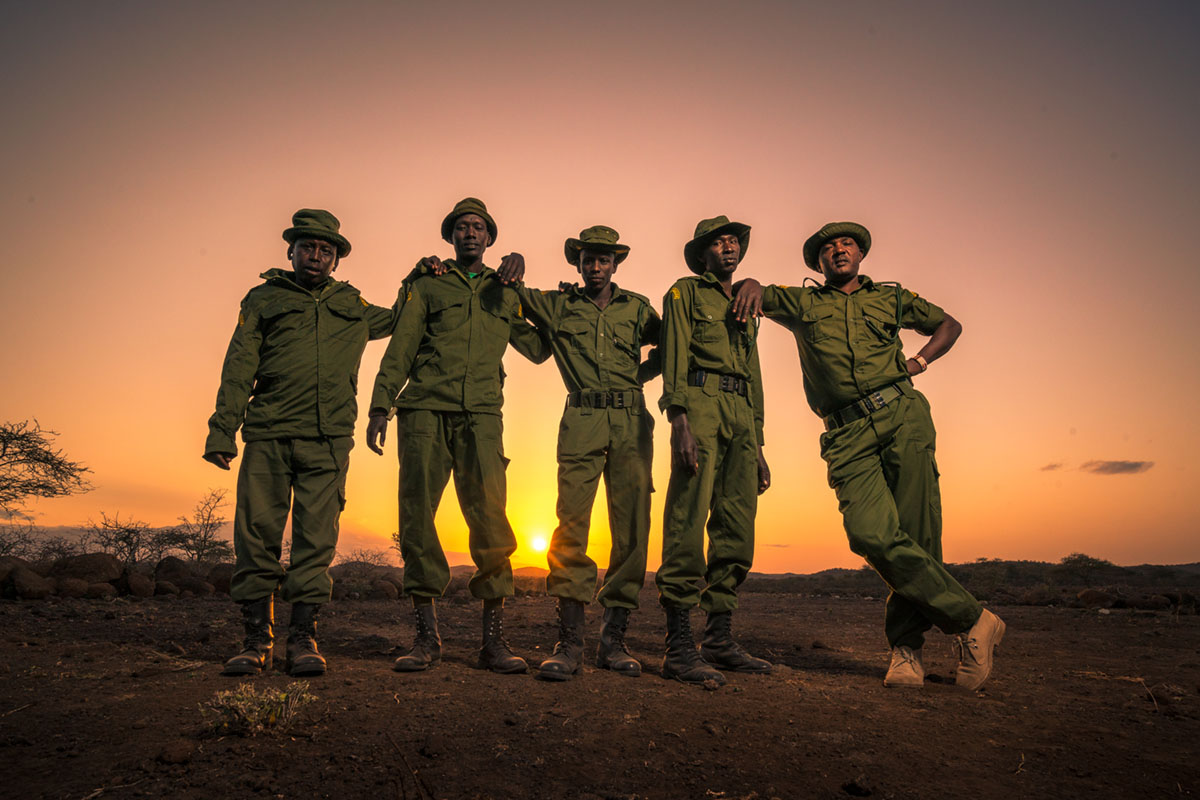 Growing up in the remote areas of East Africa is wildly different than growing up in a major city anywhere in the world. In the bush, you are not separated from nature, you are a part of it. This cultivates a desire to protect the land you live and depend on, ensuring that it will take care of you. But that land depends on a functioning ecosystem to have a biologically thriving home.
Every single one of Big Life's 342 trained rangers come from within our area of operation, or immediately adjacent to it. Nearly all of our community rangers are Maasai, although there are a few Wakamba from the Chyulu Hills. Being local means they already know the ecosystem in and out, helpful during night operations and while on patrol. They speak a variety of languages including Maa, Kikamba, and Kiswahili.
They range in age from 18 to 65 years old and will typically work as a ranger for at least a decade or two. Some of Big Life's rangers have even inspired their own children to grow up and become wildlife rangers, inspiring a new generation of wildlife heroes. Currently, Big Life employs five sons of retired rangers, and two sons of current rangers. Big Life's community rangers are an inspiration to their local communities, families, as well as the world.
The Maasai tribe is as iconic as the wildlife and landscape they co-exist with. Their livelihood is semi-nomadic and pastoral, herding cattle and goats. In fact, all Big Life rangers keep livestock in addition to their regular duties and most also have small holding farms.
Big Life's community rangers all call the Greater Amboseli ecosystem home, and no one knows how to protect it better than they do. Their culture and way of life is predicated upon having a healthy ecosystem to live in. While working as a Big Life ranger provides the obvious major benefit of employment, other benefits include access to healthcare, family planning, and education.
We are grateful to all of our brave men and women who risk their lives in the field daily to protect the wildlife and wild lands of East Africa for the benefit of us all. And we are equally grateful for our supporters around the world that have invested in the success of our rangers.
Throughout the month of July leading up to World Ranger Day on July 31st, we'll introduce you to several of our dedicated rangers and share stories from the field.
Please show your support of their efforts to protect the Greater Amboseli ecosystem with a donation today. By joining our Ranger Club as a monthly donor, you'll receive special perks, including 20% off Big-Life-branded merchandise in Big Life's e-store. New Ranger Club members, or existing members who increase their giving amount, will be entered to win select items from our e-store weekly throughout July.
Photo: Clifford Pickett