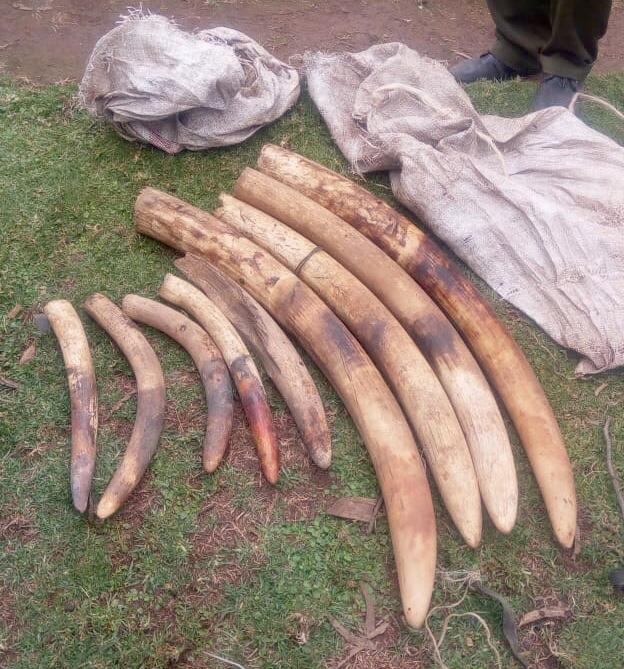 As our programs have grown to stop poaching and mitigate human-wildlife conflict, so too has another. While it is often the unsung hero, it is just as critical to protecting wildlife and stopping wildlife crime: intelligence. Big Life's intelligence team remains actively involved in investigating wildlife trafficking, both in the immediate ecosystem and beyond.
Last week, our networks caught word of ivory being trafficked along the Mombasa road, near an area called Kibwezi. When efforts to stage a set-up posing as buyers did not work, Big Life's team shifted tactics and began tracking the suspects covertly. In the dead of night at 2 AM, the suspects were spotted loading heavy sacks onto a public minibus, known as a matatu.
Quickly, Big Life teams paid for tickets to get on the same bus. At a stop further down the road, they switched out with other team members, to avoid suspicion. This kept up for the remainder of the journey. When the suspects finally got off and collected their sacks, our team, together with Kenya Wildlife Service intelligence officers, were on their tail. By the following night, they had been arrested and charged by KWS with several ivory pieces weighing 24 kg confiscated and off the market.
Even though many legal ivory markets in consumer countries such as China and Hong Kong have closed, there is still a lot of ivory being smuggled out of Africa to far flung destinations. Last year, we confiscated over a ton of ivory, and in the first half of 2018, nearly half a ton. Our teams won't stop doing what they can to prevent this ivory from ever getting to market. Thank you for your ongoing support to make these results possible.