Qumquat & Family, October 27, Amboseli 2012 © Nick Brandt
On October 27 2012, Nick Brandt took the photo above - of Qumquat, one of Amboseli's most famous matriarchs, and her family. It was their last afternoon alive together.
The following day, Qumquat and her two daughters, Qantina and Quaye, were gunned down by poachers. Two of the others went missing. Only the youngest calf, Quanza, is alive, rescued by the David Sheldrick Wildlife Trust and currently at their elephant orphanage.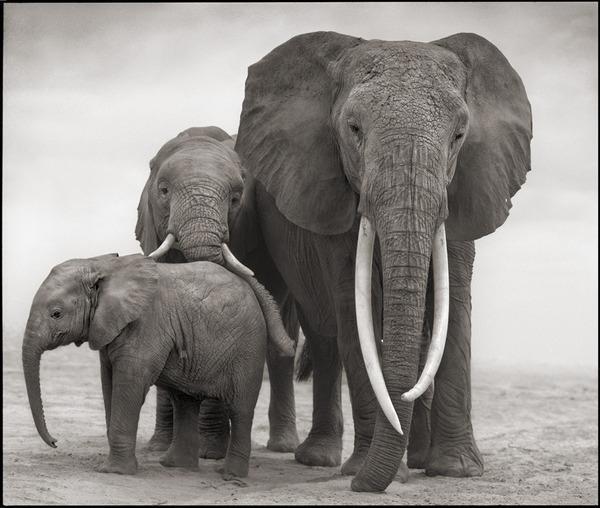 Qumquat with Daughter & Granddaughter, Amboseli 2012 © Nick Brandt
The second photograph of Qumquat, with her daughter and granddaughter - was taken by Nick Brandt a few months earlier.
Big Life Foundation now has 315 rangers in 31 outposts across the 2 million acre Amboseli ecosystem of Kenya and Tanzania where Qumquat and her family roamed. Since Big Life began operations here three years ago, the poaching of elephants and all other animals in the patrolled areas has been dramatically reduced. (Indeed, thanks to Big Life's informer network, Big Life's rangers were led to one of the long term poachers responsible for the killings of Qumquat, and, in partnership with KWS, arrested him.)
However, on this one hellish afternoon, three generations of elephants were exterminated. But there are hundreds and hundreds of other Qumquats and sons and daughters all across the vast African ecosystem.
With 100% of the proceeds from the print sales going to Big Life, you can play an essential part in helping Big Life's rangers continue to protect these elephants.
Both photographs are available in two sizes:
12x15 in. / 30x38cm for $500, not inc. shipping
20x24 in. / 51x 61cm for $1000, not inc. shipping.
They can be purchased on Big Life Foundation's website at
https://nickbrandt.biglife.org
RELATED LINKS: