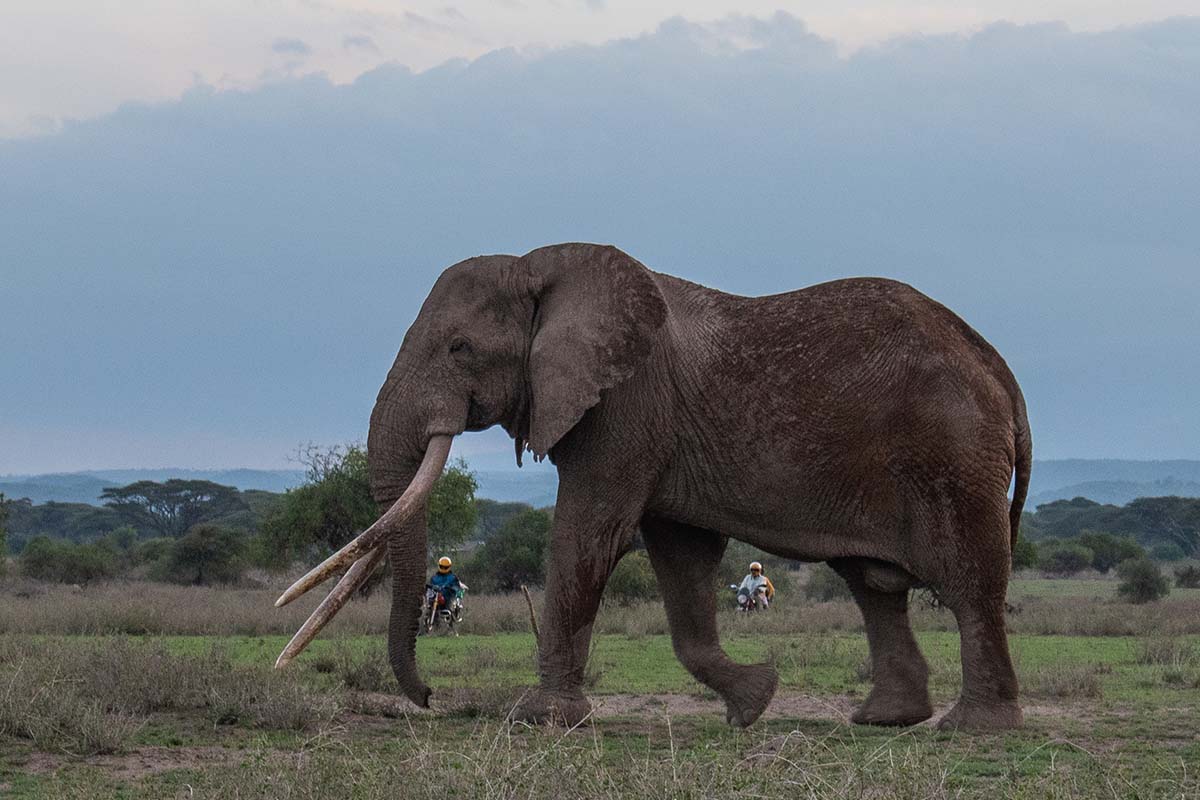 You may be familiar with this magnificent tusker. He is one of the most famous and most photographed elephants that Big Life protects. Most photographs depict him majestically in landscapes devoid of humans, with Kilimanjaro beyond and the dusty earth of Amboseli at his feet. Although beautiful and inspiring, they only tell half the story.
The reality is that Craig and other elephants must frequently navigate landscapes containing people. Whether they're crossing busy roads, passing through community lands, or occasionally raiding crops, elephants spend a lot of their time outside of protected areas like national parks and amid human development.
Most of their human interactions are harmless. The riders of these motorbikes simply slowed to have a better look before moving on. But some can turn ugly. In areas not protected by Big Life's crop-protection fence, crop raiding is an ongoing issue. When livelihoods are lost, tempers flare with potentially fatal consequences for both sides.
So far in 2021, Big Life has been alerted to 249 incidents of threats to or active raids on crops. Big Life rangers were able to prevent elephants from entering farms on 113 of these occasions, chasing elephants from fields a further 85 times (limiting the damage caused) and verifying the damage after it was done on the remaining 51.
Because of the constant monitoring by Big Life's rangers, and their close relationships with each community, Big Life has been able to prevent many of the angry reactions to crop raiding that have been seen in previous years. And as a result, Craig and the other elephants of Amboseli can continue to roam freely.
Thanks to your support, we will continue to keep magnificent elephants like Craig safe. If you haven't already, please consider making a year-end donation to Big Life. All December donations are being MATCHED up to $250,000.