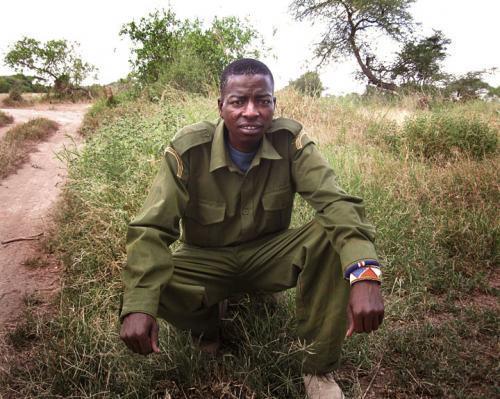 Musambaa, Giraffe Poacher turned Big Life Ranger
March 15 2011
For close to three months, there had at last been zero reports of any elephants killed or injured in the areas now under the new protection of Big Life's anti-poaching teams and outposts.
Unfortunately, this came to an end a few weeks ago. During this time, three more female elephants were killed by poachers or presumed dead.
However, Llewellyn Dyer, Big Life's Field Coordinator in Kenya, reports the following :
THE POACHER WHO CAME IN FROM THE COLD (& How He Helped Catch An Infamous Killer of Elephants)
I was sitting one day with Big Life's Game Scouts at our Il Marba base, and the conversation turned to the major poachers in their area. One of the men that they mentioned was called Musambaa, a prolific giraffe poacher who was notoriously difficult to catch, as he was so strong, smart and fast. When I asked the scouts why he poached, they simply said, "He has no cows". In other words, he was very poor and was trying to support his family. My interest sparked, I asked if it would be possible to meet him. They said he was very wary, as he had been arrested so many times, but they would try to get a message to him.
Two weeks later, I met Musambaa at Il Marba base. When I asked him why he poached, he said, "I did not want to steal from other people, so I decided to steal from the government." I asked him if I gave him a job protecting animals, would that stop him from killing them? He said "YES."
I told him to come to the ranger selection that weekend, to see if he really was committed. One of the exercises was to track a few of the scouts for 5km through the thickest, trickiest bush we could find. In the end it was Musambaa who got to the scouts first, tracking them right up to the rock where they were hiding. I was impressed, but still very cautious. He was a poacher, after all. So I placed him in the care of a trusted sergeant at our base in Kimana to continue his integration.
A week later, we received a report of a female elephant that had been poached in an area near the Il Marba base, our first killing in close to three months. The scouts found the carcass, covered by bushes. The elephant had been speared, its tusks cut out with an axe, its body skinned to expedite the scavenger clean-up process. With the help of a Big Life informer, we were found out out that three infamous elephant poachers were responsible for the killing. The tusks had already been sold to a well-known ivory dealer who owned a butchers in Tanzania. The poachers were also now suspected to be hiding out Tanzania.
Finding out from Kenya Wildlife Service (KWS) that the worst of the three poachers, Pekei Shoke, had two outstanding warrants for his arrest, I dispatched Musambaa and the Il Marba sergeant in civilian clothing. I wanted to see if they could track him down.
Within hours, Musambaa called. He was on Pekei's trail near his home on the Kenya side of the border, and would call me when he had an exact location. I started putting the wheels in motion to get a couple of KWS Intelligence guys to assist us in the arrest.
The next afternoon, Musambaa called in. He had followed Pekei to a village in Tanzania and was watching him. We informed KWS and the Tanzanian Park authorities, but they could not be in place to arrest him until 6pm. As the afternoon progressed, Musambaa ended up sitting and talking to Pekei, who was asking Musambaa to buy him a drink. Musambaa called me to ask if could. I said yes, and do whatever else he needed to do to keep Pekei static whilst we tried to get rangers from Big Life's Tanzanian team there to make the arrest. At around 6pm, the team arrived on the scene and made the arrest. Pekei was then handed over to KWS Intelligence officers, and extradited back to Kenya that same evening.
The poacher has now been imprisoned, with length of sentence to be determined in the coming weeks, as further longstanding charges are brought against him by KWS.
So as Big Life continues to be seen to successfully and consistently capture a series of poachers, other poachers will now see all the more clearly the huge risks of being arrested for their crimes.
But in the meantime, we continue to urgently need donations. As expected, the poachers are now moving into the areas with the least or no protection. Just this week, we had a report that one of the last big old bulls in the Amboseli ecosystem has been killed in one of the exact areas that we know we need a camp and establish a patrolling presence.
We need to respond fast. And once again, with your help, we can.