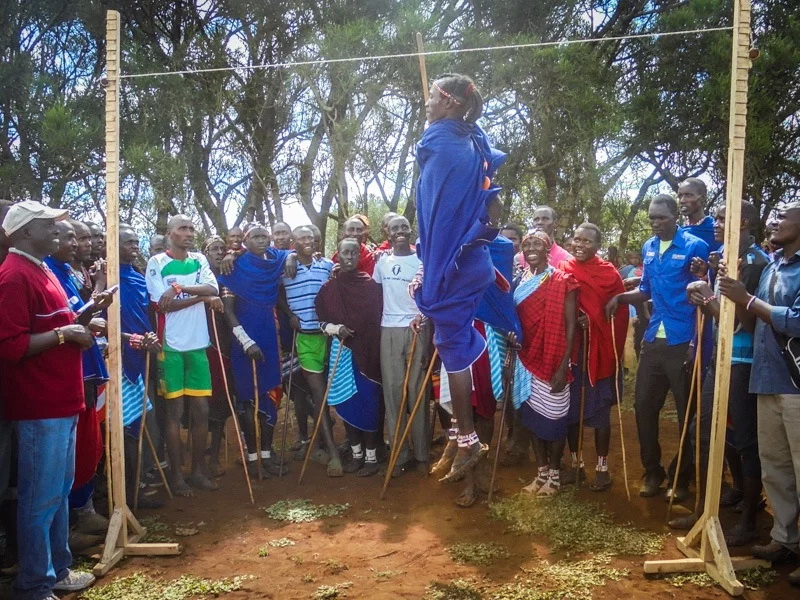 The blow of a whistle marks the beginning of the Amboseli-Tsavo Maasai Olympics 2014 team selection, beginning in the Rombo Manyatta.
The Big Life team arrived to find a well-organised manyatta. The pitch was marked and the athletes were already warming up for the big day ahead in which they would compete to select a strong team that will represent the manyatta in the 2014 Maasai Olympics regional and final events. The Rombo Manyatta is under the supervision of their coach, Simon Kamete.
There was a great turn out of over 300 participants and spectators who came to show their support for their Manyatta. The day's events kicked off with spear throwing, followed by the 200 meter heats that proved to be very competitive.
The 5000m race had a lot of new faces who were ready to compete against the 2012 Maasai Olympics 5000m champion, Jacob Sambu. Jacob also participated in the 2013 New York Marathon. In an upset, newcomer Philip Morinke outcompeted Jacob by 8 seconds to clinch the 5000m win.
As always the target (Rungu) event was very competitive, charged with excitement. Each hit was met with cheers from the spectators.
After Rungu we moved back onto the track for the 800m race. Being a new event in the Maasai Olympics it attracted a lot of athletes who were curious to see if they could make the cut, including the seasoned runner Jacob. In the end Moses Ntimama clinched the first position, followed closely by Jacob with just one second separating the two.
After the High Jump event, in true Maasai style with singing and chanting, the day closed with the 200m final. Winner of the 800m, Moses Ntimama, took first place with 22:08 seconds, followed closely by Nelson Kayian (22:31 sec), and third place was taken by Edwin Sankale (22:36 sec).
The day's events came to a close at 3:45pm, after 7 hours of fun and excitement, where the winners were awarded prizes and short remarks were given on the importance of raising awareness for environmental conservation and Kenya's new Wildlife Act.
Written by: Samuel Kaanki, Big Life Foundation