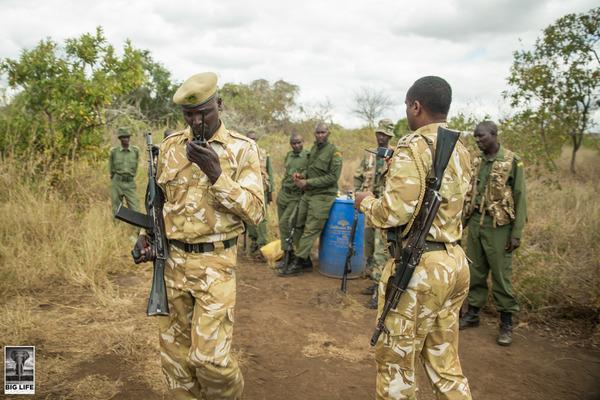 There is only one reason that poachers would venture into the wild and inaccessible parts of the Chyulu Hills - to kill rhinos - where rangers from Big Life and KWS protect a small genetically unique number of black rhino - one of the last wild populations in East Africa.
And so reports of men entering the park put us on high alert. We rushed our rapid response unit to the area, where they joined the Big Life and Kenya Wildlife Service (KWS) ranger teams already on the ground.
The units spread out, setting ambushes and combing likely areas for signs of poachers. For four days this continued. This was like searching for a needle in a haystack, a very dangerous and well-armed needle. But we were starting to wonder if the needle really was there.
And then it happened. The poachers were moving out of the park, unsuccessful in their mission to kill a rhino, and possibly aware of the manhunt. The three men walked straight into a KWS ambush. The poachers, armed with AK-47s, defied orders to surrender, and there was an exchange of fire in which all three were killed.
While one is never happy to report on death, we are glad that it was not a rhino on the receiving end of the bullets this time. These poachers were willing to kill, rhinos and people, to achieve their goal. Thanks to the well-coordinated action of the Big Life and KWS rangers, and particularly KWS in the final situation, they were unable to do either.
Jeremy Goss,Big Life Kenya