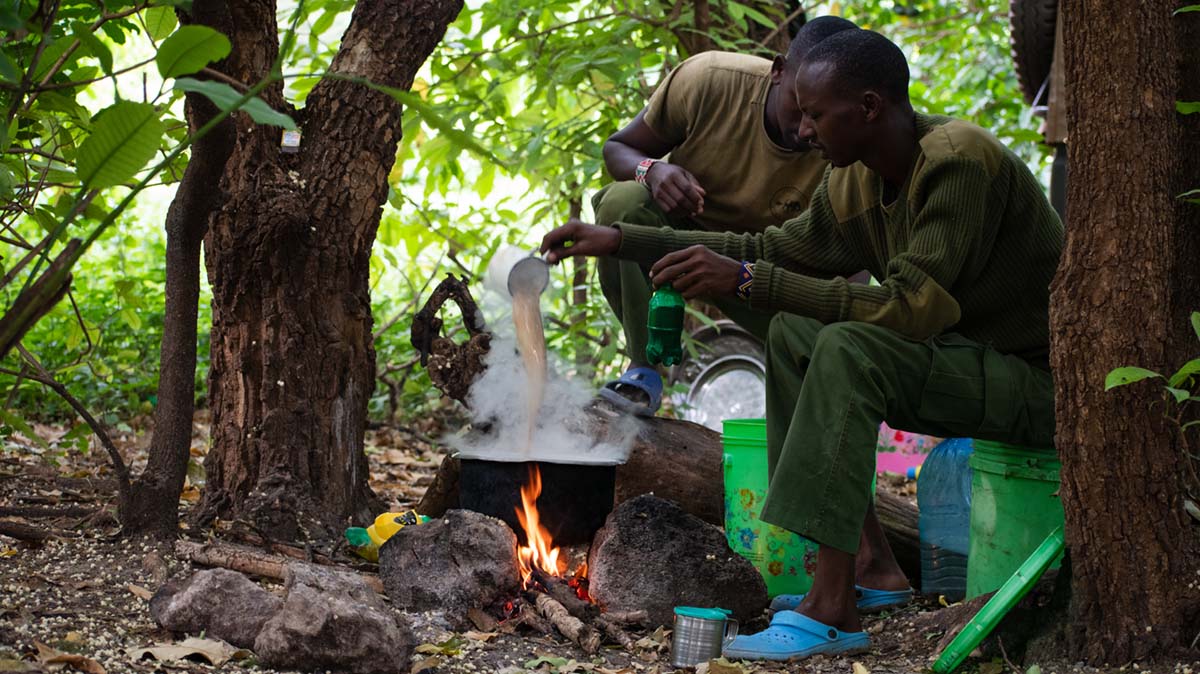 Where Big Life's rangers are stationed, there are no restaurants, no pizza delivery, nor many grocery stores. Meal planning for 340+ rangers in the bush is no small feat.
Big Life rangers primarily work from outposts, which means that they prepare their own breakfast, lunch, and dinner on-the-go, out in the field, without the help of a fully-stocked kitchen.
A typical breakfast consists of chai, uji (a fermented porridge made from cornmeal), leftover ugali (cornmeal cooked with water to a thick consistency), or chapatis (thin pancakes) with sugar. Lunch is almost always a big bowl of rice and beans. There's another round of chai in the afternoon. Then dinner is likely ugali eaten together with a meat and vegetable stew or Sukuma wiki (collard greens cooked with other vegetables).

To get food out to remote outposts, dry goods are purchased in bulk, then divided out at headquarters, and delivered by truck once each month.
The monthly food order for 340+ rangers is immense:
1.56 tons of corn flour
1.3 tons of rice
1.04 tons of soy beans
1,642 lbs sugar
1,080 lbs cooking fat
771 lbs powdered milk
771 lbs wheat flour
595 lbs salt
67 packs of stock cubes
119 lbs tea leaves
Rangers also receive a group stipend for meat and fresh vegetables, which they determine how to spend.

Unfortunately, food costs in Kenya have risen sharply this year as a result of inflation and a worsening drought. What used to cost $18,000/month for ranger food and supply rations has risen sharply to $27,000/month.
Inflation is a global issue and is likely affecting everyone, but if you have the ability and desire to help, we would be incredibly grateful. Please support our rangers and join in the work to save wildlife and wild lands by joining our Ranger Club as a monthly donor. All members receive special perks, including 20% off merchandise in Big Life's e-store. New Ranger Club members, or existing members who increase their giving amount, will be entered to win select items from our e-store weekly throughout July.