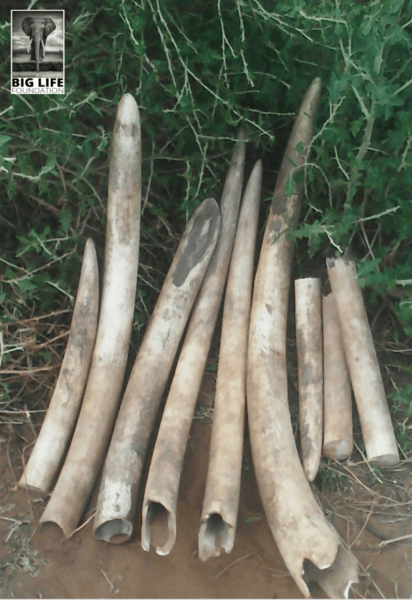 It would be dramatic to call it the Wild West, but the zones outside Big Life's core area of operation harbor a collection of shady characters, poachers, and ivory dealers included.
Big Life has ears on the ivory routes that thread these areas, and last week received anonymous information that several tusks were on the move. There is no point catching poachers empty-handed and so a joint team from Big Life and Kenya Wildlife Service moved in, but stopped short, waiting for the poachers' next move. It finally came one night, when the information came that the tusks were moving again.
The team moved in and arrested the two suspects, confiscating 58 kg of ivory; 7 whole tusks representing at least 4 dead elephants. So while the price of ivory in China may be dropping, along with demand, trade is still thriving. Big Life is working hard to set up the intelligence gathering systems to catch these distant poachers and traders, and keep ivory out of the supply chain. The same intelligence network will help us in the search for Ndawe's killers.
Intelligence work goes beyond ivory trafficking. The same night that these poachers were being caught, another Big Life unit was making an arrest of suspects with 65 kg of sandalwood, also illegally traded. This and other forms of habitat destruction don't necessarily hurt elephants directly, but it does hurt the ecosystem. Big Life is trying to make all these forms of wildlife crime an equally risky business.