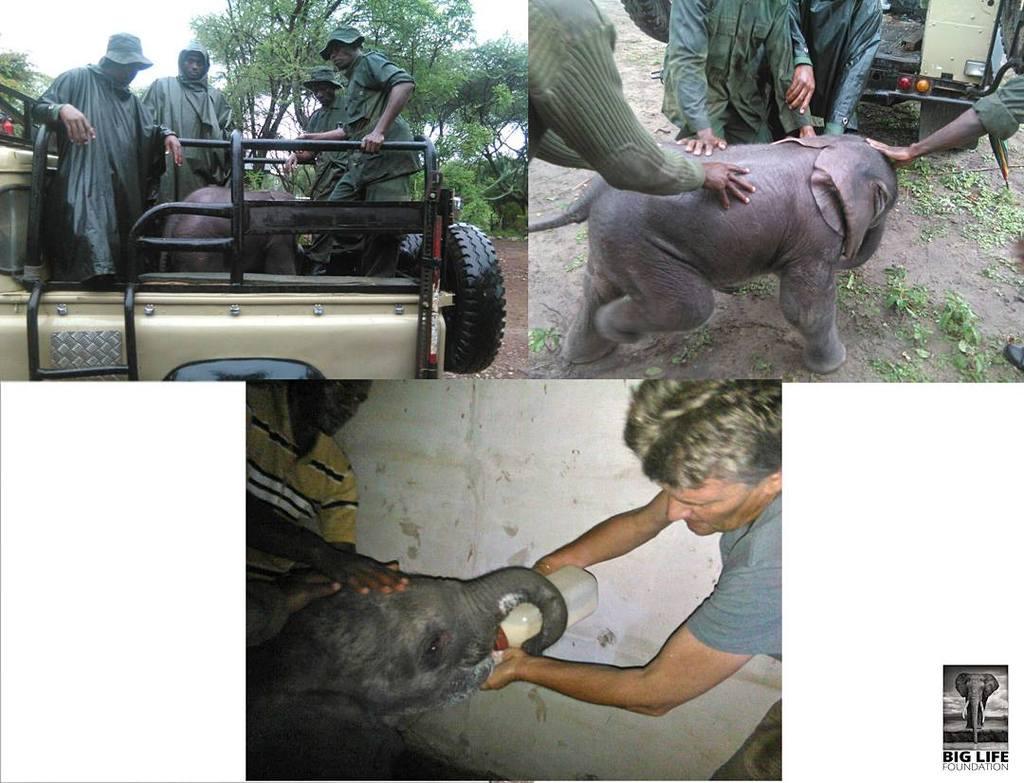 After a hard overnight rain, the tiny orphaned baby elephant felt the chill of the pre-dawn darkness. Lost and alone, it stood as easy prey for lions or other predators. Stray dogs had already started to harass him, biting and nipping at his legs and ankles.
The newborn had wandered into a village that is part of the Burunge Wildlife Management Area (WMA), adjacent to Tarangire National Park. He somehow survived to see the sunrise and morning.
Fortunately, community members, after spotting him, also contacted the authorities about the sight of a baby elephant without his mother.
By that late morning, a team of seven Burunge WMA village game scouts, as led by Big Life Tanzania's top commander and trainer, John Magembe, quickly located the distressed animal.
"A mother elephant would never ever leave her child alone," said Magembe. "We knew we had to do everything we could to look after him."
The Burunge team successfully calmed the baby male and loaded him into the back of their Land Rover, rushing him to the Tarangire National Park headquarters. There, a Tanzania National Parks (TANAPA) veterinarian helped care for the elephant.
Big Life's Magembe and the Burunge team stood by for another six hours while they worked with TANAPA to determine what to do with the orphan.
Unlike Kenya, which has the David Sheldrick Wildlife Trust, Tanzania lacks an orphanage for elephants, even though their numbers are increasing significantly because of the surging illegal ivory trade and elephant poaching epidemic.
The orphan's mother in this case, however, had not been killed by poachers. The following day, Magembe and company would locate her carcass, tusks intact, about three kilometers from where they had encountered her baby in Burunge WMA.
While investigations are ongoing, it is suspected that she successfully gave birth to the male but did not discharge her placenta, which became infected and caused her death days later.
The Burunge team worked with TANAPA to be granted authority to transfer the orphan to the only place in northern Tanzania with elephants in captivity at Ndarakwai Ranch in West Kilimanjaro, where Big Life Tanzania's tracker dog kennels are based.
They arrived at Ndarakwai some time before midnight, where the baby found a warm place stay and some milk to drink from a large handheld bottle.
"The Burunge team showed true heart in caring for the baby elephant," said Magembe. "It was a long day, but we are just happy the baby is safe and has found a place to stay. We decided to call him Burunge Bahati for the place where we found him and for 'bahati,' which means 'luck' in Swahili."