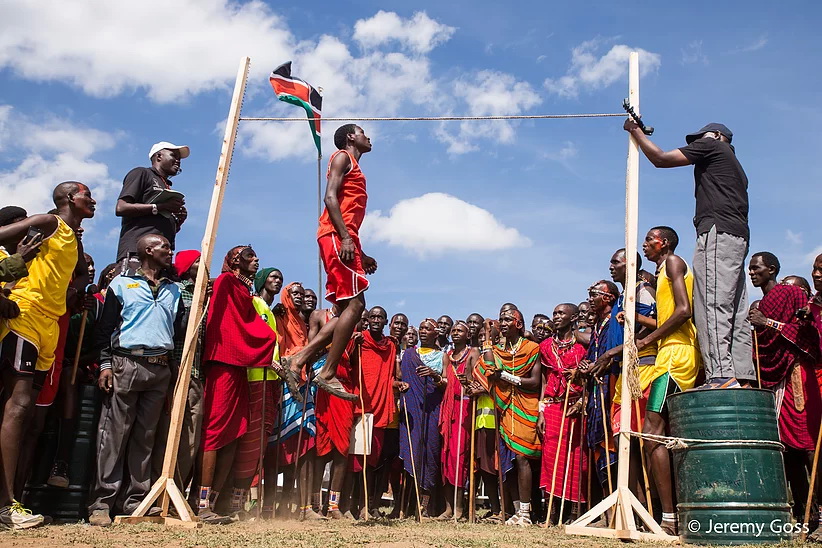 It was a fight that went to the very end. Two warriors locked in battle, matching each other's every move.
This was the final sporting event of Big Life Foundation's Maasai Olympics - lead sponsored by National Geographic and major sponsored by Chester Zoo - and the crowd was watching something special. The Mbirikani manyatta, or warrior village, were winners of the previous two Maasai Olympics finals (held in 2012 and 2014), and favourites to do it again. Rombo were the underdogs, having placed last in 2014 and been the pushover opponents in the lead-up regional competitions this year.
The two teams went into the much anticipated final event, the standing high jump, neck and neck with Mbirikani on 11 points and Rombo ahead by one at 12. The chanting started and as the bar went up, jumpers dropped out until just three remained, two from Mbirikani and one from Rombo. It looked like another victory for Mbirikani, but disaster struck on the next jump as one of their warriors landed on the bar-stand and cut his foot.
It was down to two. At stake was the trophy and valuable prize breeding bull, but more importantly bragging rights as the strongest warriors in the ecosystem. The crowd crushed in on the barriers, people climbing what they could to get a view of their heroes. Leyian from Mbirikani faltered on 10ft 5inches. Kuya from Rombo failed twice at that height, before pulling out an unbelievable jump that sent him to 10ft 6inches, and his team into a jumping, chanting Maasai celebration.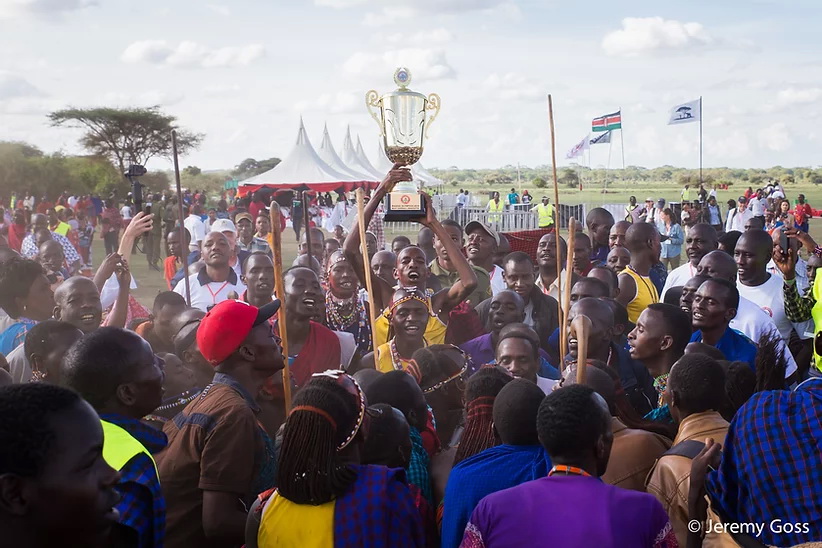 It was a dramatic end to the day that had seen athletes, both boys and girls, compete in a variety of track events, the javelin throw for distance and the rungu (wooden club) throw for accuracy. Rombo not only won the day, but also won the Chester Zoo conservation scholarship prize (worth $2600), awarded because their warrior village had not killed any lions this year. Two athletes, the winners of the 800m and the 5000m, will be running in the New York Marathon next year thanks to a sponsorship from Maasai Wilderness Conservation Trust.
The message of the day was clear in the speeches by local dignitaries and the patron of the event, Kenyan Olympic double gold medallist David Rudisha; lions and other animal species are worth more alive than dead. And this is what the Maasai Olympics is about, a way to create heroes without killing lions.
Many thanks to the other partners and sponsors of the Maasai Olympics including Great Plains Conservation, Sidai Oleng Wildlife Sanctuary & Land Conservancy, Amboseli Trust for Elephants, International Fund for Animal Welfare, Fly Safarilink, WildlifeDirect and a number of generous individuals.