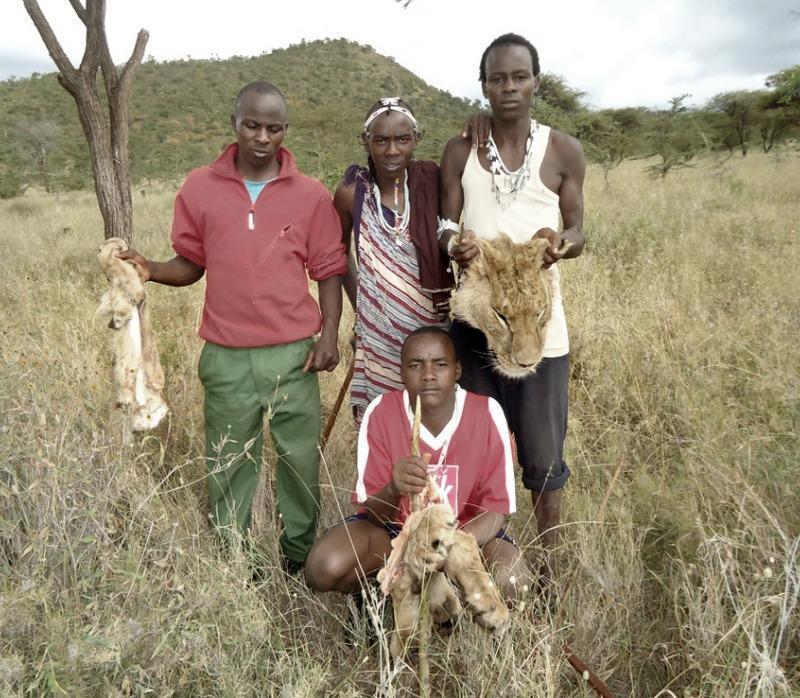 A few of the morans who had gathered to kill the lions (but are not the actual killers)
The shocking statistics of the recent alarming decline of Lion numbers in Africa has been well documented: an estimated mere 20,000 lions left across Africa, a 90% drop in the last 20 years.
But we are in danger of witnessing an unprecedented still greater escalation.
Last week, we saw the massacre of a lion pride outside the Nairobi National Park. We are now also sad to report the loss of a young male Lion speared to death in Tanzania, just across the border from Amboseli National Park.
The lion strayed from the park into Tanzania, and made the fatal mistake of killing a cow, feeding on it and not leaving the scene of the crime. As the Maasai of this area are reliant on livestock for their livelihoods, their reaction was predictable, and they retaliated.
The nearest Big Life/WMA team were alerted and able to get to the site quickly. With a posse of Maasai warriors tracking for the other lion, a group of Big Life/ WMA rangers went in pursuit, to try and prevent them killing any more lions.
The rangers managed to persuade the warriors to back off, allowing the lion to make it back into Kenya and the relative safety of the park and the adjoining group ranch.
The ranch is one of a number on the Kenyan side that has a compensation policy for local people whose livestock have been taken by lion. This program has been statistically proven to go a long way in helping mitigate carnivore conflict in the region. This latest unfortunate incident shows that such a program is also much needed on the Tanzanian side of the ecosystem.