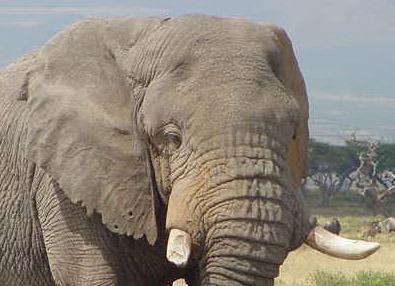 Above is a photo of an elephant named Magna. He was born in 1965. As you can see, his tusks are barely more than broken stumps. So you would think that he would be safe from poachers. Unfortunately, you would be wrong.
Two weeks ago just outside Amboseli National Park, near the Tanzanian border, he was killed by poachers. His meagre tusks hacked out of his skull as bounty. If Magna was killed for tusks this size, then really, no elephant is safe any more.
When ivory is selling for as much as $5000 a kilo in the Far East, even tusks such as Magna's made him a target for the poachers. This is the battle that we face.
I was recently in Amboseli for three weeks, and in just that short space of time, eight elephants were found in the area, killed for their ivory. As usual, these are just the elephants we know about. In such a vast area, we don't know how many more may remain undiscovered. But if this rate of killing were to continue, there won't be much left within just a couple of years.
Four of the eight elephants have been killed in an area east of Amboseli where, facing challenges, the scouts and rangers protecting that area have been temporarily shut down. This seems to prove that poachers will always quickly find the weakest link, and that without some kind of infrastructure like we are putting in, the poaching will escalate still faster and further.
Meanwhile, a two year old elephant calf was found wandering in from Tanzania without his mother. We can only presume the worst - elephant mothers don't just wander off and leave their babies. This seemed confirmed last week, when we had a report of two more elephant carcasses found on the Tanzanian side close to the Kenyan border.
So clearly, with the poaching escalating, we are urgently trying to get more in place as fast as we can.
As of this moment in time, running for two months, Big Life Foundation now has, on both the Kenyan and Tanzanian sides :
- Seven anti-poaching camps built or modified and expanded, each manned by eight scouts/rangers.
- Two more camps that will be built and running by the end of January, bringing the total to nine.
- Seven anti-poaching patrol vehicles for all the camps.
- A team of new rangers and scouts, platoon commanders and training instructor hired. Over the next month or two, the Tanzanian rangers will be armed and trained up to full efficiency.
- Prosecution officers employed for both sides of the border to follow through on all arrests, making sure that the criminals receive necessary justice.
- The Kenya Wildlife Service will also shortly receive another LandCruiser and full supply of equipment for a patrolling Wildlife Protection Unit of eight armed rangers. We will be providing them constantly with all the information our men glean, to further enable them to maximize the efficiency of their anti-poaching operations.
- We are now urgently putting into effect a far larger network of informers than currently exists on both sides of the border. A comprehensive network of informers is critical to our success, and to preventing the killing of all species. The rewards for information leading to the arrest of poachers with ivory or bushmeat will far exceed as incentive what has been offered in the past, with rewards of up to $1500.
- The co-purchase of a Microlight plane for monitoring and surveillance on the Tanzanian side, while Richard Bonham, Big Life's Director of Operations, will now be flying in his plane over the area on the Kenyan side for 300+ hours a year.
- We will also be acquiring two sets of tracker dogs with accompanying full-time handlers, an essential and incredibly effective component of anti-poaching efforts, for both sides of the border.
But given the sheer level of poaching we are coming in to suppress and overcome, we now realize that we need to double the anti-poaching camps to a total of eighteen camps on both sides of the border, with accompanying patrol vehicles and equipment. This may be Africa, where wages for the men on the ground is not expensive compared to the West, but vehicles, equipment, fuel and upkeep of this small army of people, protecting such a large area, requires a significant amount of money.
But once this level of infrastructure is in place - 160 rangers and scouts in eighteen camps, with aerial support above, canine(!) and informer network support on the ground - we feel that we will then radically reduce the poaching of ALL animals in this extraordinary ecosystem.