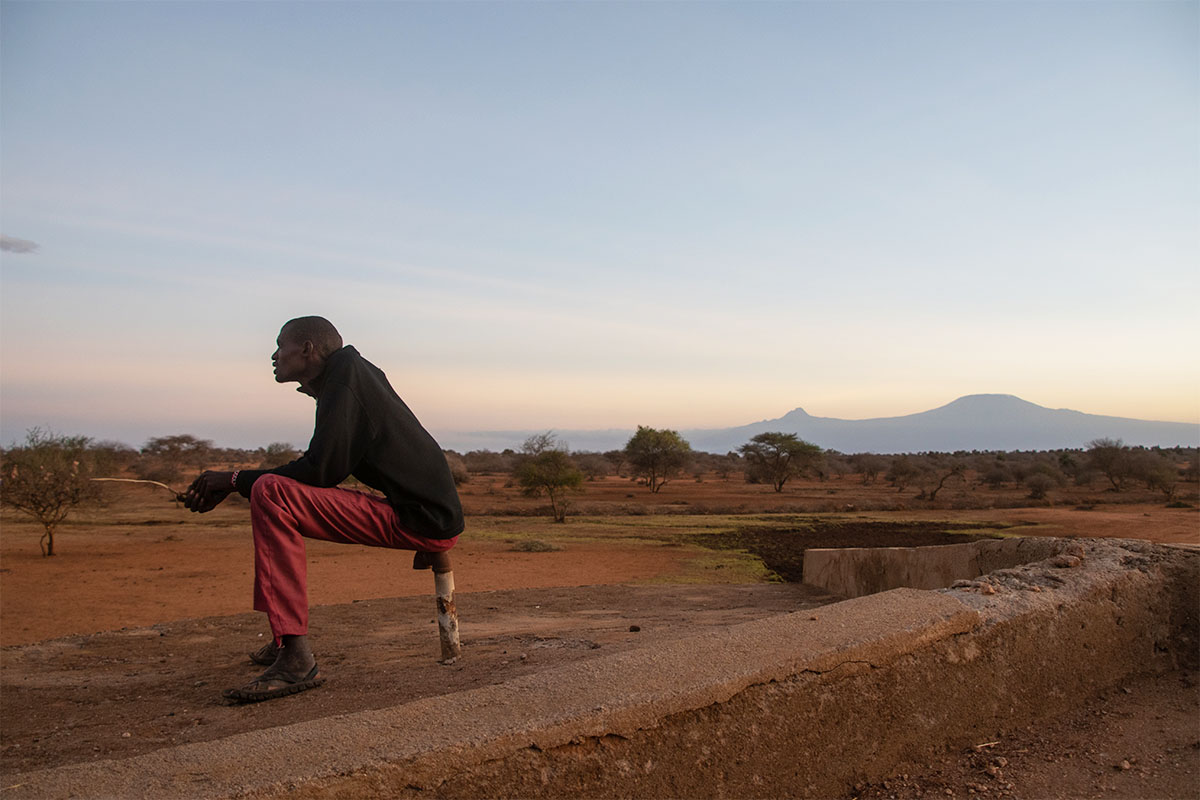 Tall and lanky, Shadrack's sharp eyes scan the horizon. His motorbike is parked behind one of the large tanks, and he's already nimbly climbed to his perch on top of the Noosilale borehole to start his watch at dusk.
The surrounding landscape is bleak, ravaged by months without rain. Zebras file in, a hesitant giraffe lingers, and Kilimanjaro looms to the South as local women finish gathering water before nightfall.
Shadrack's job as a borehole attendant is to guard the tanks and make sure the water continues to flow. If it runs dry, frustrated animals will break it apart trying to access the interior plumbing.
He says, "I like watching the animals, but elephants the most. I know when they are coming, even when the night is at its darkest, because I have stayed up here [on top of the water tank] for many nights, and I know where all the bushes are, so when I see one in a place I do not recognize, then I know it is an elephant. They only like to drink from the water trough where the water is fresh and prefer not to drink from the puddles. If there is no water, there is trouble. They will dig up the pipes."
"This is all new piping. We had to put concrete over it because elephants broke the last ones. They are destructive, but that is their nature. Through education and compensation, Big Life has taught us to learn to live with them."
When asked if he likes his job, he replies, "Yes, it is peaceful. I believe I am helping the community as well as the wildlife by looking after this borehole. Everyone needs water, especially now, and the borehole is the only reason many of these animals and people's shoats and cattle are still alive. This job has been my only source of income and I am thankful for that. I can feed my shoats and myself."
Photo: Josh Clay