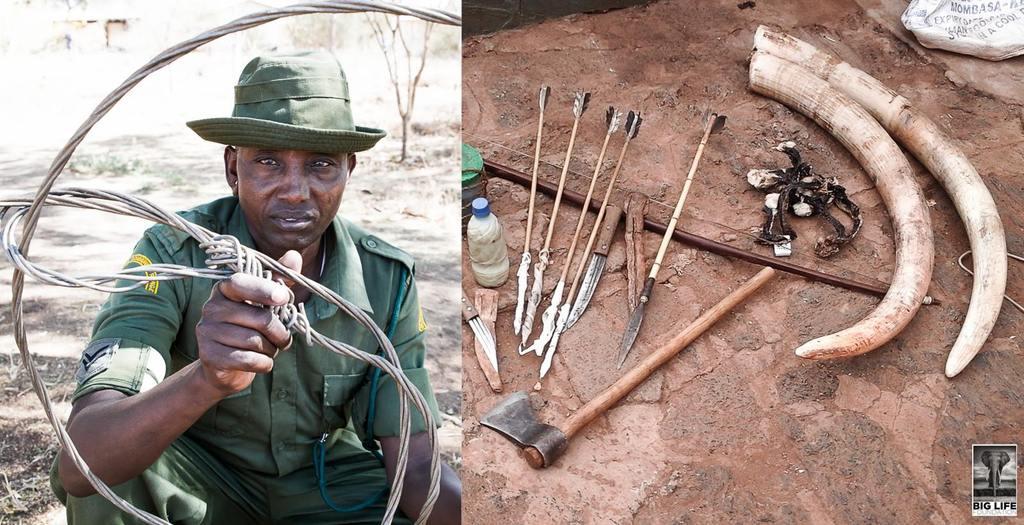 Two poachers watched the scene unfold from a distance: spotter planes, a helicopter, and twice as many rangers as normal. Big Life and Kenya Wildlife Service (KWS) were scouring the Chyulu Hills, trying to find and treat Bahati, a snared black rhino calf, and there was far too much activity for the poachers' liking.
The men decided to change their plans: they would go instead to Tsavo East National Park in search of ivory.
Little did they know that, just as they were watching Big Life, we also had eyes on them. The trail went dead as the men headed into the dry bush of Tsavo, but fortunately, we received fresh information as the poachers re-emerged from the park.
KWS led the operation, with support from Big Life, that caught the poachers red-handed with the tusks, meat from an elephant they had just killed, poison arrows and bow (pictured here), and AK-47 ammunition. The AK-47 itself was later recovered in the home of one of the suspects, another weapon taken out of circulation by the Big Life and KWS rangers.
Closer to the Chyulu Hills, a suspected rhino poacher was back in the area. BLF and KWS rangers raided his home late one night to find the man surrounded by doses of lethal poison, poisoned arrows, and two small elephant tusks. This man is suspected of having placed rhino snares in the past, and rangers removed three such snares (one pictured here) in the weeks leading up to this arrest. We don't know if they were his or not, but we do know that he won't be laying any more snares in the near future.
These are all men who Big Life has been following for some time, seasoned poachers, and it is now up to the Kenyan justice system to ensure that their arrests mean the end of their poaching careers. The pressure on rhinos and elephants is intense at the moment, and these successes are critically important. Poachers can't kill from inside a jail cell.