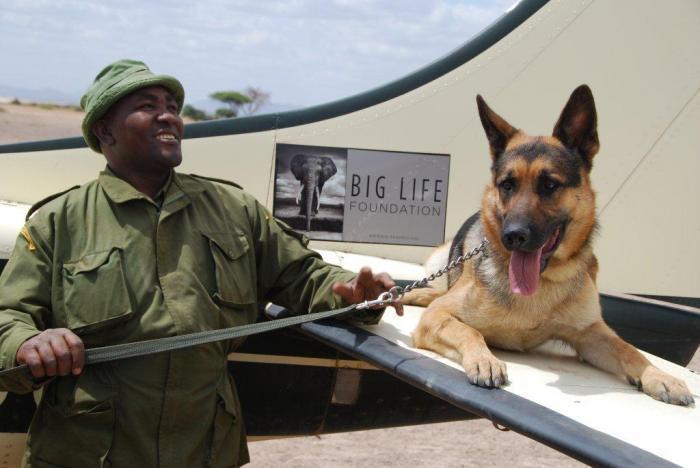 Jazz, one of Big Life's Tracker Dogs on the wing of Richard's plane, with his handler, Mutinda
December 14 2011
by Nick Brandt / Llewellyn Dyer
The gang of Somali poachers, armed with AK47's, shot and killed two big bull elephants for their ivory on consecutive days. It was not their first, for they had been killing elephants in the area for a year. Once again, they successfully fled the scene of the crime.
This happened not in the Amboseli ecosystem, where Big Life's rangers have so dramatically reduced the poaching, but in a place called Rukinga, east of Tsavo, several hours drive away. A group there, Wildlife Works, had heard of Big Life's newly-acquired tracker dogs. The four tracker dogs had just finished six months of intensive training. Two were to be based on the Tanzanian side, the first time tracker dogs have ever been implemented there for tracking poachers, and two in Kenya, the only tracker dogs in a huge area of the southeastern part of the country. Wildlife Works called, asking for help tracking the poachers.
The next morning, Jazz was flown in. He was shown the tracks and was off without a moment's hesitation, his first ever real job. The poachers had employed clever anti-tracking techniques, splitting up, re-crossing their tracks and laying false trails. But Jazz saw straight through them and carried on. Llew, Big Life's Field Co-ordinator, flew ahead of the ground teams with a spotter, hoping to spot the poachers or at least slow them down.
By 6.30pm, Jazz had been on the trail for over ten hours without break, and had covered about 20 miles without a single wrong turn, but needed a rest. In the meantime, a group of rangers continued ahead of Jazz, and soon spotted the poachers just ahead of them. The poachers ran, but were caught. Identified by their tracks, the men were arrested, and are now awaiting trial.
Although many people worked hard to make this arrest possible, it never would have happened without Jazz and his nose.
This incident has quickly proven what we already knew : that tracker dogs are one of the best anti-poaching deterrents money can buy. Poachers know that even a day after the event, dogs can find them, and there is nothing that the poacher can do to change this. The Maasai in particular are terrified of trackers dogs, regarding them as somehow supernatural in their ability to track them down.
So now Jazz and his canine cohorts have become one more critical piece in Big Life's anti-poaching armory. The fact that Big Life is able to help other groups well beyond our range is an added bonus.
End-of-Year Appeal
This has been an incredibly successful first year in existence for Big Life Foundation. We could never have imagined that the Big Life teams would have achieved such a dramatic reduction in the killing of wildlife across the unique two million acre Amboseli ecosystem.
But with the explosion in demand for animal parts from the Far East, and ever greater pressure from a fast-growing population, the poaching of all animals in Africa continues unabated. 35,000 elephants - 10% of the African population - are estimated to be killed every year. The lion population has been reduced by 90% over the last 20 years, to just 20,000 estimated left across the entire continent.
But right now, in one critical corner of Africa, Big Life Foundation is staunching that flow of blood. The poachers in the huge area that Big Life is protecting are now arrested almost every time they kill or attempt to kill.
As a result, over the year that Big Life has been in the field, countless animals lives have been saved, and the continued health of this ecosystem maintained.
Critically, Big Life has at the same time had huge support from the local communities, without whose support all of this would have been impossible. Not just because Big Life is now a major employer in the area, but because more and more people within the communities see the economic benefits to them of having a thriving wildlife population that draws people from all around the world.
All that Big Life has achieved this year could never have happened without the support of you, our donors. Please go to our website's Latest News, and to get a partial glimpse of just how effective your donations have been over the year, and all with minimal administration costs here in the U.S.
So thank you from everyone at Big Life, and if you can, please donate, to help us continue our success into the next year and beyond.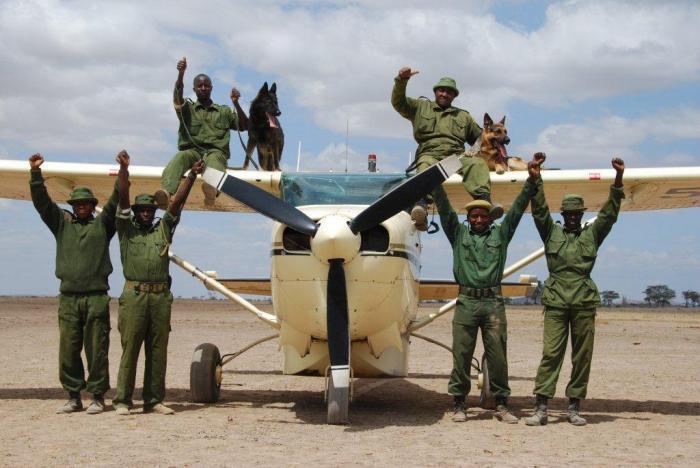 Jazz & Max, two of Big Life's Tracker Dogs on the wing of Richard Bonham's plane, with their handlers and other Big Life Rangers