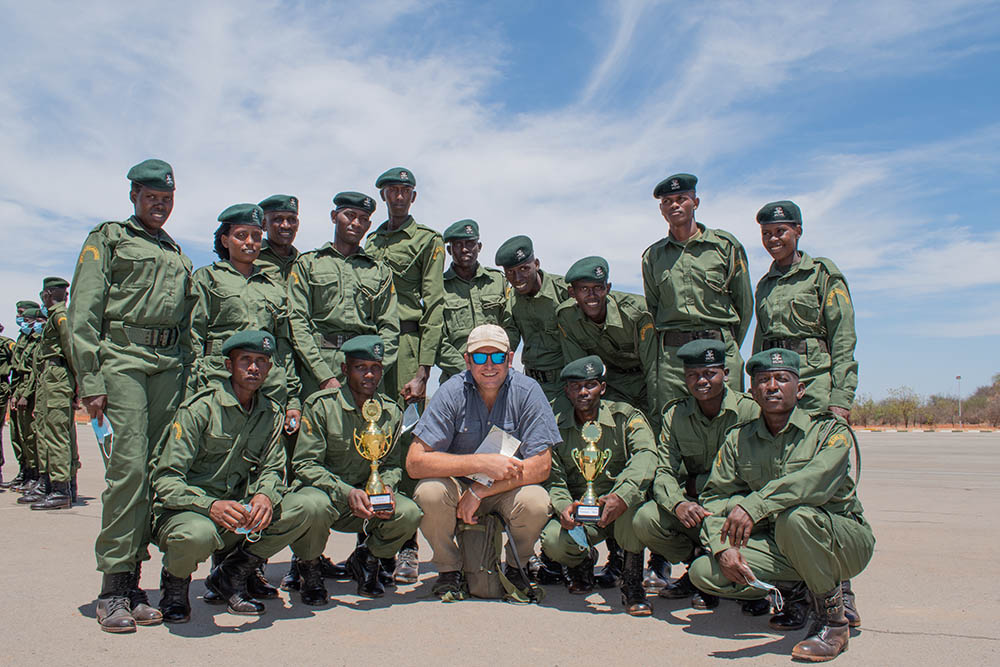 It was an affair that this year's graduates will always remember. Accompanied by a rousing brass band, their impeccable uniforms and faultless marching was an impressive spectacle on a searing Tsavo morning. The occasion? The graduation of Big Life's newest community rangers from the Kenya Wildlife Service's Manyani Law Enforcement Academy.
Two Big Life rangers were awarded trophies for Best in Academics and Best in Drill and Turnout, and each of the guest speakers had stirring words for the graduates.
Big Life's Chief Operating Officer Craig Millar was full of praise for the graduates and the Academy, saying that this was the best ranger training program in Kenya as well as one of the toughest, adding that Big Life will continue to send its rangers here every year.
Head of Wildlife Conservation at Ol Pejeta, Samuel Mutisya, reminded everyone that innovation will be the key to solving the challenges facing Kenya's wildlife in the future. He explained that human wildlife conflict and climate change will be the two defining issues for conservation in the decades ahead. Novel approaches will be crucial to success.
Nancy Kabete, Deputy Director of Security for the Kenya Wildlife Service, also spoke and emphasized the importance of collaboration between conservation organizations. She said that without community rangers, the Kenya Wildlife Service is not able to do the job the government has entrusted it to do. This is because only 8% of Kenya's landmass is protected by National Parks with the rest of Kenya's wildlife existing in a combination of rangelands, community ranches, and conservancies. The work of community rangers is therefore essential for the preservation of wildlife, something she said was a central feature of Kenya's heritage.
Big Life is proud to have sponsored these latest ambassadors for wildlife conservation in Kenya. It is thanks to the generous support of Big Life's donors that these men and women can be trained to such a high standard and keep on protecting Kenya's wildlife. We are grateful to USAID East Africa for sponsoring this training via the US Department of the Interior.
Photo: Josh Clay