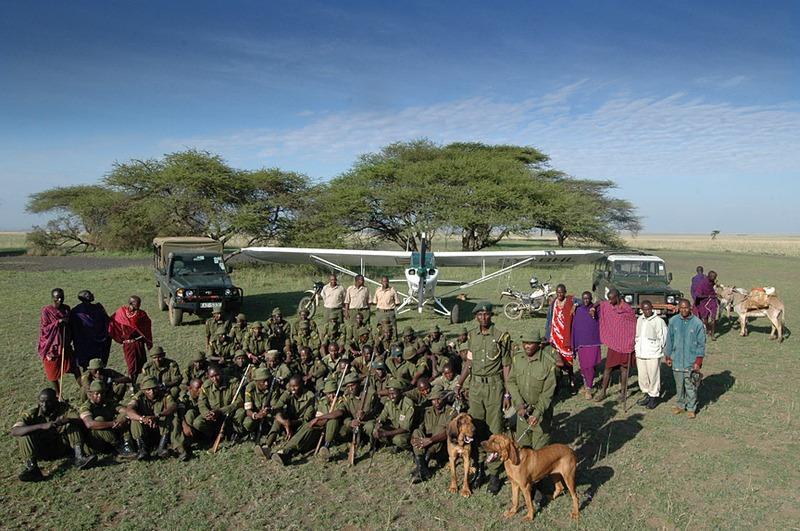 THE LATEST FROM RICHARD BONHAM IN AMBOSELI
SEPTEMBER 24 2010
I have had some crazy weeks in my time. But the last two weeks take the prize.
It all started with a call from Nick Brandt. He told me that he had the means to initiate a major campaign to support our and the Kenya Wildlife Service's efforts to address the growing poaching problem of elephants and other species in the Amboseli ecosystem. And what would be my advice?
It did not require much thought from me or the Senior Warden at KWS, as we know what we need, we just didn't have the resources to implement. Nick said ''you have now got them. I want you to make a list of priorities of what you initially need to stem the tide. We will then see what we can do about the rest.''
We immediately deployed three outposts to be manned by community game scouts. Some would have to be recruited and others drawn from our existing units. We chose the three most critical points for poaching along Kenya's border with Tanzania :
Kiturua, Elmarba and Kimana. Effectively putting a cordon around the south eastern side of Amboseli Park.
We also immediately deployed a temporary tented camp to Kiturua, close to the Tanzanian border from which man poachers come, and the site of one of the most recent elephant killings. Overseen by Kenya Wildlife Trust, led by John Muhunga, and an experienced sergeant and vehicle from the Maasailand Preservation Trust. Radios were also deployed to link with other games scouts and the Kenya Wildlife Service, for better, more effective and co-ordinated response.
We had a meeting with the Maasai community leaders from Kimana and Olgolului, to ask for their blessing to establish permanent game scout outposts on their land. Their reaction was "we want you to start today".
In Nairobi, the necessary equipment was bought to enable the scouts to operate in the field. The list is endless but covers everything : beds, mattresses, tents, water tanks, radios, solar chargers and so on.
We purchased materials to build the three permanent camps. Each camp will consist of four prefabricated two-man huts that can be erected in a day. Plus toilets showers and kitchen dinning room area. I feel it is really important that these scouts, who often operate around the clock in fair and foul weather alike, to be able to return to a relatively comfortable base. Construction has started and the scouts are already in position helping with construction and carrying out patrols.
Whilst all of this was going on, we established an Observation Post on Elerai Hill which overlooks the shoulders of Kilimanjaro, where they drop onto the Amboseli basin. This is a notorious corridor for poachers and favorite hunting grounds for the bush meat trade poachers. As soon as the construction team finishes at Kimana, we will put two huts here to accommodate these scouts, as this is a very strategic position. When the construction team has finalized the site, they will move into Elmarba to construct an eight man outpost.
At the very same time in Amboseli, two of the oldest elephants in the ecosystem, who had been found speared/poisoned by poachers, died of their wounds in the Kimana/Kuku area. The scouts managed to recover the ivory of one, and we are hot on the trail of the others.
One of our routine joint patrols with KWS found a poacher in ambush for a rhino. As it was a night patrol, he escaped, but by six in the morning we had one of our blood hound tracker dogs on his scent. This led them out of the park to a community village where the tracks where lost. However I think the message came through loud and clear that they were lucky to escape, and further attempts would have more severe consequences.
We have ordered two new Toyota land cruisers which will be delivered at the end of October which will be used to support the new outposts.
So we have come a long way since Nick's phone call two weeks ago, and we are fast creating a security net around Amboseli Park. This will need to be consolidated with further recruitment, training and boosting the capacity of the existing game scouts.
It has not come a moment too soon.
{gallery}news/big-life-news/100924-1-1-Big-Life-Foundation-Money-Into-Action-Immediately{/gallery}