From Nick Brandt
January 18 2011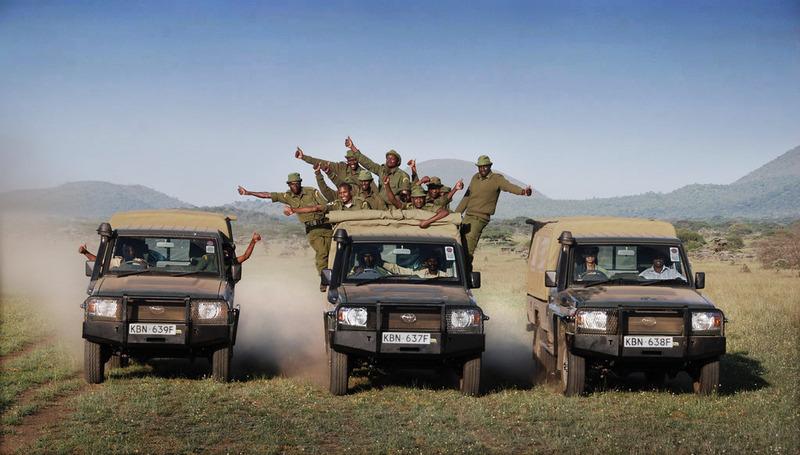 BIG LIFE RANGERS WITH NEWLY-PURCHASED VEHICLES, DECEMBER 2010.
For twenty years, one poacher and his gang in Tanzania have been systematically poaching many of the Amboseli region's elephants. The authorities have never been able to catch him. But thanks to Big Life & KWS, his poaching days are now over :
Seven weeks ago, I reported a continued escalation in poaching, another eight elephants killed in the Amboseli area alone in just 16 days. This included the old bull called Magna, whose broken tusks were so small, it showed that no elephant was now safe from the poachers' bullets and poison.
Based on a tip-off from one of Big Life's informers, Kenya Wildlife Service successfully intercepted the poacher gang responsible for the killing of Magna and many other elephants in the Amboseli ecosystem / Tanzania over the last twenty years. A firefight ensued, during which two of the poachers were killed, but the leader of the poaching gang escaped with wounds over the border back into Tanzania.
The Kenyan authorities were not able to communicate as quickly as necessary with the authorities in Tanzania. At this point, BIG LIFE's strategy - of coordinated teamwork between our teams in Kenya and Tanzania - came into play. The Big Life team in Tanzania WERE able to respond, and immediately :
Critical information from one of Big Life's informers in Kenya was passed on to the team in Tanzania - Honeyguide Foundation, our partners there. They were able to track down the gang leader, and with the help our network of informers there, followed him for a number of days, At the appropriate, safe moment, the Big Life/Honeyguide team brought in the Tanzanian police, who made the arrest. The gang leader now awaits extradition to Kenya, where they would expect him to receive a sentence of at least 10 years.
This poacher and his gang have been organizing and killing elephants for TWENTY YEARS, including what must be many of the elephants photographed in my books. But the authorities were never able to pin anything on him. Within three months of being established, BIG LIFE has succeeded in breaking up the worst of the three main gangs operating along the Amboseli region Kenya/Tanzania border.
This great success could not have been possible without the generosity of our donors who helped us purchase critical vehicles and equipment, hire anti-poaching teams, and develop our network of informers and associates.