by LLEWELLYN DYER, Big Life Field Co-ordinator
October 22 2011
Over the last couple of months, there have been a spate of elephant killings in the Kuku and Rombo regions east of Amboseli National Park. They were the work of groups of Maasai morans, hunting in their traditional manner. The tusks were removed and sold across the border in Tanzania.
As Big Life investigated, it became apparent that there was someone training groups of young Maasai how to hunt elephant with a spear. The man, Tiampati ole Mpaluka, a hardcore traditional bushman Maasai, has been poaching in the area for years, and has been known and wanted by the Kenyan government for the last couple of years. In recent months, he is known to have killed numerous elephants in Tsavo West as well as Kuku.
But every time he killed, he would escape into Tanzania, making it harder to track him down. In spite of owning a gun, he has always chosen to kill elephants with poisoned spears and arrows, a terrible, slow and painful death for the elephants. But by using a spear, he was less likely to get shot by authorities, and be less likely to get a severe sentence. The Big Life rangers got reports that he was in the area, so they went to see if they could arrest him. However, on that day, young Masaai warriors armed with spears, all paying homage to this 'great' bushman and asking to be trained, surrounded him. The situation was too volatile. Trying to arrest him there was too dangerous, so he escaped.
At the beginning of October, the Kuku region rangers (not Big Life) found a poached elephant, and managed to track down and arrest all four poachers before they could remove the ivory. This group contained two of Tiampati's brothers, who were both trained by him and had been poaching elephant since they were teenagers. During their interrogation, we learned that Tiampati was now living in a place just across the border into Tanzania.
Four days later, a Big Life informer confirmed that Tiampati was heading to his brother's house just across the border to spend the night. A Big Life ranger in civilian clothing approached the house early on the next day, on the pretense of looking for a lost goat, to confirm that Tiampati was there. When the Big Life rangers entered the hut, Tiampati attempted to flee, while his family members and morani tried to prevent the rangers from making the arrest. The rangers split in two, with one group successfully chasing down Tiampati, and the other holding off the morani until they could extract him.
Teamwork has again been a key to another long-time poacher brought down - this time between Big Life, Kuku Ranch (MCWT), and as always, the support of key members of the local communities.
Tiampati is currently being held by in Makindu without bail until he appears in court on the 21st of November. Of his eight colleagues, only three now remain at large.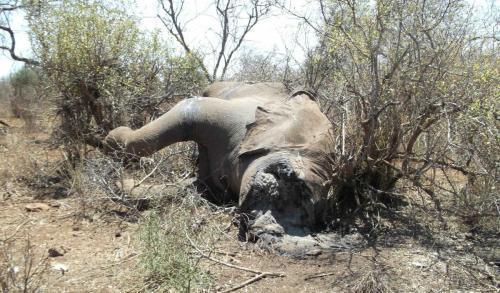 Body of Elephant Recently Killed by Poachers, Sept 2011