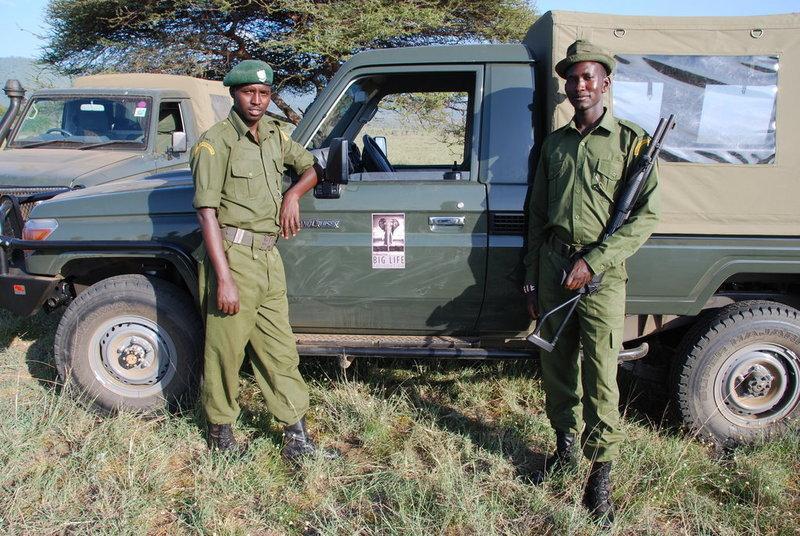 ZERO REPORTS OF ELEPHANTS KILLED OR INJURED IN LAST TWO MONTHS IN BIG LIFE PROTECTED AREAS
As a result of Big Life's efforts, there have been ZERO reports of any elephants being killed or injured on either the Kenyan or Tanzanian sides of the border in the last two months, the first in a very long time.
We have quickly sent out a strong, effective message to poachers that killing wildlife now carries a much greater risk of being arrested.
However, in the areas where we still have no outposts and ranger presence, the poaching continues.
POACHERS ARRESTED & JAILED HAVING KILLED GIRAFFES & MORE IN BOTH KENYA & TANZANIA
In Kenya, four poachers with newly-killed giraffe meat were recently arrested by Big Life rangers on a night patrol. (Giraffes are frighteningly easy to kill at night: the poachers shine bright lights into their eyes, blinding them, and then go right up and kill them).
The four poachers have been jailed for one year.
In Tanzania, the first night-time bust of a group of poachers was also made. One poacher was arrested but the rest got away. However, our rangers in Tanzania will soon have the guns we bought for them, which will make arresting people far, far more effective. And in 6-8 months we will have newly-trained tracker dogs for both sides of the border. With those, we would definitely have been able to catch the other poachers that escaped.
OTHER DECEMBER/JANUARY ARRESTS AND INCIDENTS :
- An ivory dealer was arrested and charged in a sting with Kenya Wildlife Service.
- Poachers were arrested after being caught with killed hartebeests.
- Over 200 snares have been found along the border with Tanzania and removed by rangers. Sweeps in the areas covered since then have been clean of snares.
- Five lions were poisoned and killed, and their claws and other body parts removed, in one incident alone in January on the Kenya/Tanzania border. The person responsible has been identified by Big Life is on the run and being pursued.
- Charcoal burners around Kimana sanctuary were found and removed as the removal of trees for charcoal was destroying important wildlife habitat.
- Daily operations are keeping elephants from raiding crops using Thunder Flashes (harmless pyrotechnics). Since then, there have been no elephants speared by angry farmers. Before this, there was approximately one a month.
- A notorious giraffe poacher who killed thirty a year for the bush meat trade has now become a Big Life informer.
- Big Life relocated a radio repeater so communication coverage is now across the entire ecosystem.