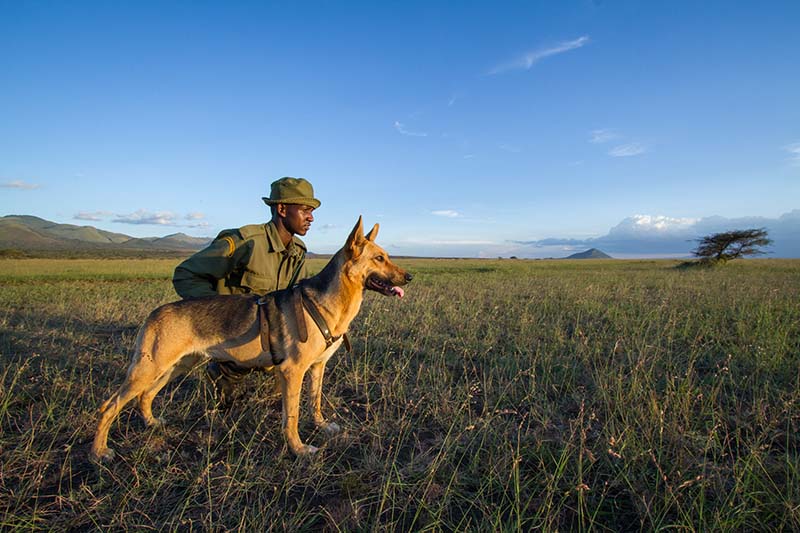 She was never meant to become a tracker dog. When Big Life received our first pedigreed tracker dog in 2010, he needed a companion, and what better place to find a friend than the Kenya SPCA?
Didi was just another face in the line-up at the shelter, but as Big Life's Director of Operations and Co-Founder Richard Bonham walked down the row of barking dogs, there was something about her that gave him pause. A hint of German Shepherd, and the pluck to push her way through the rest of the dogs to the front of the cage. She had spirit.
So began Didi's unlikely journey from street mutt to tracker dog. She followed along to all the tracking lessons, simply as company for the 'real' tracker dog being groomed for the job. But it turns out that Didi was listening in class, and she started to surprise her handlers with her tracking skills.
Not only did she have an extremely refined nose, but over time, Didi started to prove that she was as tough as nails. She demonstrated incredible stamina and focus and was able to stay on a track for much longer than a typical dog. It wasn't long before she was the handlers' favorite to lead the chase in real-life situations.
Didi's early successes at apprehending poachers soon became well known, and her mere presence became a strong deterrent for potential poachers. Perhaps her most important achievement was the more than 15 km of tracking leading to the arrest of two suspects who had killed five elephants in Tsavo West National Park. She was also a hero to members of our local communities, having tracked and found countless numbers of children lost in the wilderness, as well as an occasional thief.
Today, it is with great sadness that we announce Didi's death due to kidney failure. Didi made a huge impact during her life with us and will be sorely missed.
As one of Didi's handlers said, "Didi's work has left a great footprint in Amboseli, and I realize now that not all warriors apply red ochre."
Thank you, Didi, for your service.