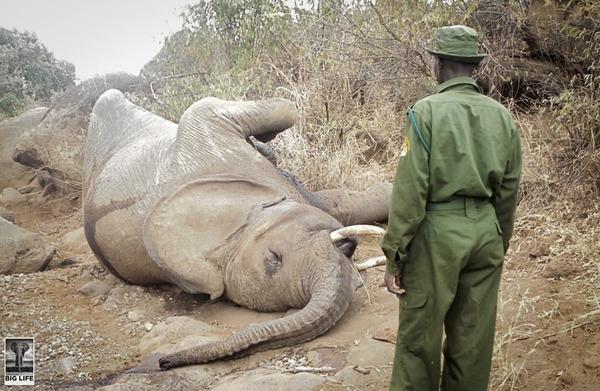 The waves keep rolling, ups and downs. Another elephant dead. A frustrating death, one that we feel should be avoidable.
We have had a number of successful arrests and busts in the last couple of weeks, and continue to crack down on elephant poaching in the ecosystem.
But this last death represents a bigger, wider problem, involving thousands of people rather than just a small number of perpetrators.
You see, this elephant was not killed for its ivory, but speared to death for its destructive impact on a normal person's life. Despite our best efforts, elephants continue to raid farms and destroy crops across the ecosystem, at times ruining entire families.
And that is why this elephant is dead. Only nine years old, a tragedy on both sides. Right now, Big Life rangers are trying to track down two other elephants wounded after crop-raiding episodes.
There is no point looking to place blame, we need to solve the problem. We are in the very early stages of working together with a number of ecosystem partners to implement a large-scale electric fence project.
But this is a large investment that needs to be very carefully considered and planned. When the time comes, the fund-raising ask will be huge. However, it will save many elephant lives.
Unfortunately, in the meantime, we will continue to count elephant carcasses, killed as a result of human-wildlife conflict.
Jeremy Goss, Big Life Kenya